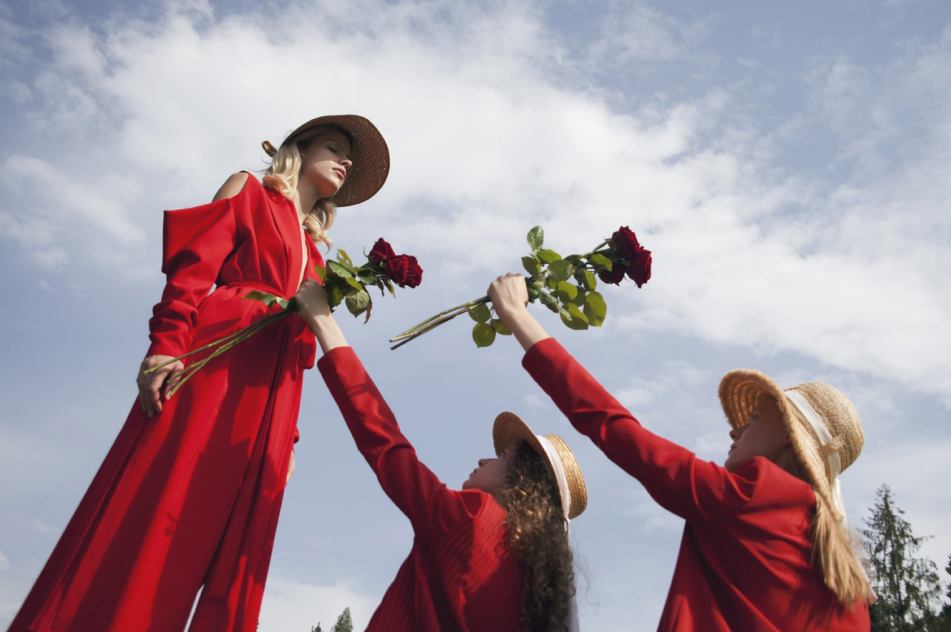 In the ever changing world of fashion and art, flowers take a coveted position in capturing glamour and expressing emotion. flower Chef is a start up company that in it's unique presentations captures the beauty of flowers with a seamless blend of fashion and art. In a recent collection of captivating photography, flower Chef used Porta Nova Red Naomi as their red rose of choice to create an enchanting perspective on flowers, art and beauty.
According to Lukasz, a co-founder of flower Chef, they chose Porta Nova Red Naomi not only because of her beauty and distinctive fragrance, but also because it is a long lasting and reliable rose that opens to a full attractive bloom.
To get more insight on flower CHEF, Art, Fashion and Innovative Marketing; We spoke to the company founders; Lukasz Nycz and Angela Olszewska as well as celebrated photographer Andrew Tarnawczyk.
Tell us a little bit about flower Chef.
Lukasz: flower Chef is a start-up, mobile-first florist. However we, the founders, Angela and I, are not new to the business. We're building the company on the experience we have gained as a supermarket flower supplier. Additionally, the investors in the company, all seasoned executives, serve as consultants. The mix of the production knowledge and business acumen should prove a winning combination.
As a flower trader, what can you say about Porta Nova Red Naomi roses?
Lukasz: We love Porta Nova roses. Red Naomi is just the most stunning red rose but we struggled to get Red Naomi roses that would be as long lasting as some other varieties. That is, until we discovered Porta Nova.
In addition to their longevity, Porta Nova roses also reliably open to a full bloom. This is especially important for an online retailer, because we can't wait for the buds to open before shipping and need to be sure that our customer will get the right experience. Last but not least, the raspberry-like fragrance of Porta Nova's Red Naomi is absolutely enchanting.

As an emerging online-based flower business company, how do you aim to set yourselves apart in terms of innovation and customer satisfaction?
Lukasz: We want to remove the friction that makes buying and receiving flowers hard today. Shopping at flower Chef will be an experience designed around mobile. Surprisingly, a mobile experience is not so much about the technology as it is about everything else. For example, a curated product selection, which a mobile consumer can easily digest, is the key component in our mobile-first strategy.
But above all, mobile-first implies transparency. A company can't offer a product or service and then under deliver in a mobile-world. That's why flower Chef is candid in everything we do – yes, candidness is how we want to set ourselves apart. What you see has to be exactly what you get.
How big of a role does social media play in line with your marketing strategy?
Angela: Social media democratize access to audiences much as the auctions democratize access to flowers. That's why flower Chef will spend the vast majority of its advertising budget with social networks.
Social media and the marketing tools at hand, make the relationship between the brand and the people so much more personal, ideally one-on-one.
The catch is, the use of social media transfers some – or most – of the brand ownership to people. That is fine as long as transparency and honesty is in the brand's DNA, which brings us back to the fact that the strategy for today's world is not so much about the use of technology but having the right attitude.
How many countries do you currently serve and how would you describe your vision for the next couple of years ?
Lukasz: We're just launching a pilot program in Warsaw, Poland. Warsaw is the 11th most affluent urban area in the EU, defined by the number of households with income of $70k or more.
We want to expand to the other 10 cities as quickly as possible. Our main idea is to deliver flowers in under 2 hours in these big urban areas but we're also considering next day deliveries to cover entire countries. Beauty and flowers are amongst the most wonderful things and the need for them is universal. We will make it easy for everyone to have access to the beauty of perfect flowers.
Why did you decide to follow a unique approach that blends flowers and fashion?
Angela: Gabrielle Chanel once said "Fashion passes, style remains". Flowers are pure style but they need a reason to surface in the moment. The catalyst may be fashion but we're planning to mix flowers with other categories too in the future.
The flower industry needs to re-build the association between flowers and "cool". We're at the forefront of the trend. There is also an immediate business reason for creating unique, compelling content. The possibility to be featured in Vogue, or other high-profile magazines, is priceless and otherwise not achievable.
What was the general concept behind the flower fashion shoot project with Porta Nova roses?
Andrew: The idea was to show the roses as not just a product but a precious element of life and a desirable object – luxurious and mysterious. The viewer can see three models wearing long red dresses, harvesting the roses. It's a very unusual way to "produce" flowers and implies the uniqueness of Porta Nova roses and the character of the flower Chef brand – chic, bold and candid.
The use of both the imagery and storytelling in an advertisement is undoubtedly powerful. We create a dreamlike scene that is not only visually attractive but also grabs the attention of the viewer and fires the imagination of the customer.
Will you will be featuring Porta Nova roses in your Project Red 'flowers are fashionable' showcasing? Could you tell us more about the exhibition?
Andrew: Project Red is a series of small stories within the fashion genre featuring models with unusual make up, wearing unusual clothes and posing in a unique way. The main motif is the color red which, I think, is visually the strongest out of all colors. It's also considered to be a very symbolic color just as the rose is a symbolic flower. Roses are balance, hope and new beginnings but their thorns also represent defense, power and physicality. In mythology the rose is associated with Aphrodite, the Greek goddess of love, who was often depicted with her body adorned with roses. All of these elements suit the project and take its complexity to the next level.
My work was exhibited in Milan during the PhotoVogue Festival in 2016. I hope that some of the photographs featuring Porta Nova roses will be included this year, so keep your fingers crossed.
Apart from fashion, what events or occasions do you think are best fitting for Porta Nova roses? What kind of feedback do you get from clients?
Angela: To quote Christian Dior – "In a machine age, dressmaking is one of the last refuges of the human, the personal, the inimitable". We would like to add flowers to the dresses to make his words even truer. People should give and receive flowers way more often and at flower Chef we want to make the process itself a joy. With Porta Nova roses, we can be just absolutely certain the roses our customers receive will be as stunning as a Dior dress.
Photos: Andrew Tarnawczyk for flower Chef
Models: Angela Olszewska, Justyna Golebiowska, Gabriela Mach
Stylist: Ewa Michalik
(you can click on the names above to see their Instagram pages)