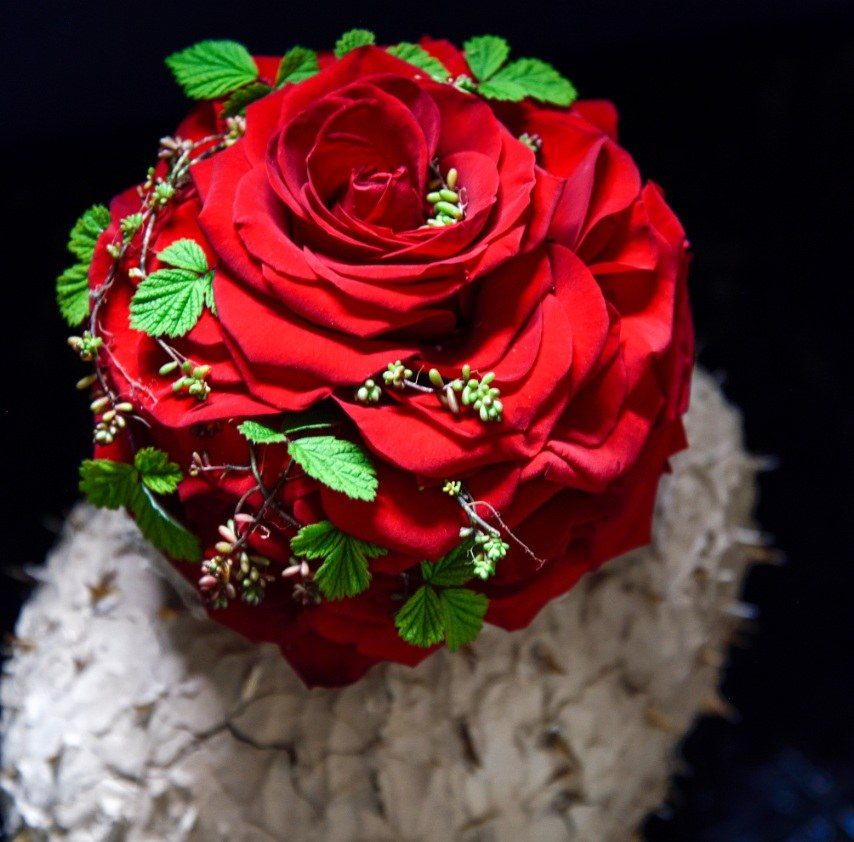 Conny van der Westerlaken is an accomplished florist who has had quite a number of stellar moments in her floral art career. Her talent has won her several accolades; notably multiple silver and gold medals during 2019 and 2018 IFDY championships. She is the owner at Pasandeu, which was once a florist shop and now turned into a workshop space where the artist churns out ideas and projects for her freelance career. Conny together with her fellow floral fundamentals ambassadors recently worked from their homes to create incredible floral designs using top quality flowers. The project was a concerted effort in support of flower growers. Conny created an impeccable design using Porta Nova Red Naomi roses. We spoke to Conny about her work plus the passion that comes with it, the Floral Fundamentals project and how she was holding up during this challenging COVID 19 times.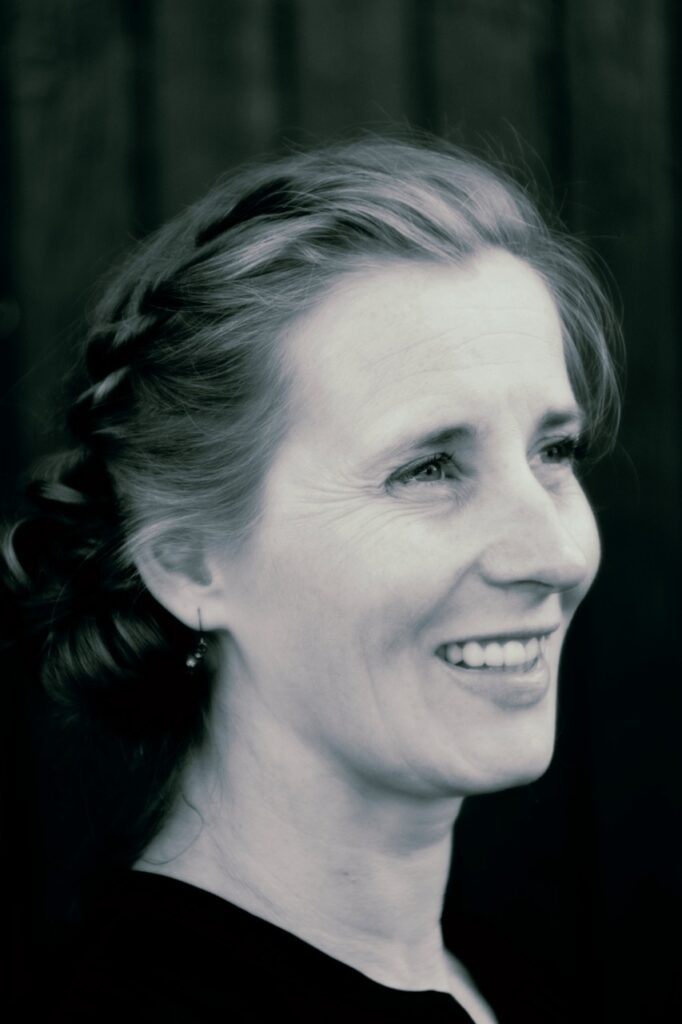 Tell us about your brainchild, Pasandeu
Since I became a Floral Fundamentals ambassador, the world has opened its doors for me significantly. Therefore I decided to turn Pasandeau from shop into studio/workshop space and concentrate on my freelance career. Pasandeau is now a studio where I prepare my designs for events and exhibitions, step-by-steps, competition, and occasionally I get to cater for Funeral and Bridal floral design assignments on demand.
Do you have a signature style?
My artistic style? good question. Let me see how to best describe that. I don't really have just one, but what most people say about my style is that I am a designer that always finds new techniques and new elements to work with. My designs are unique and doused in emotion. You can perceive a monk's handwork in the sense of patience you get from it. One designer once described me as: "Exciting and experienced florist with her own personal style and well thought out designs". I always ensure that I create designs with emotion or a story behind it. Focusing on showcasing the uniqueness of each flower and material used and not being afraid to take risks if needed, and spend time to give the final touch to create impressive designs.
Where do you derive inspiration from? and what are your favorite 'materials' to work with?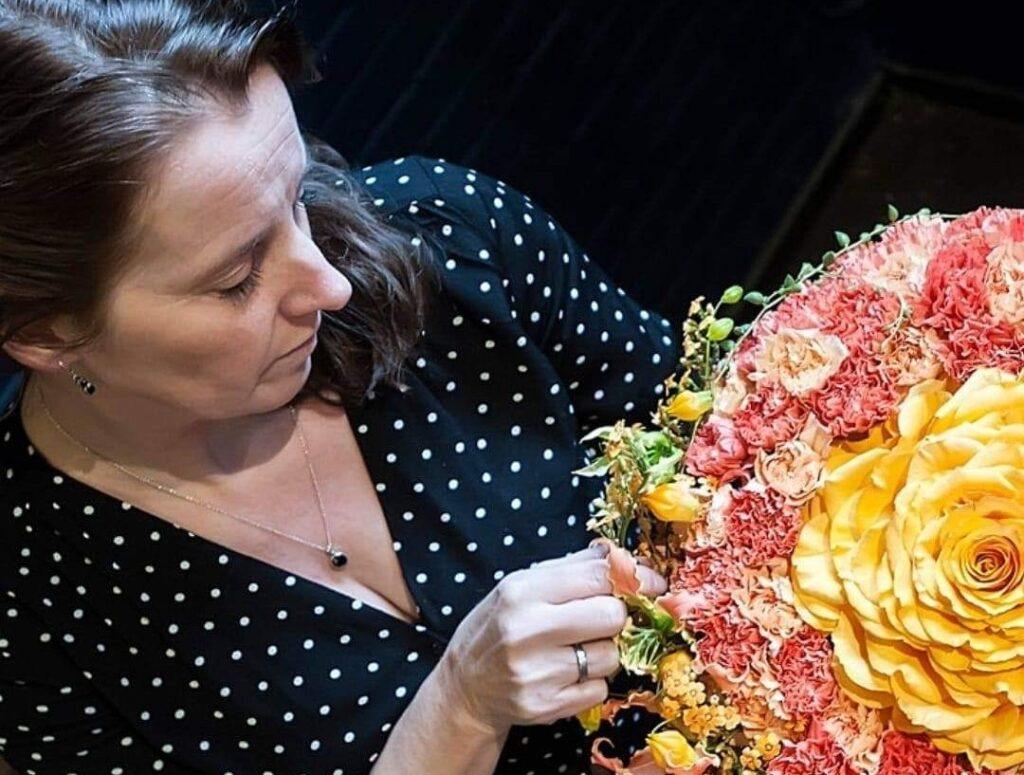 I love working with fragile and small flowers, parts of flowers, grasses, seeds, non-floral materials, and also to learn and try out new methods, techniques, and materials. I find inspiration mostly in nature, architecture, or certain time periods. Mother Nature gives us so many gifts: every flower, plant, tree animal, organism, etc has its own brand of beauty. If you can't find that beauty in for example a flower, then it will definitely be in its leaf, seed, root, color, or shape. Therefore inspiration can be found everywhere in nature.
Take us through your Floral Fundamentals design with Porta Nova Red Naomi roses
This is an emotional piece title "A broken heart hurts but will be healed and blossom again. At this moment there is so much heartache in the world due to the coronavirus. Many people have lost their loved ones, and are going through a rough time due to health reasons, their living circumstances or business problems. So many broken hearts that need time, patience, belief, and strength to heal. But I believe that by trying to keep a positive mind, staying strong, and with the help of friends and family, all these hearts will heal eventually and blossom again.
The cracked clay vase with the rose thorns in a heart shape represents the many broken hearts and the painful/hard times they have had to endure that are literally difficult to handle or get your hands on. It's cracked but will survive and in the end something beautiful will emerge out of this period. This is represented by the composed rose on top with fresh green.
I still believe there will be love, beauty, better times and new beginnings after this difficult period. So what better flower to represent love than the red rose? While fresh green leaves represent new beginnings and growth. The general message being 'Just keep believing and stay strong!'
How are you personally holding up during these challenging times Conny?
These times are difficult for many people. If I look at the colleagues around me I notice that most florists with core-businesses bouquets, flowers, and plants are thankfully doing very well. Saying thank you to people, or letting them know that you think of them is becoming more and more important during this time of social distancing. For me and other colleagues that work in the event / international floral industry, this time needs creative thinking to keep our heads above water. Events are being canceled or postponed to next year like the Europacup and Leeds castle Flower Festival. So the time-gap created by these cancellations and which normally would be spent designing and creating is filled up differently. Besides freelance work at a local florist, and funeral flowers, thankfully I got the chance to work on some great projects such as the Floral Fundamental support growers project. Such initiatives keep me busy, motivated, and creative, and it absolutely made my @stayathome period a lot more fun. Besides this, the Coronavirus has also brought me new things. For example, partly due to this virus I came into contact with a photographer and a hair designer/architect and we are now working on a new art project/exhibition/book. Absolutely a new awesome challenge!
Check out more about Conny on Instagram CLICK HERE