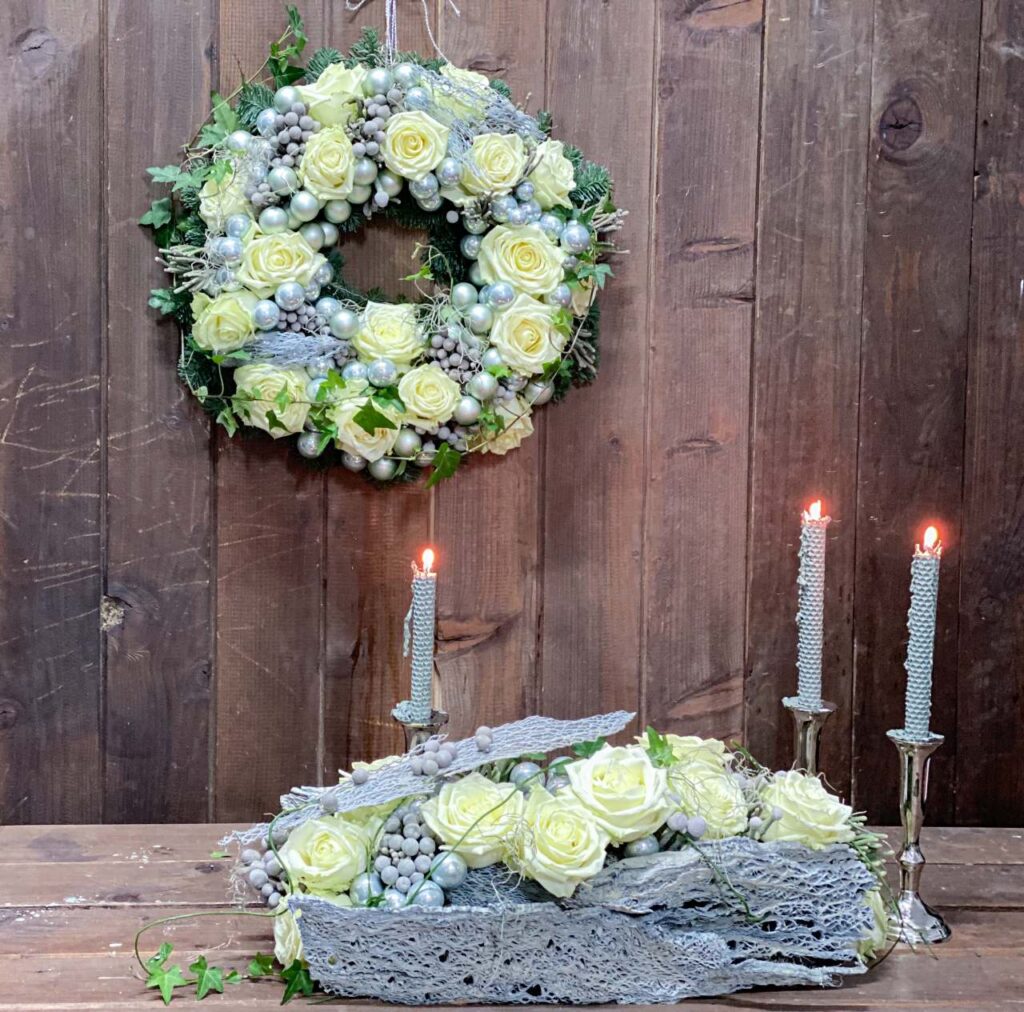 This festive season, floral designer Claudia Tararache of Floraria Anthurium wows us with amazing designs using Porta Nova Red Naomi and White Naomi Roses.
What does the Christmas Season mean to you as a Designer and how do you capture this in your creations?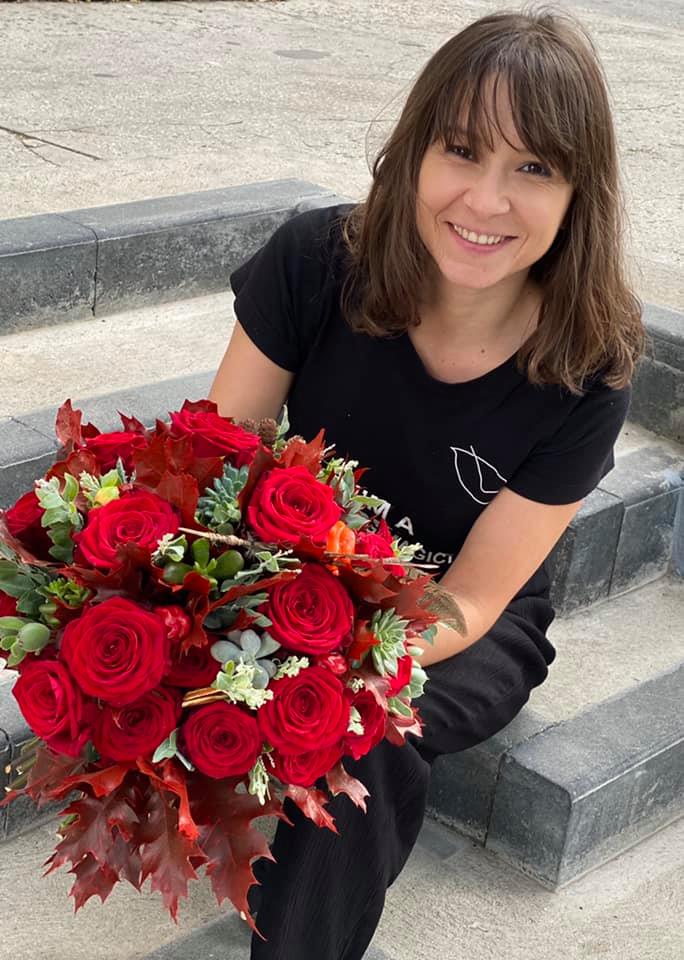 Snowflakes fall arrangements suit me the best. I imagine myself in a fairy world, where I am completely lost; wandering among pinecones, frozen branches, globes, and lots of decorations, I breathe only the smell of cinnamon and fir crowns. I absolutely adore all nature's accessories, such as bark, dried twigs, dehydrated oranges, star anise etc. My imagination runs free, and I usually start by decorating the flower shop.
Share with us some of the favourite traditional floral practices in Romania during this season.
We love decorating Christmas trees. We decorate our houses with colourful Christmas lights, ribbons, poinsettia and hang on the front doors beautiful Christmas crowns. The Christmas tables are also very important, besides the traditional Romanian food, the Christmas decors on this special day are of high significance!
Golden Velvet Red Xmas
Claudia Tararache's beautiful Christmassy approach with Porta Nova Red Naomi. This surely brings us the jolly mood of the winter holidays!
Snowflakes fall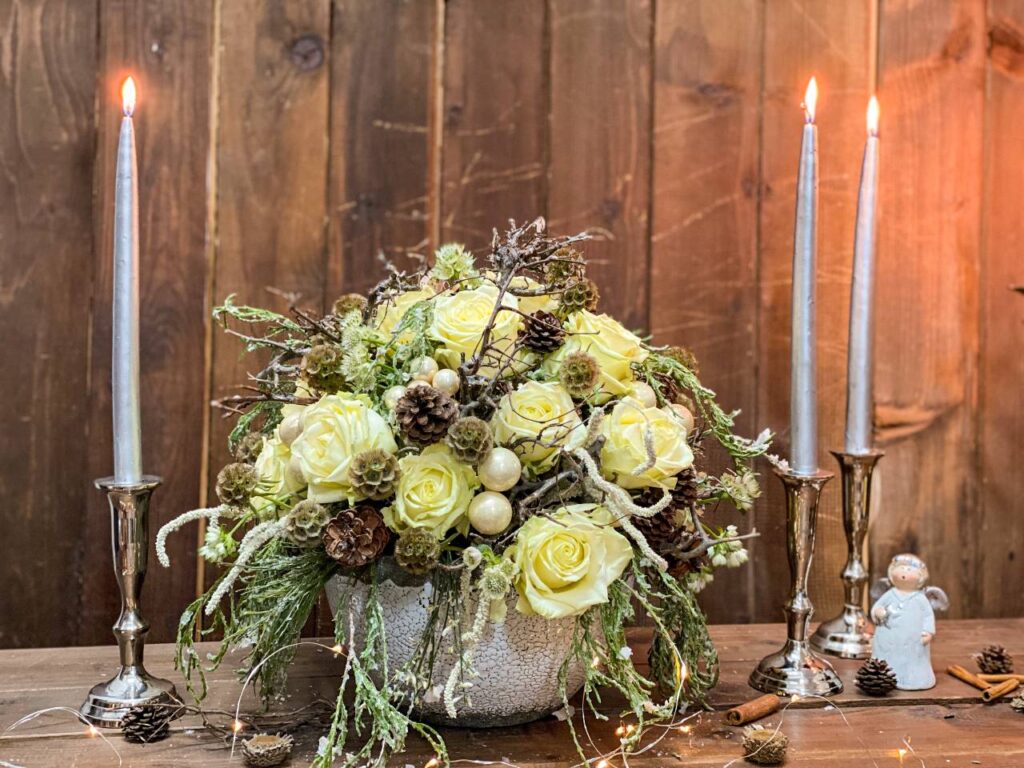 This is a diaphanous design, with beautiful White Naomi Porta Nova, Amaranthus Yerming desert, Scabiosa Stelata, Pinus, Chamaecyparis pisifera Filifera and Astrantia. This represents a delicate winter painting, with Ice crystals resting on the frozen branches, embracing the roses. The design truly brings joy and delight to the frozen nature's beauty.
Winterland Wreath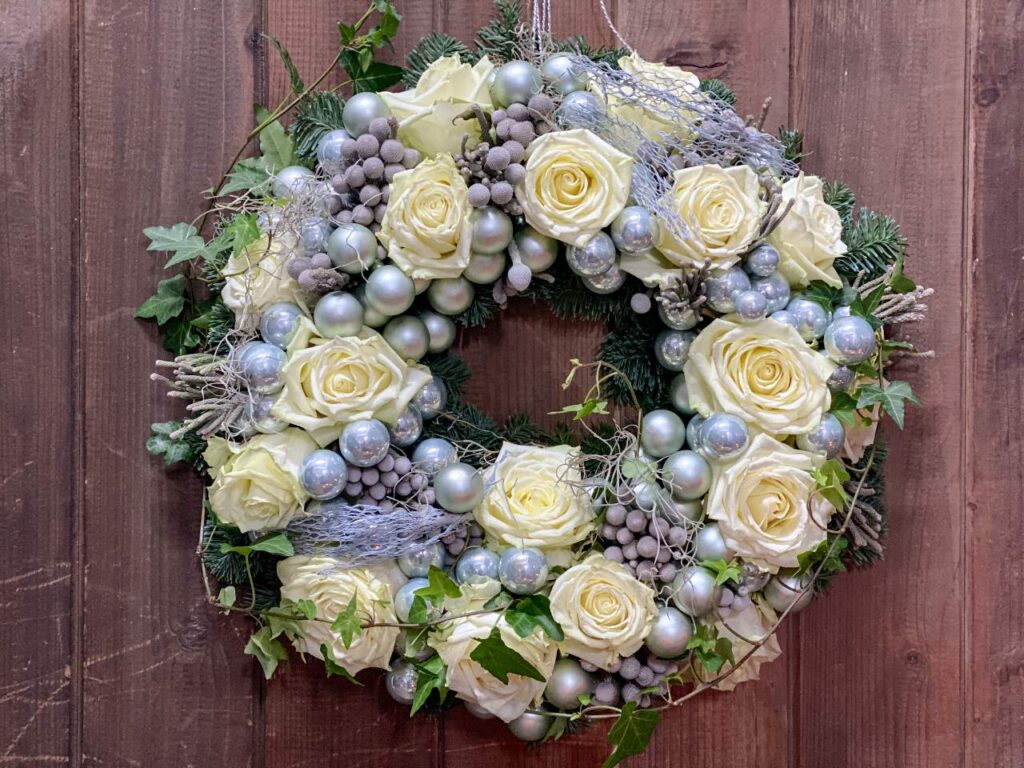 Represents the perfect design to decorate a royal castle during the holiday season, with fresh white Naomi Roses, Brunia Silver Berries, hedera, Abies Nobilis and Silver Christmas globes so tiny and yet so delicate. The roses really stand out surrounded by delicate berries. The silver touch is embraced by the green Hedera like a warm, gentle hug.
Starry Winter Night
This is a more complex, more powerful design, the gorgeous White Naomi Roses surround the waxed plateau with cones and branches. The Vanda Orchid stands out with its beauty, they really offer an elegant touch to the design and the small Christmas globes define the holiday mood.
Silver kiss
This is a design for the New Year's Eve festive table where the silver brunia berries gently embrace the White Naomi rose petals.
Winter Symphony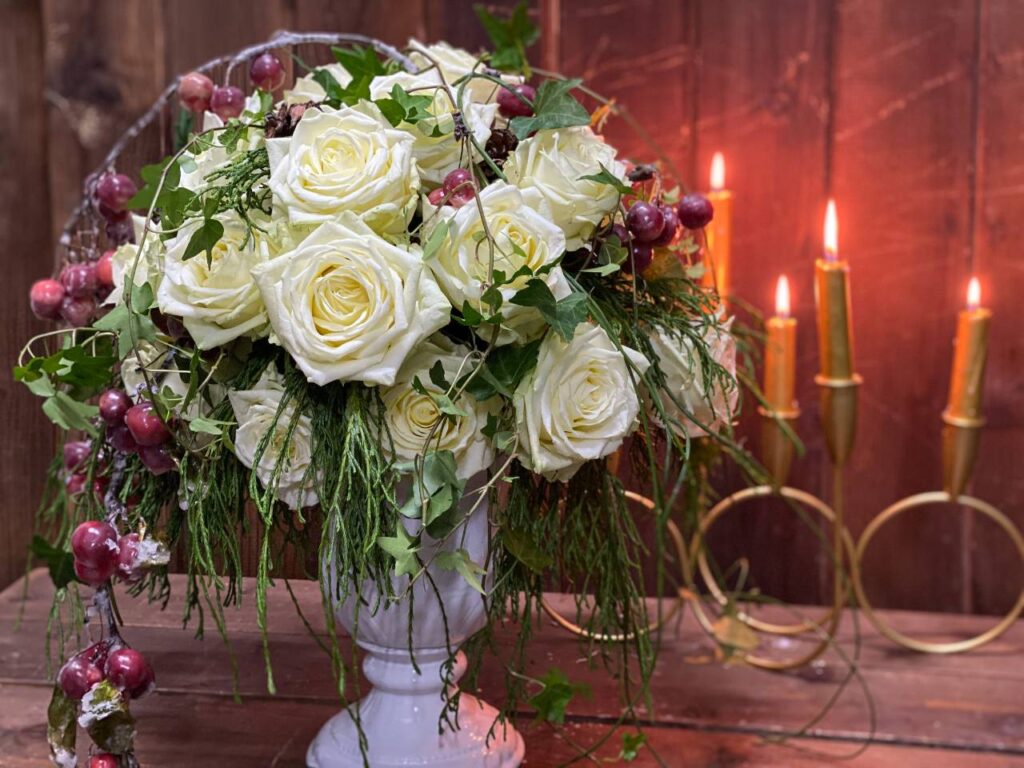 A floral symphony of White Naomi Roses, Waxed apple branches, hedera and Chamaecyparis. This is a very classy arrangement, with a romantic touch and a bold approach altogether, a 19th century depicted static beauty.