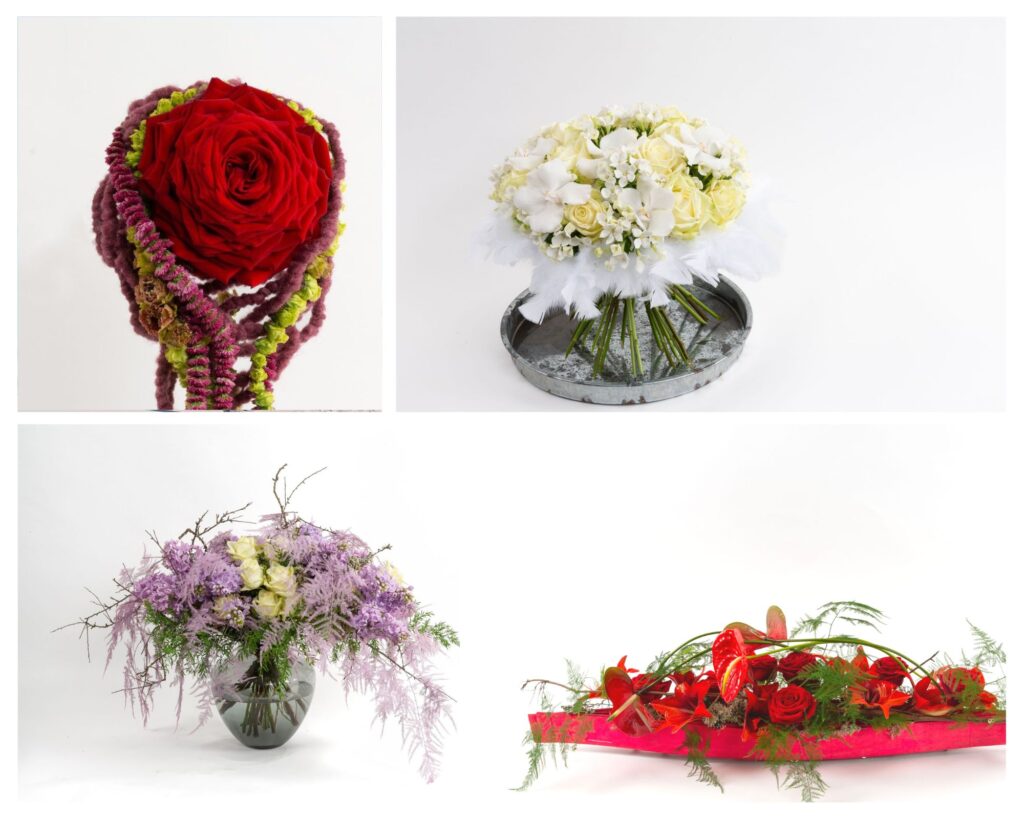 During a recent Floral Fundamentals photoshoot, some of the top florists got to create some eyecatching designs using Porta Nova Red Naomi and White Naomi roses. We had a chat with the florists about the inspiration behind the designs and how their experience was.
Lizzie Newcombe
Immediately she saw the Porta Nova Red Roses, Lizzie knew that she had to create a Carmen Rose Bridal Bouquet!
Porta Nova Roses are durable and they also feature an exquisite colour and texture, so I knew that they would be excellent for this particular kind of design.
I started the process by removing the petals from 10 to 12 stems of Porta Nova Roses and arranged them into groups according to size.
I then began to construct the Carmen Rose, beginning with the smallest size of petals to form the rose's centre and gradually began to increase the size of petals as the rose expanded.
I then created trails of Lisianthus buds from Lugt Lisianthus and Chrysanthemum from Dekker Chrysanten to create movement within the bouquet.
The framework was created using wire covered in Lehner Wool.
I chose Chrysanthemum Santini 'Toss' by Dekker Chrysanthemum and Lisianthus Rosanne 'Deep Brown' from Lugt Lisianthus because of their beautiful shades of pink and burgundy together with the lime green of the Lisianthus buds. I knew these materials would blend perfectly with the deep red of the Porta Nova Roses.
This design would be best suited for a Bride who would like to hold a timeless design with hints of modern, yet simple, elements throughout.

The Floral Fundamentals experience
I really enjoyed the photoshoot experience with Floral Fundamentals and felt so very lucky to be able to work amongst such talented Florists and exquisite materials provided by the growers.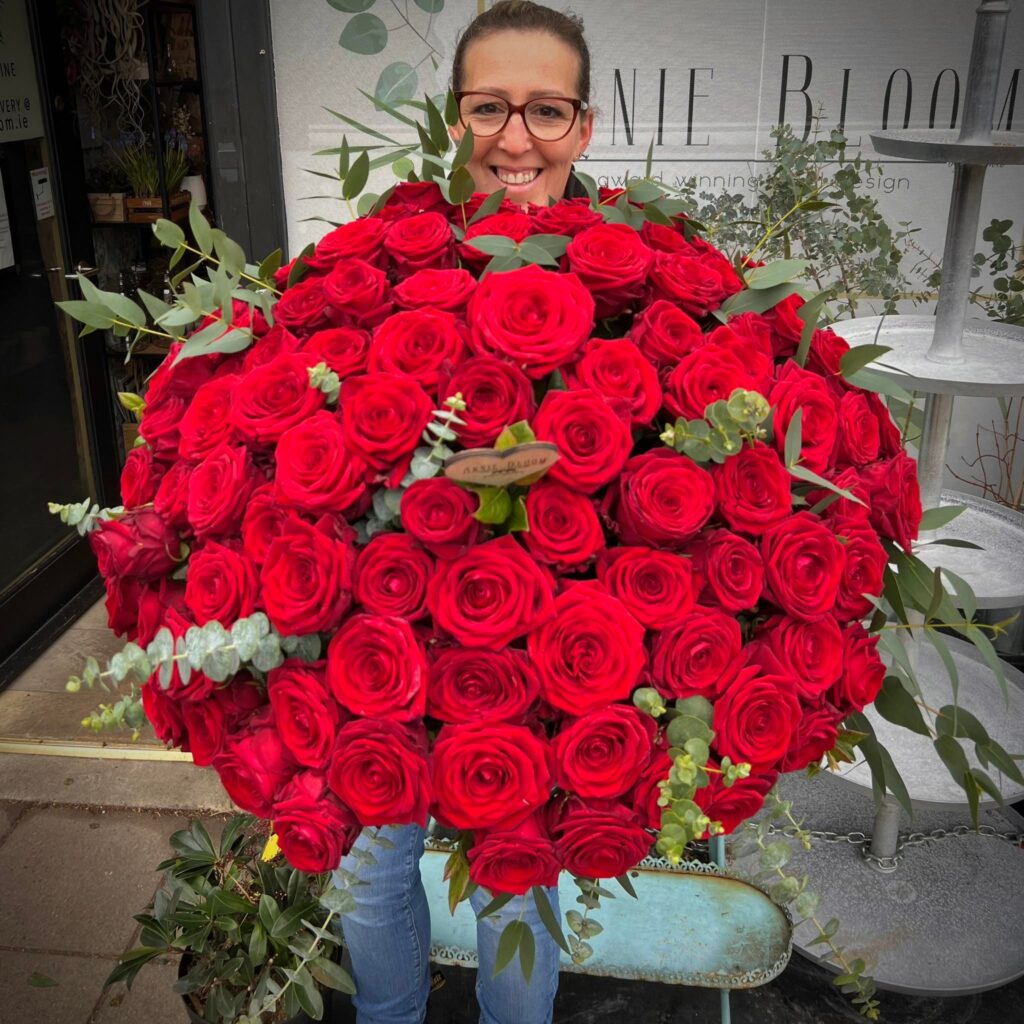 Reka Kurtos
Reka created the Floral Fundamentals bouquet on a handmade frame made of twigs and wire. She included White Naomi roses, lilacs and some painted asparagus to achieve a more riveting texture. She intentionally created this bouquet without green foliage to allow the flowers to speak for themselves.
How about this Bouquet!: A 100 stem of Porta Nova Red Naomi that I delivered to one of our regular customers on Valentine's Day.
Opulence by Reka Kurtos

"This bouquet would be the perfect gift for an anniversary, a birthday of a loved one, or other special occasions when you want something more exciting and special than a classic bouquet. Because of its unique shape and texture, it would also work well as a decoration for reception areas.
If I had to give this bouquet a name then I would call it Opulence as it features your beautiful luxurious roses and other high-end products.
The Floral Fundamentals experience
I absolutely loved it. It's a fantastic atmosphere, a new learning curve. As there are only 150 Floral Fundamentals ambassadors from around the world it is also a huge privilege to be there and be re-invited from time to time. Floral Fundamentals is really a family and being part of it is something very special. I have been a Floral Fundamentals ambassador since 2018 and have been lucky enough to be invited back several times. On one of these occasions, I visited Porta Nova too and the hard work and passion going into the production of these roses is simply phenomenal. I love visiting all our different growers to understand in detail how our beautiful flowers are produced. I love working with your roses for their shape, fragrance and longevity and stock them in my shop regularly.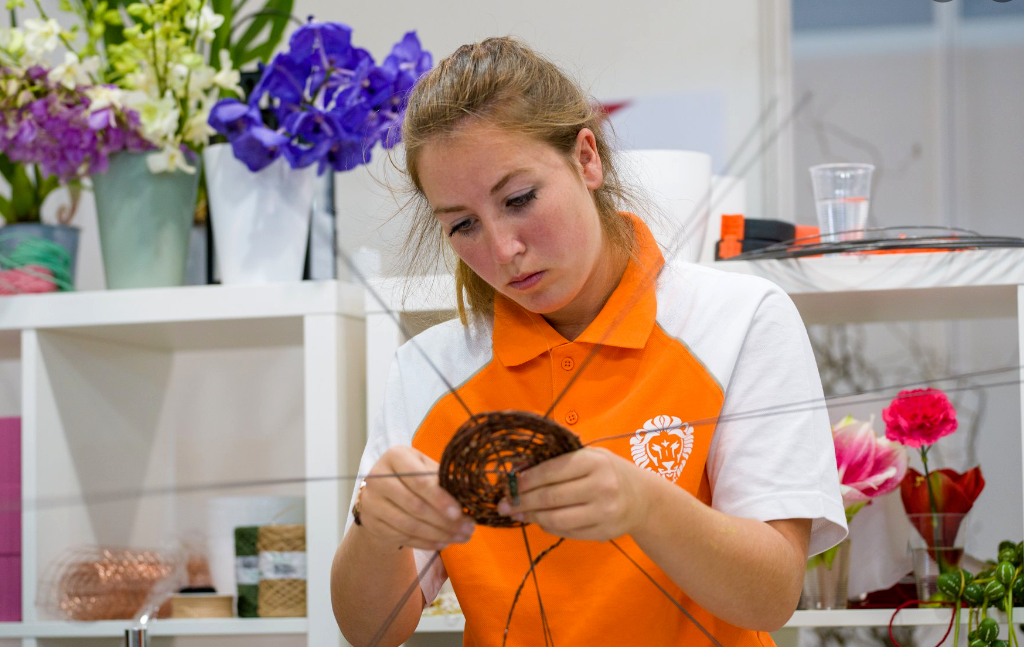 Esther Weijenberg
Esther created a bouquet that is not only beautiful but also richly versatile and can be used for many occasions such as everyday special events such as weddings, or birthdays.
"Purity and elegant white" by Esther Wijenberg
I would call this bouquet purity and elegant white. To create it, I used Porta Nova White Naomi roses, Bouvardia, Orchids, wire and feathers. This was well aligned with my natural, tough and robust style.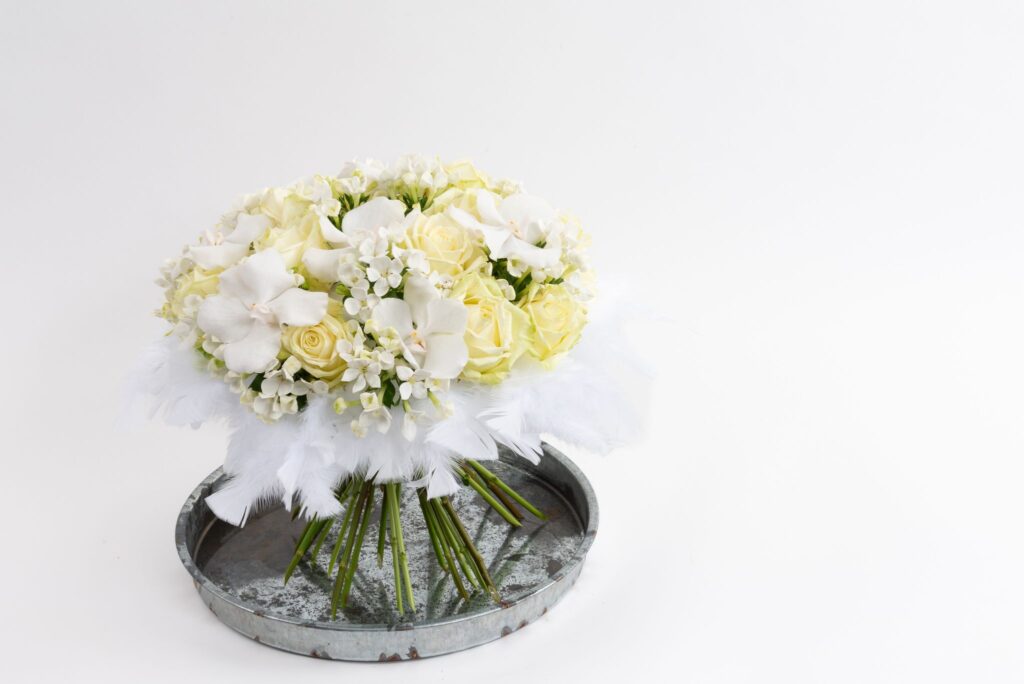 This being my very first time, I found my experience at the floral fundamentals to be super cool. I saw and go to learn quite a lot, made new friends and had a chance to learn different styles and nuances of floral art. It was indeed a very nice, unforgettable experience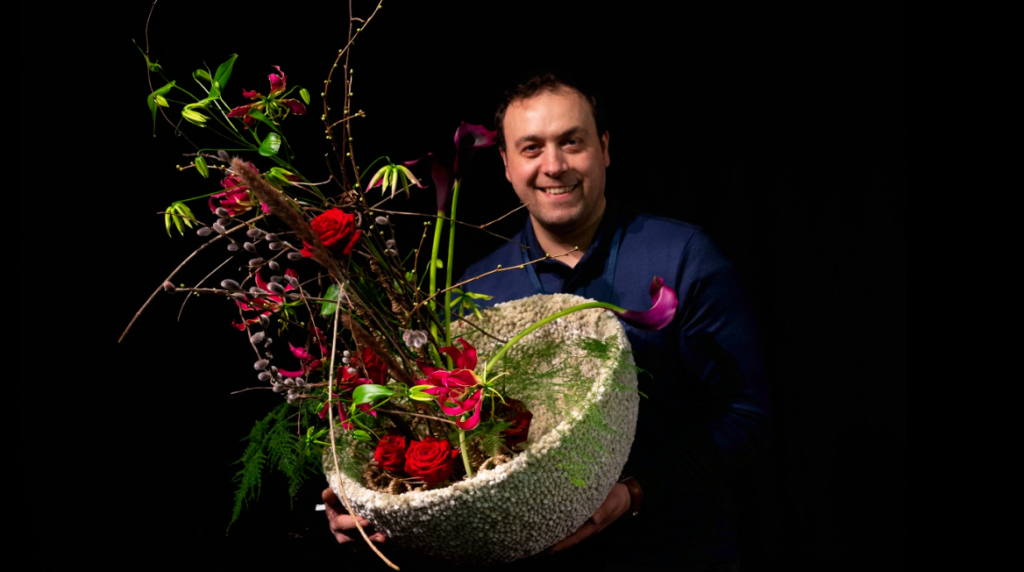 Ioachim Erema
" Floating Love" by Ioachim Erema
To achieve the rich texture featured in the design, Ioachim incorporated Dried articles woodband measuring 110cm long and 10cm deep.

I used around 15 Woodband, which I joined together at the edges using hot glue. In between the Woodband. I spread around 25 glass tubes which worked as water sources for the flowers.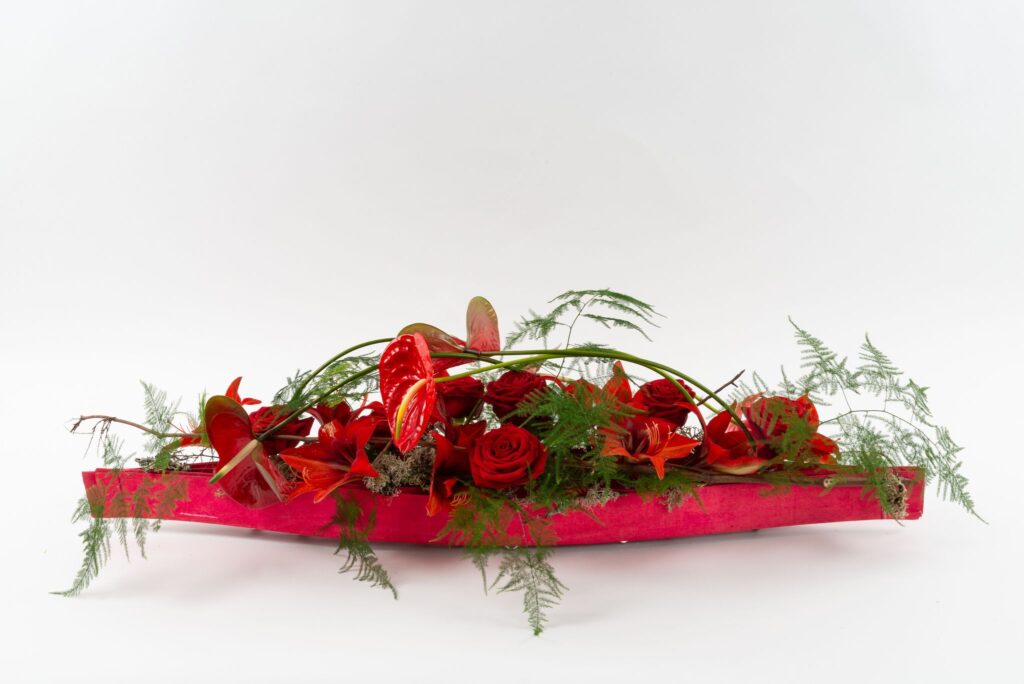 This floral design can be used versatility at many events such as an executive piece during business meetings, or in luxurious barns tables and many more events.
I would like to call this piece the " Floating Love".
---