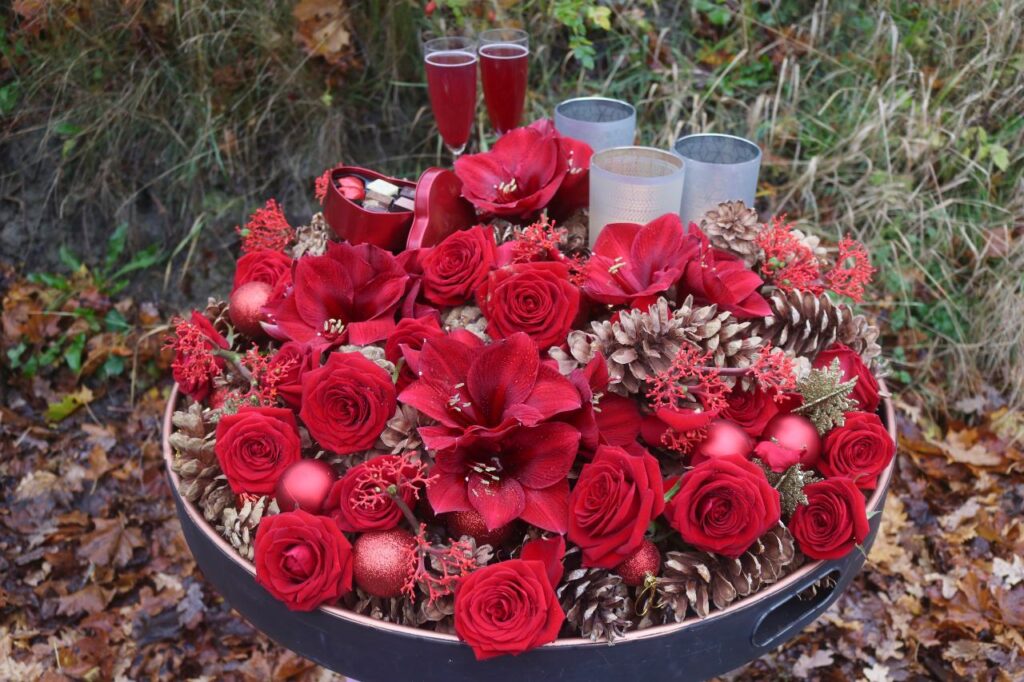 Let us head to Finland, the 'Home' of Santa Claus, where we meet the dynamic duo of Pirjo Koppi and Tiina Koskinen. Two ladies whose talent and passion for the art of floral design transcends their home country and is celebrated worldwide. They shared with us some Red Naomi magic.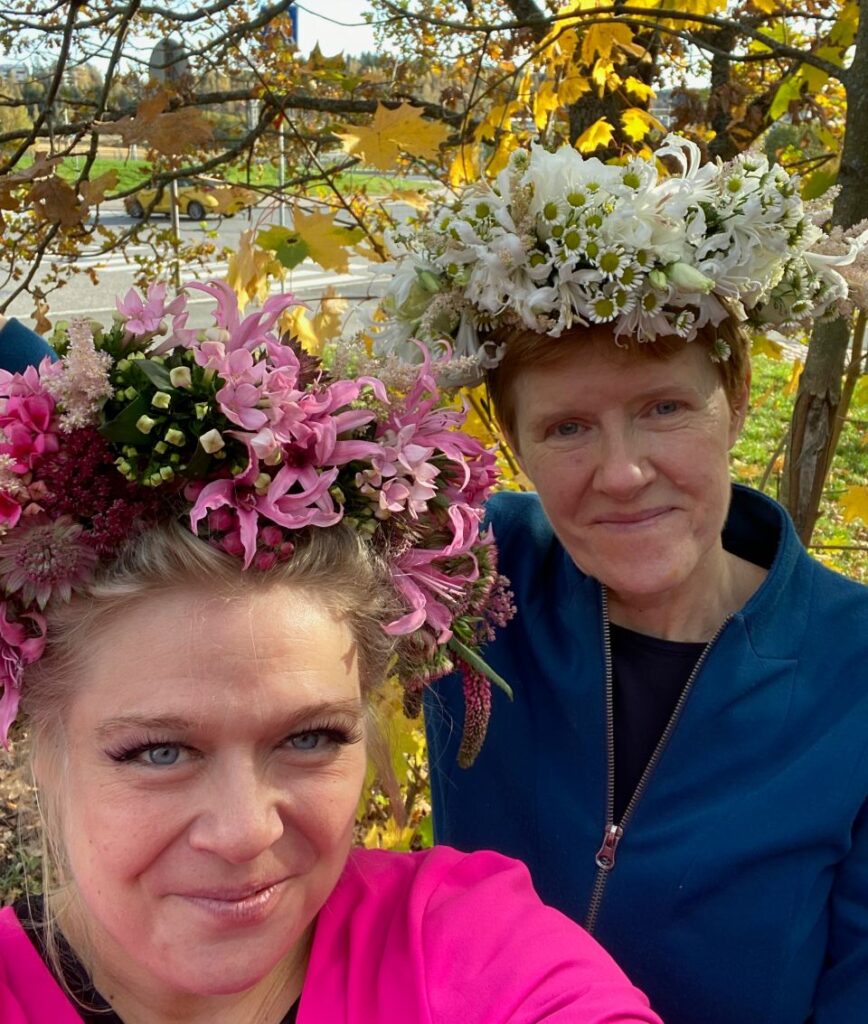 Pirjo Koppi is a Finnish Masterflorist, a Floral Fundamentals Ambassador, and has been well ranked in past world cup and continental floral design championships. Tiina Koskinen is also a Finnish Master Florist a Floral Fundamentals Ambassador and a former Finnish National Champion. The two collaborated to create some unique Porta Nova Red Naomi Christmas festive designs during the recent Floral Fundamentals Home Shoot. We had a nice chat with Pirjo and Tiina.
Share with us some heart-warming floristry stories coming from Finland during this pandemic situation.
Our Flower Shop is located in an area called Kauklahti. The Kauklahti Association organized a nice flower gift project where people can make donations. All the proceeds from this kitty goes to Christmas flower arrangements for the elderly who spend most of their time alone in their homes. Because of the current pandemic relatives and friend can't visit their elderly kin. During these days, flowers are very special and sometimes the only joy in Christmas. Our flowershop is a part of this project and we are ready and excited to make those arrangements.
How was your experience during the Floral fundamentals at-home photoshoot?
It was nice for us that we could do little by little and make designs when we had time. Of course we are missing a lot of our Floral Fundamentals Family and hope to see them all soon.
What are the floral trends in Finland this festive season?
Trend is to support Finnish flowers and give support to local businesses. We have some Finnish grown Christmas pot plants: poinsettia, hyacinth, amaryllis, tulips. Almost all cut-flowers comes from The Netherlands anyway. We have sold already a lot of bouquets with red amaryllis in the middle and then some Porta Nova Red Naomi roses, green and decorations. Red is the traditional Christmas colour and remains quite popular. We sell also a lot of white combinations.
Design 1: The Christmas Wreath
The wreath is a traditional Christmas table decoration. Many flowers give more interest to the design, making it dazzling to the eye. The base of the arrangement is an Oasis built wreath.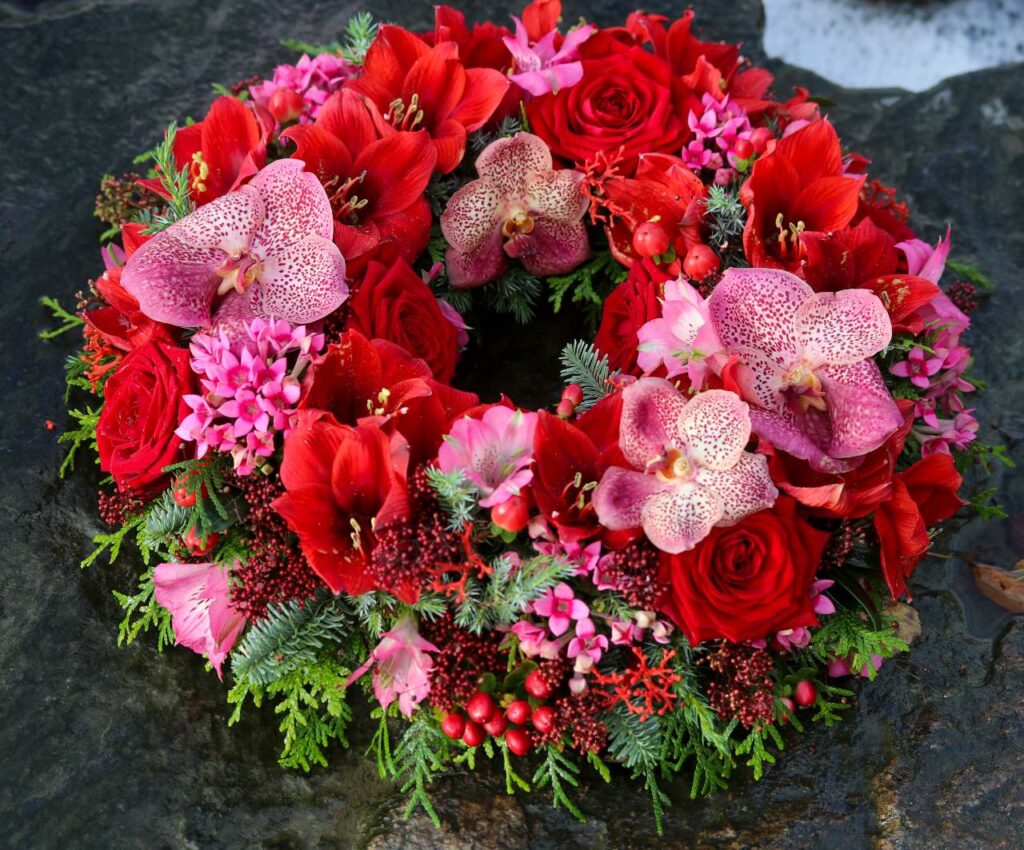 We used:
– Hippeastrum, Kwekerij vd Ende Flowers
– Red Naomi from Porta Nova
– Vanda. Ansu
– Bouvardia En Royal Roza, Vreeken Bouvardia
– Alstromeria,Avianna, Togethet2Grow
– Hypericum Coco Bamboo, SummerFlowers
– Jatropha P Firecrack, Marginpar
– Skimmia
Design 2: Rose Metamorphosis
The Idea behind this design is to show how beautiful rose parts can be. This composition is a temporary table design for Christmas. We used Red Naomi from Porta Nova to bring this to life.
Design 3: The Rose Table for Christmas time.
The technique behind this arrangement involved the flowers getting water from small water cups and from water nestled between the cones. Materials and flowers create a nice collage. The idea is that you can change the composition during Christmas time by adding more decorations, edible products, etc.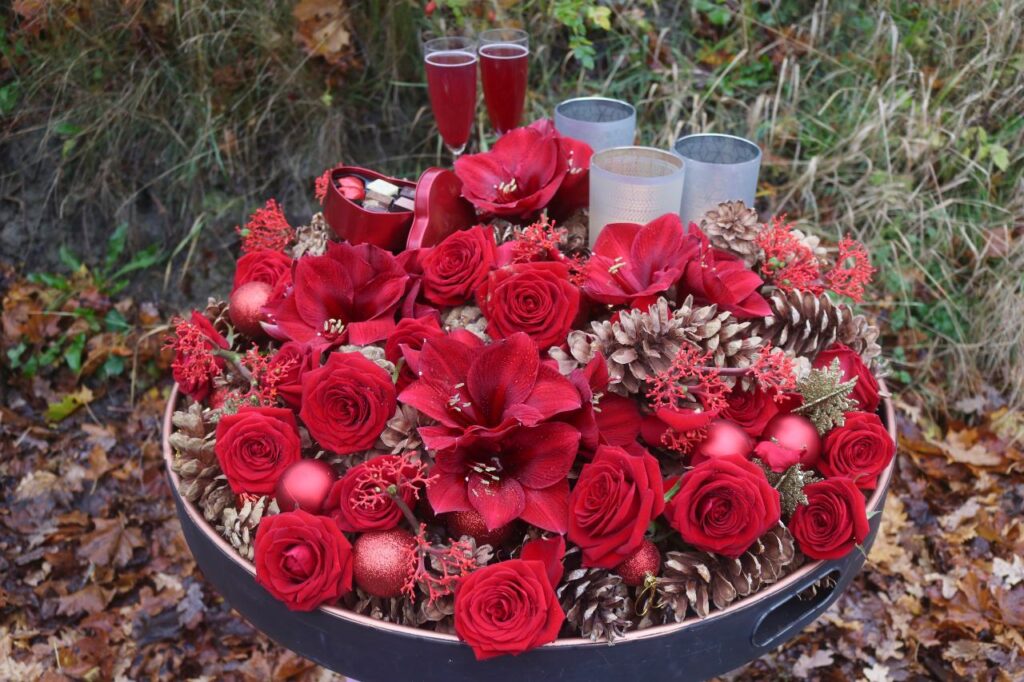 Materials used:
– Red Naomi from Porta Nova
– Hippeastrum, Kwekerij vd Ende Flowers