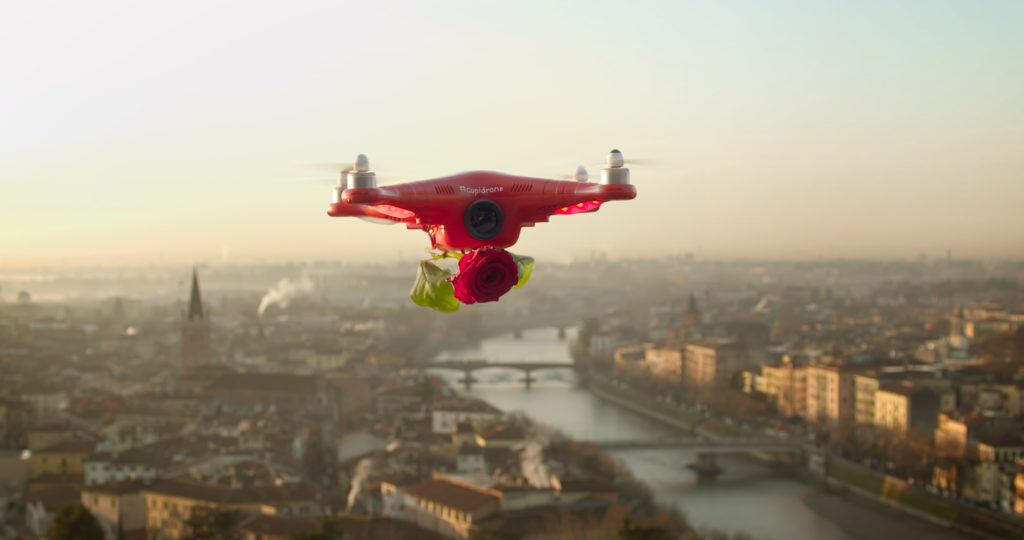 Cupidrone: love is literally in the air Love is literally in the air: meet #cupidrone! Delivering love from above, searching for targets armed with a Porta Nova Red Naomi rose. Love is falling from the sky in the new Valentine's Day film for Funnyhowflowersdothat.co.uk.
A real, fully operational drone called Cupidrone has been developed especially for Valentine's Day. This modern day Cupid's mission is to patrol the skies above the streets of Verona, searching for enamoured couples and lonely souls who are looking for love. When Cupidrone spots his target, he drops a Red Naomi rose – delivered by stealth. So, what happens next? Well, it looks like the traditional token of love – a red rose – still does its job perfectly in 2015. Cupidrone shows that flowers still have a very special effect on people
Looking for Romeo and Juliet Last year, love and happiness was spread all over Paris with 1,500 little red emergency boxes. In Case of Love at First Sight Parisians could break the glass and help themselves to a rose. This year Cupidrone distributed love in Verona, home to the world's most famous couple, Romeo and Juliet. The film even shows Cupidrone taking a peek inside Juliet's famous balcony on Via Cappello. How will you spread love this Valentine's Day?