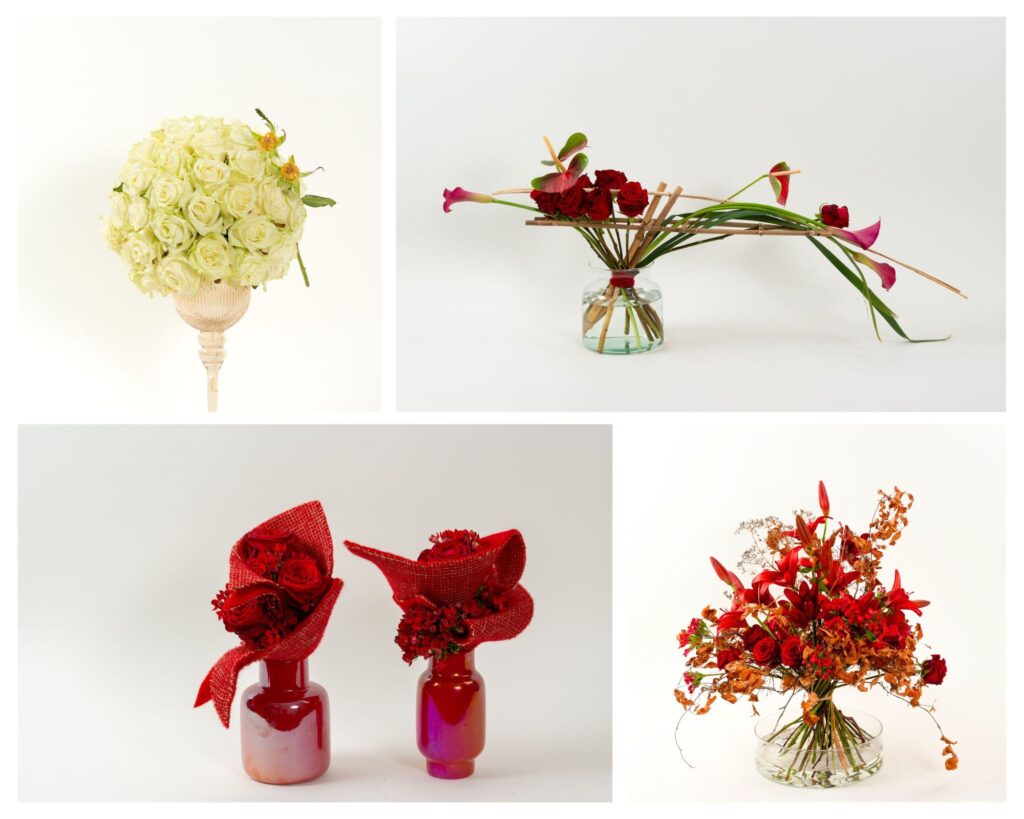 We are excited to share with you some beautiful Porta Nova Red Naomi and White Naomi bouquet designs from the June 2023 floral fundamentals photoshoot. The shoot came hot on the heels of the recently concluded 2-day open door event that saw Floral Fundamentals ambassadors visit flower growers and floristry schools in the Westland and Alsmere region.
The assortment of designs was just as creative as it was inspiring. We spoke to some of the floral artists on the drive behind their respective designs; in their own words, they had to share this.
Autumn Beauty by Laura Leong
This hand-tied bouquet has been made to highlight Porta Nova Red Naomi roses' deep red colours and velvet texture. Combined with lilies from Qualily and Bouvardia from Vreeken, all on long stems. The dried materials added give a rustic element that contrasts nicely with the chosen flowers. The silhouette of Each flower can be seen in the bouquet and the colour and form can be truly appreciated. This bouquet has a feeling of the Autumn season.
Asymmetrical Tied Bouquet by Laura Leong
This design features flowers with strong character and forms, they are arranged asymmetrically to highlight their striking forms through positioning and grouping. The porta nova roses create a strong graphic area in the design that is emphasised by the use of line and space. The rich red linking the materials and moving the eye around the composition.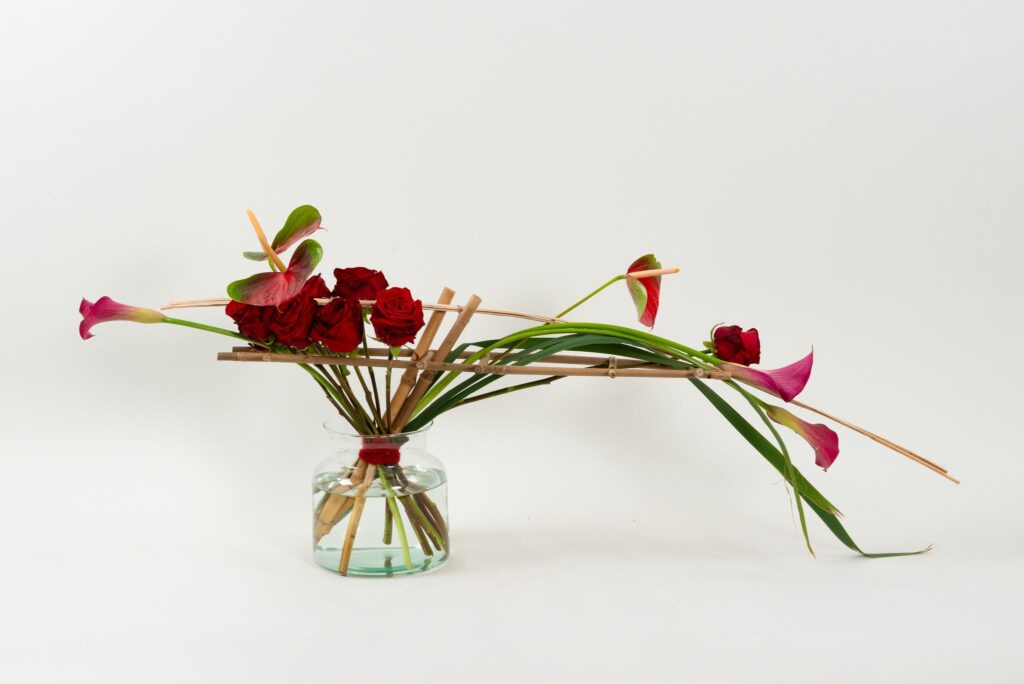 I wanted to create something different from these classic flowers including Porta Nova Red Naomi roses. Something uniquely different that might've never been attempted before and yet can be made anywhere in the world. I wanted to make something fresh, something new. To accentuate the design and the Red Naomi, I chose Bouvardia and wool of the same colour for this creation. The experience at the Floral Fundamentals photoshoot was simply unbelievable! It was very inspiring and it was great to meet new people. And of course, the flowers were stunning!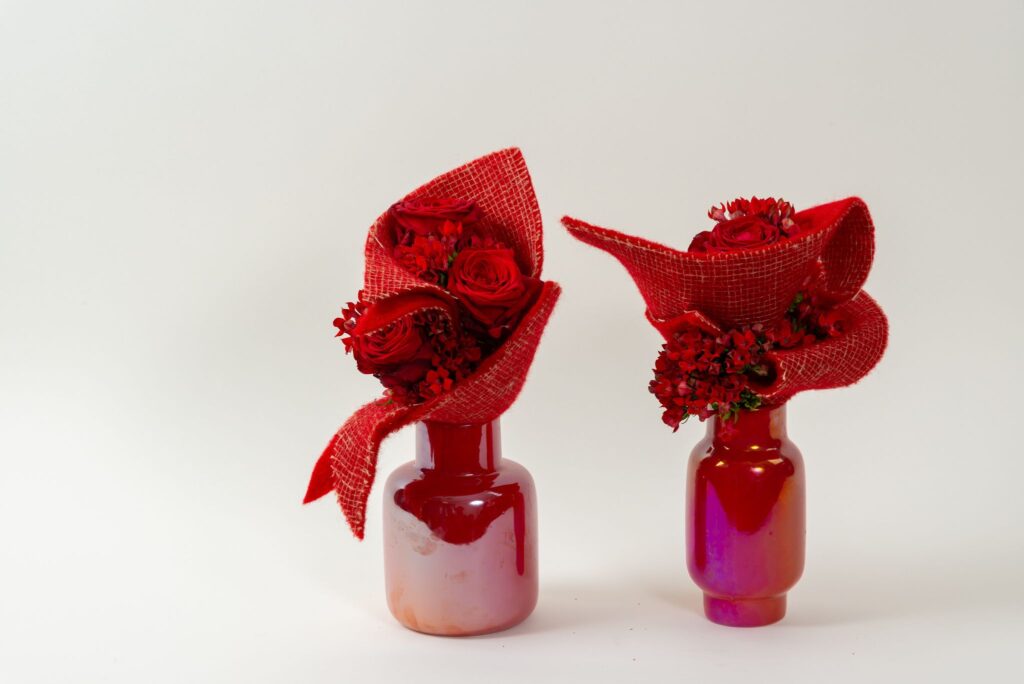 The best way I can describe this piece is that it is simply the beauty of a perfect rose, nothing less and nothing more. I used about 50 stems of the Porta Nova White Naomi rose to create this. It is perfect as a decorative arrangement for any festive gathering such as weddings, birthdays, anniversaries and more. One can have it as a single arrangement or have plenty of the same arrangements during an event.
For this design, I used White Naomi roses, baltica chrysanthemums and white callas. As for the materials, I used bleached wood sticks, bindwire and head pins. For the technique, I tied the wood together and gave it a bright shape while leaving everything in my rigid weave. The roses and chrysanthemums are incorporated directly into the structure, arranged in such a way as to occupy the space and give a spectacular effect.
The cauterised callas are placed elegantly on top of this first step. They are held in place by head pins.
I could call this bouquet "Cross Hunted" thanks to this dominant play of lines. My experience at FF was incredible as usual. These weekends give me new energy and increase my passion for this material tenfold. Sometimes our personal confidence evaporates but thanks to these few days in Holland, I feel rebooted to achieve my goals. It's a real pleasure to share with other florists from different backgrounds, with different techniques and trends.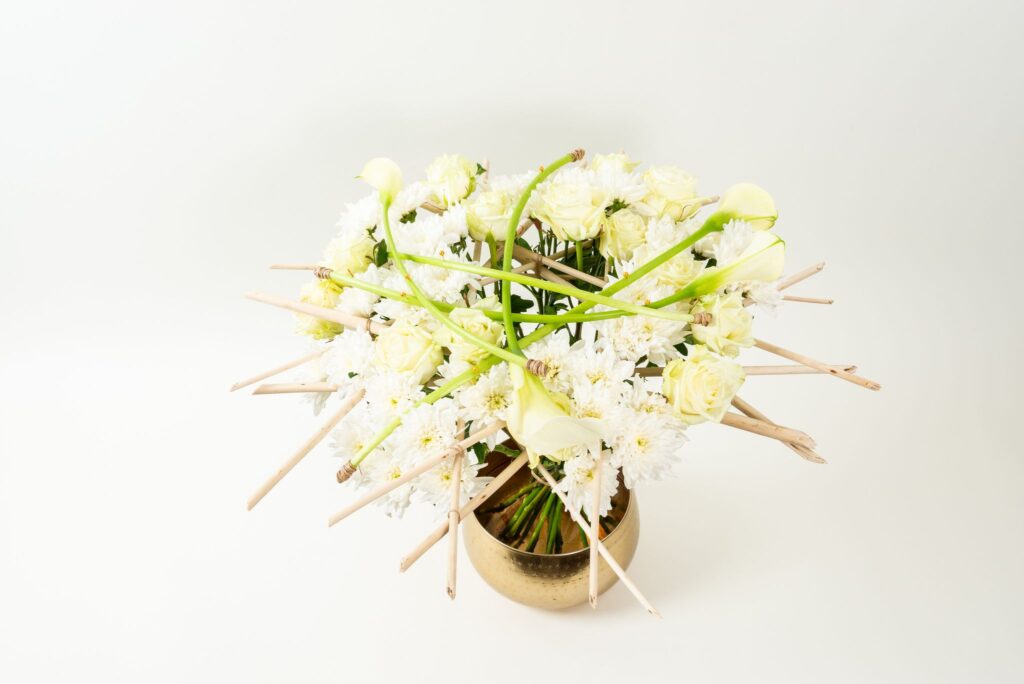 Bouquet photos by Jhon Koopman of It Ain't Photography