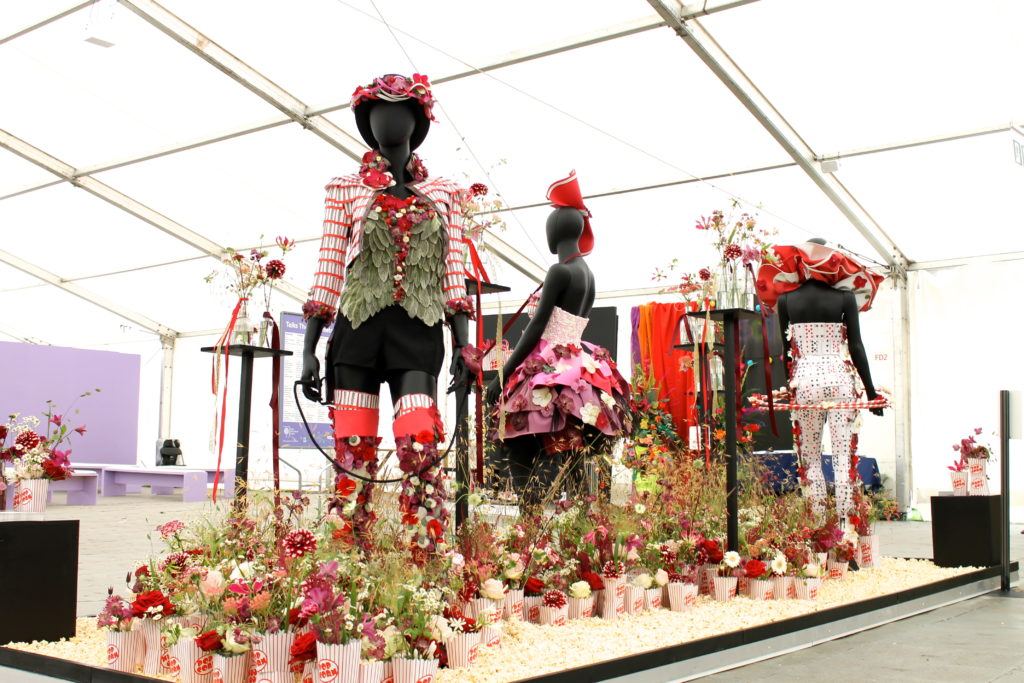 A vibrant English Carnival was brought to life during this year's RHS Tatton Park Flower Show; thanks to the UK School of Floristry under the creative eye of ace florist Joseph Massie. The English Carnival floral showcasing drew it's inspiration from Tatton's 'Garden Carnival' theme. It took a couple of weeks for Joe Massie and his students to bring out the exhibition… which rightfully scooped Gold Medal during the annual RHS show.
The 5m X 2m creation was an interplay of beautiful colors, creative floristry and had a very lively touch to it. Exquisite flowers and foliage including top quality Porta Nova Red Naomi roses gave character to the Garden Carnival. The Red Naomi Porta Nova roses were artistically strung side by side with Vanda Orchids, Gloriosa and blousy Hydrangea.
Joseph, who is a five time RHS Chelsea Gold Medal winner, said that each outfit took inspiration from the energy of English carnivals.
The exhibition featured mannequin 'models' wearing jackets made of theatre admission tickets, and jumpsuits made of playing cards. Popcorn was strewn all around beautiful flowers that blossomed out of popcorn-paper party bags. These combination served well in creating a lively and playful party scene nestled creatively in the floral garden.

"The opportunity for our students to exhibit their work at RHS Tatton Park is a dream come true for them. The show is a wonderful opportunity to really stretch their creativity and technical skills by coming up with a truly incredible design, that will hopefully catch the eye of the judges, and the imagination of the public." said Joseph.