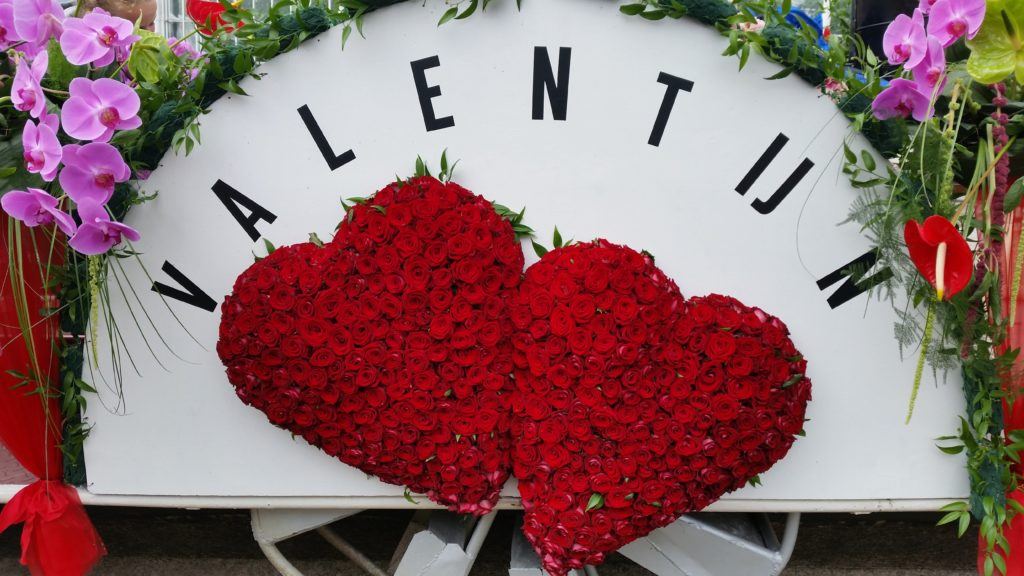 This year's annual Westland Floating Parade (Varend Corso Westland) was marked in its usual colorful and festive style. During the three day festival, nearly 500,000 visitors came together to celebrate and make merry as Westland greenhouse farmers sailed through the Municipality in 50 boats decorated with a varied display of beautiful flowers and vegetables.
Florist designer-duo of sisters Erna and Gerdien from Bloem and Lifestyle were participating at the annual festival for the 13th time. Among their various decorations, the floral designers created 12 Porta Nova hearts made from top quality Red Naomi! roses. The hearts were then placed beautifully on the sides, front and back of their boat which they named Valentine's Day.
Normally, Erna and Gerdien would start preparing for their participation as early as January; but that wasn't the case this year because they weren't sure if they would give it a go. So they started off in June, which meant they just had shy of two months to make their boat ready. Porta Nova sponsored  5,000 premium Red Naomi! roses to help the 'Valentine's Day' team.
"It was a 12 meter boat, so that meant lots of flowers were needed, not forgetting volunteer dancers and floral designers to help us reach our goal," says Gerdien.
"We had to build a beautiful boat with good music, a dance floor for the dancers and a steam pipe with real steam." she added.
Once the design was finished on paper, the sisters with help from their spouses started the physical job decorating the boat and creating the various floral designs needed. The four of them worked everyday for nearly 3 weeks before more people joined in to offer help. On Thursday 30 July, just a day before the festivities kicked off, they had a team of 15 people working to finalize the boat decoration. Friday 31st July they set sail with the Captain and the salsa dancers who danced on the boat for 3 days. Their song of choice was 'Time of my Life' by Dirty Dancing. The three day leisurely sail saw them cruise along Naaldwijk, Vlaardingen, Wateringen, Delft, Rijswijk and the edge of the Hague.
Their boat Valentine's Day, with beautiful Red Naomi! Porta Nova hearts hanging elegantly on its sides, won second position under the category of non-commercial boats.