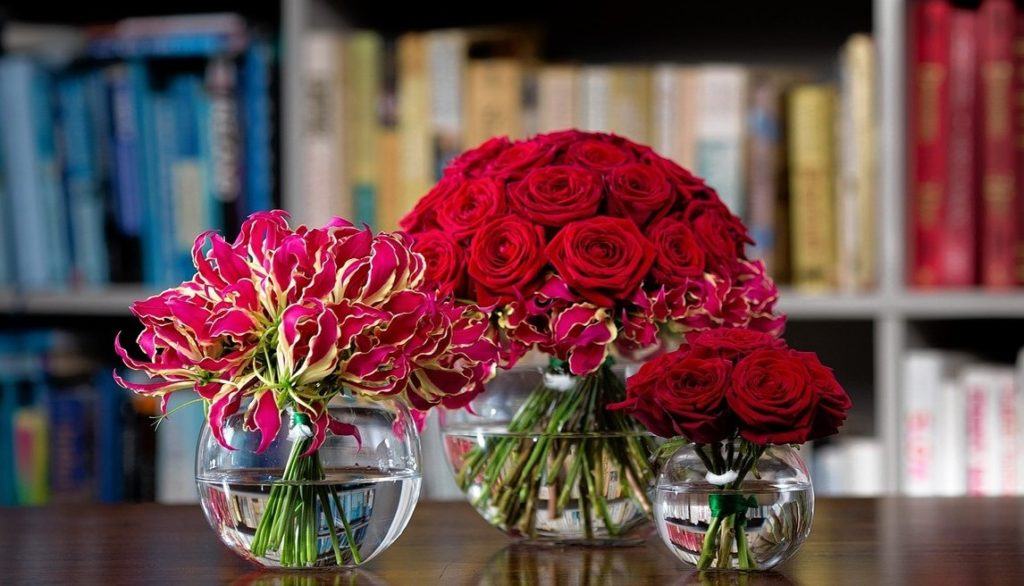 Proudly we want to share a article from The Wall Street Journal written by Robbie Honey. This is an example of a simple but beautiful flower arrangement he created with Porta Nova Red Naomi roses combined with Gloriosa lillies. Just follow the steps below to make this arrangement for your Christmas table.
Three steps to make a beautiful Christmas arrangement:
Step 1:
To make this flower arrangement you use 15 Red Naomi roses. Strip the rose stems of the leaves and
thorns. Make sure the're ready to hand tie.
Step 2:
Take the 15 Red Naomi roses together and make sure it looks like a round dome. Place on he bottom
of the roses the Gloriosa lillies. At first tie them with raffia and than tie a green satin ribbon around it.
Step 3:
Besides this bouquet you can still make two bouquets. One with only Red Naomi roses, and one
with de Gloriosa lillies. Cut the stems of each bouquets in your desired lenght and put the bouquets in different sizes of fishbowls.
This arrangement looks beautiful on a table with the upcoming holidays.