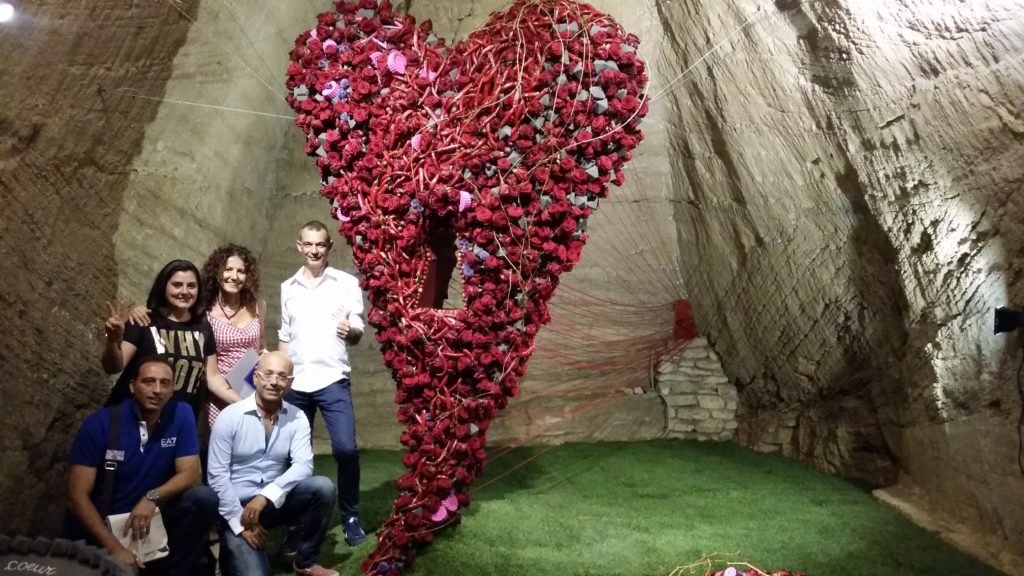 Doué-la-Fontaine is known for more than just its mild weather, rich soil and a fascinating cave heritage. This historically endowed part of Western France is also known as the 'Rose Capital of France; and in July every year, Doué-la-Fontaine opens its doors for visitors from far and wide to come and enjoy "Les Journées de la Rose" the Festival of Roses.
Among the various activities during the festival of roses, there is a floral design competition where eight schools of floral art are chosen to square it off against each other. Every year, the competition has a unique theme; and the theme for 2015 was 'Roses and Love'.
At the competition, Laltralinfa International Floral School decided to create a large love heart, filled with Red Naomi Porta Nova roses to bring out the theme. In making of the design that lasted them 2 days to create, the team used 1000 Porta Nova Red Naomi roses.
According to competition rules, each team is required to have six participants consisting of two teachers and four students. On the first day, all team members can participate, but on the second day only the students are allowed to put their skills to work.
Forming the Laltralinfa squad of florists was Assunta Bottacin, Ivan Berghella, Anna Maria Spedicato, Matteo Marchitto, Antonio Vizzi and Tiziana Ciccardi. The design concept which made good use of the Red Naomi rose was a brainchild of Assunta, Ivan and Anna Maria.
This is not the first time Laltralinfa International Floral School has used Red Naomi roses from Porta Nova as the preferred flower in creating their designs at the Les Journées de la Rose. In the 2014 event where the theme was 'Roses and the Renaissance, the team used Red Naomi roses; and similarly in 2012.