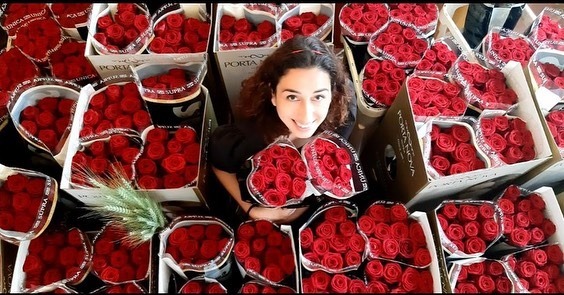 Just like Valentine's Day, 23rd April is a special day of love in Barcelona and the larger Catalonia region. It is Saint Jordi's Day; when Love and Romance take residence not only in people's hearts but all over town; as everyone goes an extra mile to find the best way to express affection to their loved ones.
Just a few days after St Jordi's 2021, we highlight in brief the blissful story of love between Simin and Manoucher, the founders of Floristería Brisa; a florist shop established in 1985 and located in the coastal city of Sitges, South of Barcelona. The two left fled their home country of Iran and decided to venture into the world of floristry on arrival in Spain.
After several years of effort, dedication, and sheer passion for floristry, the family business has gradually made headway in the sector and is currently the most emblematic flower shop in Sitges.
Simin and Manoucher's daughter, Nasim, is keen on successfully carrying on the 'floristry torch'. According to her, St Jordi was a bit different this year with things slowly getting back to normal from the pandemic, but the love could still be deeply felt.
"It is clear that after a challenging pandemic year with lockdowns, restrictions, and very few celebrations, people are eager to return to normalcy, and this Sant Jordi was a good time to enjoy this tradition and enjoy a feeling of things slowly returning to the way they were before." says Nasim.
It was a different Sant Jordi for Nasim's family and everyone at large. The regional closure limited movement and that made people buy local and close to their usual florists.
"It was difficult to make a sales forecast and it was a blind bet and without reference. We decided to bet and give the best, the best quality of roses and offer a product that would differentiate us from the rest, that is why we opted for the Red Naomi Supra by Porta Nova. We wanted to offer a product with the highest quality and duration that could only be found in our flower shop." she says.
"People made long queues on the street respecting the safety distance to get their hands on the so-called best rose in the world. Our hands did not stop making arrangements and every time we looked up we saw more people waiting and so on until we had to announce that we had no roses left. This Sant Jordi campaign was very successful both for online sales and in the physical store. Our design for the roses was simple, traditional, and without taking away the prominence of the rose.
Without a doubt, our strength was the quality and beauty of the Porta Nova Red Naomi. This time we decided to create our designs based on the saying "less is more."
Verdnatura and St Jordi's
Floristería Brisa receives their floral supplies from Verdnatura
Verdnatura is Spain's foremost flower importer specializing in the sale and distribution of cut flowers, greens and floristry products. Since its inception in 2001, the company has realized exponential growth, offering quality service through a logistics network with the capacity to operate throughout the Spanish territory (including the Balearic Islands), Portugal and southern France.

According to Paco Rico, Verdnatura's Head of Marketing and Communication, the success of the company has always been dependent on working with high-quality products such as Red Naomi roses from Porta Nova that are a worldwide reference in terms of quality. "Thanks to this type of product we can maintain a high standard of quality as witnessed during the last "San Jordi" campaign; an event that is very important for us in the field of rose sales," says Paco

"After a very hard time in which people have gone through very stressful moments due to the pandemic and confinement, this year's campaign was a springtime explosion of joy that had a huge impact on sales. Many of our customers sold out before noon."