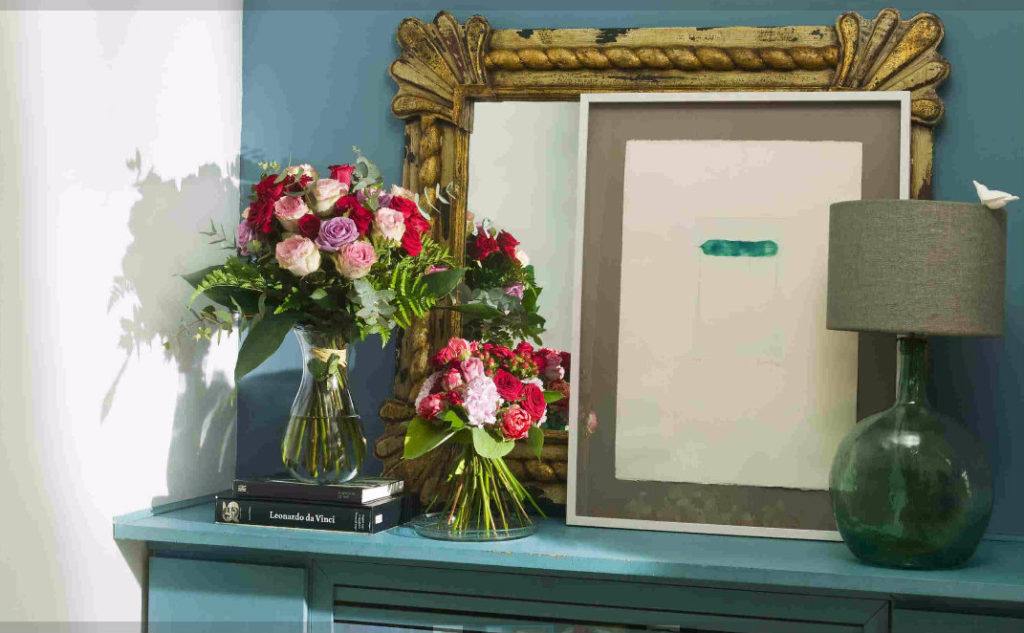 Bourguignon Floristas boasts of an impressive history, one that has seen nine generations of florists tame and build the family-name in the trade. Their journey in floristry traces back to the Bourguignon's huguenot roots and early settlement in Rotterdam. We recently had a chat with Mike, one of the directors at Bourguignon Floristas to find out what success secrets the company has had up their sleeves over the years; his thoughts about working with Porta Nova Red Naomi roses and some insight on the Valentine's season.
With regards to Spanish floristry, Mike's Grandfather was a pioneer in his own respect. He arrived in Spain in 1930 and set up the first professional florist shop in Madrid. He was also the first to bring Dutch cut flowers into the peninsula. This position of floral art, unique flowers, quality and service was a completely novel concept in Spain at the time.
Thereafter Mike's dad David Bourguignon, took over the helm and has steered the company till the present day carrying the tradition of professional floristry, quality, uniqueness and service.
"This is the focus we have always sought while at the same time being flexible enough to adapt to the dynamic nature of customer and market demands," says Mike.
A chat with Mike Bourguignon
What is the driving force and inspiration behind the everyday operations at Bourguignon?
Service, Customers, Quality and Elegance.
Do you have a signature style? How would you describe it?
Elegance is probably the key style that exemplifies what we are known for. Just as Coco Channel said, fashion changes, but style endures. Hence, we can adapt to each floral fashion that comes across, but we always try and make it that little bit more elegant.
For a company built on a reputation for quality, how important is it for you to use good quality roses in your presentations and design work?
It is nothing less than essential. Any flower quality is important. In a world where the best need to deliver expectations and service, quality is the key to this success.
In terms of quality, how would you describe Porta Nova Red Naomi roses?
Simply Sublime. Quality is not only on how long it lasts, but the experience. The experience of Porta Nova roses is essentially in the color, texture, how it opens and the fragrance. The color is a lot deeper than the rest, the texture is a lot more visual, the opening is a lot more resistable and wide with so many petals, and, finally, the killer that makes the rose sell more is the sublime smell.
Red Naomi is a top of the range luxury rose which is quite pricey. What type of clientele mostly request Porta Nova Red Naomi for their arrangements?
We only use one type of rose, and the prime choice of ours is Porta Nova Red Naomi. When we use other roses it's only because we have run out – in Spain there is still no constant supply of Porta Nova roses at wholesalers – the difference is huge.
How fitting is Porta Nova Red Naomi especially on occasions such as the Valentine's season?
Extremely. Valentine's day in Spain is very price specific and hence any change in price from the normal prices is shun upon and not understood by our clientele. Hence, Valentine's day has very reduced margins for us and we essentially look at it as a marketing day. Many clients come to our shop and we strive to deliver on quality, so we are remembered for this when they buy during other times of the year. Hence, we need to have the right quality and keep smiles on all our clients.
As an established florist, would you recommend Red Naomi to other designers?
For designers all over the world Red Naomi is the rose of today because it answers many customer needs. However in Spain Red Naomi is not getting much exposure and I feel it's essential that Spanish floral industry uses more of Red Naomi because customers are shouting for a rose like this but don't see it.
What are some of your most memorable projects?
Any that ended with a smile on the client's face. This can be anything from the smallest bouquet to a large banquet wedding.