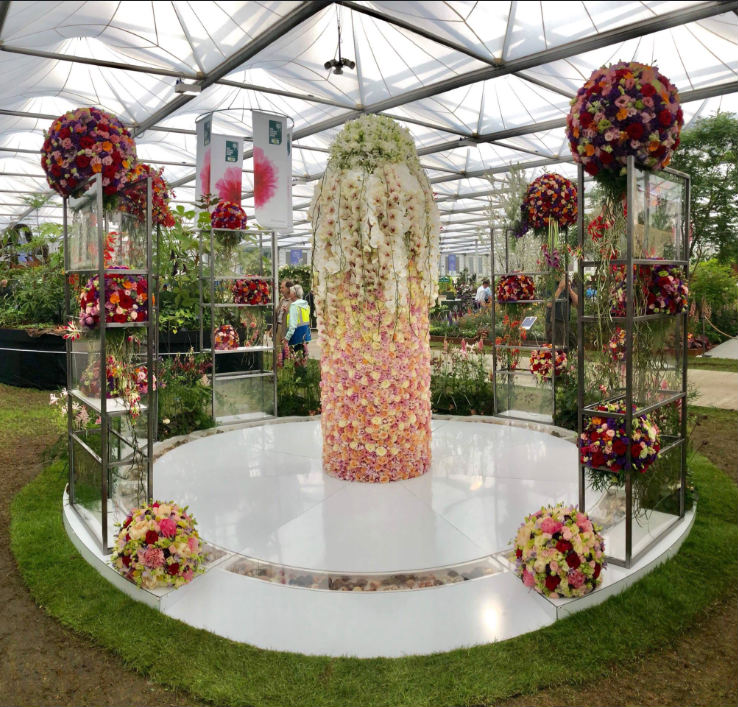 During the recently held RHS Chelsea Flower Show, Floral Fundamentals ambassadors created a beautiful floral exhibit using various flowers and plants including Porta Nova red naomi roses. The installation was a brainchild of UK based florist Morgan Douglas Nuth who together with eight other top florists brought to life a creation that spelt-out unity and beauty in vivid floral language.
VIDEO
The exhibit was created to elaborately showcase all facets of Floral Fundamentals. From growers who cultivate from seed and bulbs to those who work under glass and culminated in a central selfie column (with 5000+ flowers) depicting the florists. We had a chat with Morgan who shared with us about the inspiration for this exhibition and more.
What was the general theme of the showcasing at Chelsea Flower Show?
The theme was UNITY. We sought to show how flower growers & florists can work together to inspire and educate. It was to show how the growers provide us florists with the best flowers and what the talented florists can do with these flowers.
What inspired the idea?
So about 2 years ago, I wanted to show everyone that even though the UK was exiting the EU, there was one thing that still bound us together; and that was of course flowers. It unites us as florists and in essence delivers emotions to millions of people across Europe every year. I wanted to show that European florists can work together as one. However, we could not get the exhibit together in time for the 2017 show. For this year we decided to create a project called UNITY, that portrays how working together is still a very important part of the Floral Fundamentals ethos.
How many florists were involved in the project?
We had 9 Florists. – Stefan van Berlo, Hans Zijlstra, Elisabeth Schoenemann, Morgan Douglas Nuth, Agna Maertens, Mariann Holmen, Jimmy Englund, Sue Phillips and Laura Leong.

How long did it take to complete the exhibit?
The project was a year long baby in concept, but once we were at Chelsea it took one week to build.

Apart from Porta Nova Red naomi, What other flowers and other materials did you use?
We used almost every flower from every grower that belongs to the Floral Fundamentals family. We used the outdoor growers mainly in the meadow sections, and the glass house growers in the tall columns.
Did you use any special floral design techniques for the flowers?
We mainly used flowers massed together to create a high impact and give the wow factor. For the central column Selfie wall we used a foam tile that was drilled onto a marine wood column base and then foam that was glued to a corrugated plastic sheet for stability.
How can you describe the audience reactions?
I can't begin to tell you how amazed all the people that came to the show were. The show had over 150,000 visitors and I think most of them took time to come and see us. After we were on the BBC 1 show with Chris Bavin, we had lots of people coming to see us as they had caught us on TV. It was quite amazing, there were queues of people awaiting to take pictures at the stand.

We even heard that someone got engaged in the stand… Tell us what happened there.
We did not know this was going to happen but all of a sudden there was a lot of people gathering at one side of the stand and a guy got on one knee and proposed to his girlfriend. He just loved the backdrop so much it was obviously the perfect moment.

How impactful is such an exhibition in terms of inspiring florists and the art of floristry in general to the public?
The Florists that we spoke to were amazed. We did have one lady who had came out of working with flowers as she has lost her MOJO; but after seeing our exhibit she told Alison Bradley and I that she felt motivated to come back into working with flowers. It was such a touching moment. The general public had never seen anything like it before and were so excited to see something like this at Chelsea. People stood for so long to chat with us and were genuinely inspired by the exhibit.

You have been working with flowers from Flora Fundamentals members before I assume.. but how was it to receive all these quality flowers from all of them at the same time?
I was amazed at all the flowers we received. Of course I knew that the quality was always going to be the best but the generosity from porta nova and all the other growers was fabulous. We honestly did not have to replace much at all. In the main column we had over 5000 heads of flowers and we only took out one Lily head, and that was it. So it just goes to show that if you use the best flowers you will only have to do the job once. PERFECTION.
MORE MOMENTS FROM THE EXHIBIT AT THE CHELSEA FLOWER SHOW