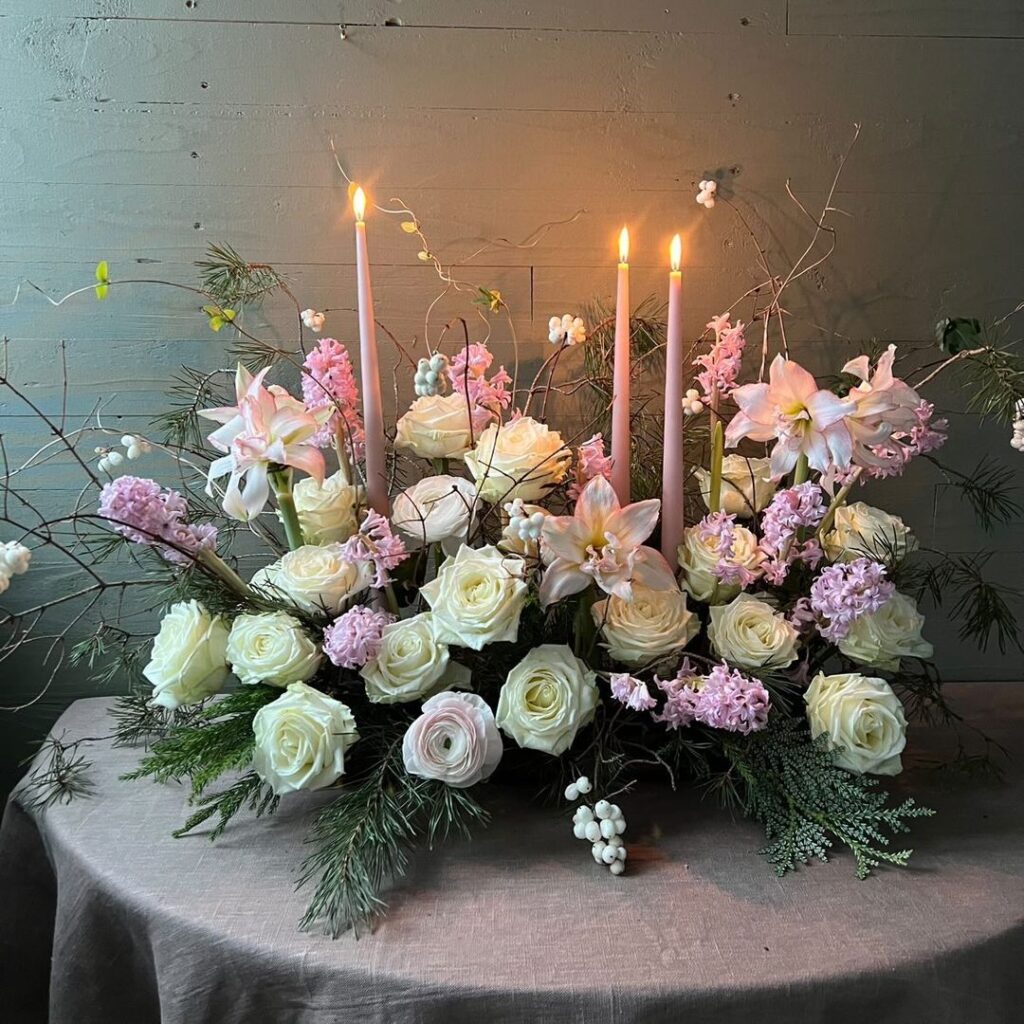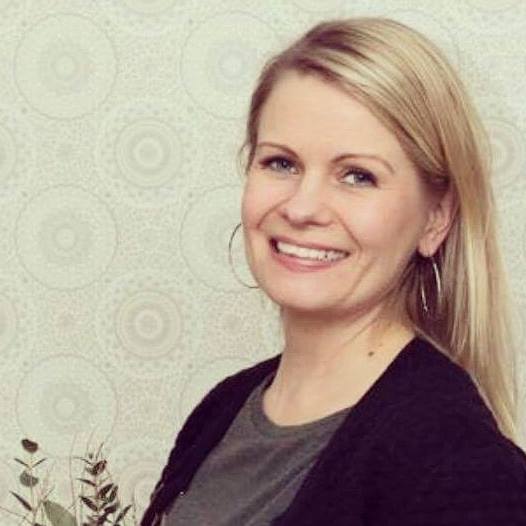 Earlier in the year, Heidi Mikkonen shared with us some amazing designs she'd created using Porta Nova White Naomi and Red Naomi roses (CLICK HERE TO CHECK THAT OUT). Through the designs, she not only showed how the sheer brilliance of floral art can be brought to life but also told her story of a passion for floristry that spans more than 25 years. This festive season Heidi created these designs using Porta Nova White Naomi roses and was gracious enough to take us through the making-of process.
Christmas Table Centerpiece
"I have used Fiber Floral design media with a tray for this arrangement. I start by wrapping Fibreflora in waxed paper and pulling yarn around. This gives Fibreflora extra stability and the waxed paper retains the water for the flowers. I use Porta Nova White Naomi together with wintergreens including; Thujopsis, Kryptometia, Pinus and Symphoricrpus as well as Hyacinth and Amaryllis Harlequin.
When I use candles in this way, it is important to take a little oasis fix at the bottom of the candle so that the wick in the candle does not get wet.
Xmas delight in an urn
For this design, I have used chicken nets in the pot and used pinus, Prunus Spinosa, White Nerine and Amaryllis, and then of course all the beautiful roses. To get a winey and a little bare and cold feeling, I have removed all the leaves from the roses. In the winter, no leaves grow outside, so by doing this the arrangement gets the right wintery feeling.
When I work with chicken nets, I always make sure that the stems are long on the roses so that it goes deep into the bottom of the pot so the flowers draw water better. I love the contrast between light and dark and the fact that it is not completely regular in shape.
Christmas in Sweden
Heidi Mikkonen tells us how Swedes are good at decorating their homes with flowers for Christmas. She shares with us some of these floral xmas traditions.
"Most Swedes will have a door wreath and almost all decorate their windows with electric candles and houseplants such as euphorbia or amaryllis. In every house, save for those with allergies, you will most likely find hyacinth! Those who truly love flowers will treat themselves to table decorations during Christmas Eve. It is common for the customer to hand in their favorite pots in which the florist makes flower arrangements. Regarding color, I find that most are quite traditional and choose either red or white," she says.

And adds, "The Swedes are also very good at sending Christmas greetings with flowers. In the past, a customer would come to the flower shop with a long list of addresses for loved ones who would receive a flower delivery. Nowadays most people would probably send their lists digitally from the comfort of their homes.