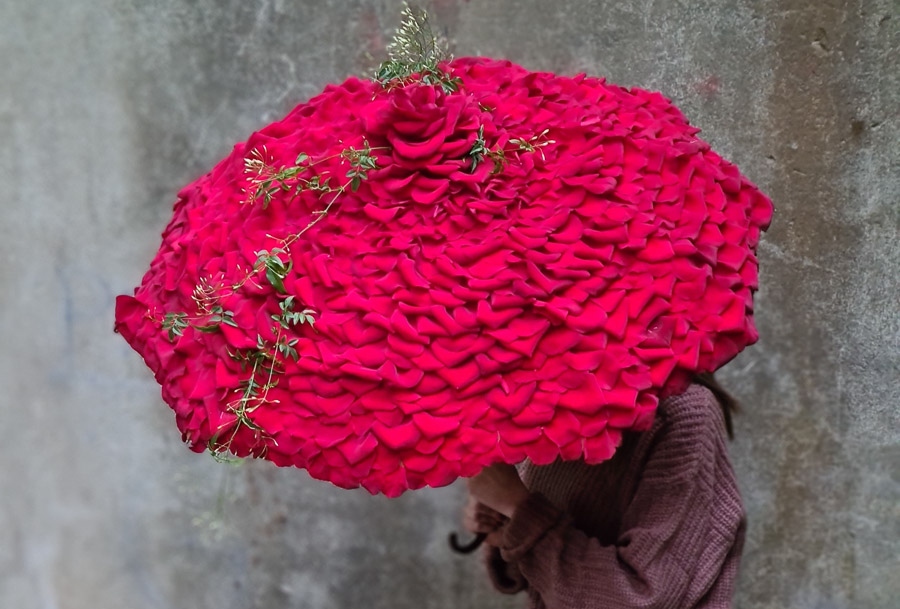 Heidi Mikkonen is a Swedish florist with immense experience and a love for the art. We spoke to Heidi after she took part in a recent Floral Fundamentals photoshoot where she created some beautiful designs using Porta Nova Naomi roses.
Heidi has been in the game for 25 years, having started in floral design competitions at 17 years old. She remembers fondly when at 22, back in 1999, she won Gold Medal for Sweden during the WorldSkills event held in Montreal.
"After that I started working as a demo florist. I enjoy this because I get to do what I love, that is teaching, competing, and holding demos and workshops," she says.
Heidi has had a chance to hone her skills in some of Sweden's most acclaimed flower shops and she is currently a member of the Swedish Jude team for floral competitions.
"Three years ago, I started my own business as a freelance florist. My passion lies in the craftmanship involved and after all these years I am still crazy for the flowers," Heidi asserts on her love for the art.
"Swedish florists are skilled in their craft, and we have many good florist schools in Sweden. Florists here are good in colour combinations and use their flower material with a lot of respect.
Versatile Bouquet
This bouquet can be used as Valentine's Day love bouquet, Mother's Day bouquet, birthday bouquet or even as a wedding bouquet if the bride wants a bigger design. "I like contrasts and the round definite rose looks enticing with the playful Lonicera stems dancing around it. Also, the rough texture in the branches gives contrast to the velvet-like rose. The hand-tied bouquet has the lovely Porta Nova Red Naomi of course, cymbidium, Magnolia and Lonicera."
Fluffy cloud
Apart from Porta Nova White Naomi, in creating this bouquet Heidi used Syringa, Viburnum and Magnolia. Heidi describes this almost cuddly design as a dreamlike a beautiful fluffy cloud.
Red Naomi Parasol
I got an old umbrella from the flea market that I used it as the base for the design. I then glued Porta Nova Red Naomi petals on it. Since the roses are so big, I actually didn't use very many stems.
White Naomi Wreath by Heidi
This wreath can work well for several purposes. It can be for table decoration and will look especially lovely on a round wedding table. It would also be lovely as a funeral wreath. "The big Porta Nova White Naomi flowers and amaryllis makes the wreath grand. Light and pale color, colourful in colour." Says Heidi describing the impeccable contrast.
White Naomi Mixed Bouquet
A gorgeous bouquet fit for all occasions. This can be a great gift for mum during Mother's Day or even as a bridal bouquet.