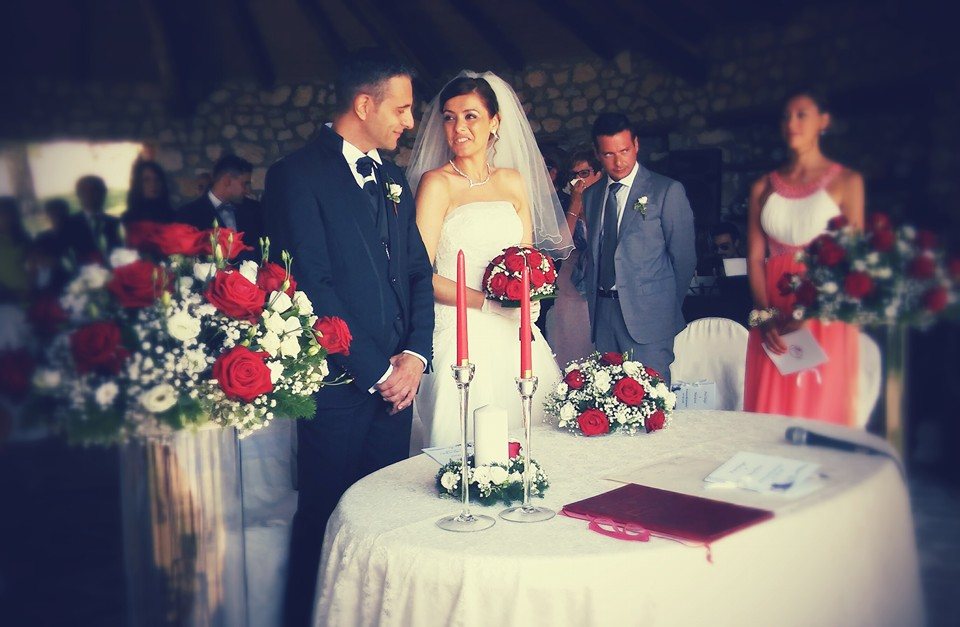 Luigi and Simona's Wedding. Floral designer Ivana Spinelli used Porta Nova Red Naomi roses in her decor
A wise man once said that 'the world laughs in flowers.' Maybe that is the reason why flowers are used all over the world to capture the love and joys vividly displayed during a wedding. Italian Floral Designer, Ivana Spinelli knows only too well the importance of presenting the very best for her clients on this big day. She describes floristry as a magical world of harmonies, colors and proportions as she shares with us the making of a red naomi wedding for Luigi and Simona. We also spoke to her about her passion-driven career, her love for Porta Nova Red Naomi roses and her view on the current wedding trends.
Tell us a little bit about yourself and your career as a florist?
My passion for floral art dates back a few years. I started to get closer to this magical world of harmonies, colors and proportions in 2012 after 24 years of experience as a researcher at a known American multi-national company. Thanks to my previous work experience, I had a remarkable mastery of planning and designing my work plus good interpersonal skills which gave me an excellent ability to work in a team. These abilities plus technical training assisted me greatly in setting up my activities in floristry. I personally found it important to learn technical skills so I attended an advanced Floral Art school where I was taught how to test, and make room for my fancy and artistic talent. I like participating in  these continuous experiments because they not only excite me but also drive me to do my best.
How can you describe your style?
A florist's style is created, developed and mastered gradually as time goes by. You have to try all styles and understand which one best represents your personality. I like a simple, polished, elegant styles and I always try to realize these in every set up I create.
Where do you search for inspiration?
Italy is an endless source for inspiration: art, nature, fashion, cinema etc. My inspiration comes from the web, from my city and from floral art magazines. I get carried away just by looking at creations by great floral art masters and finding out new techniques and trends so that I can meet the most original and unexpected demands of my clients.
Give us an overview about this particular wedding floral set-up, what was the theme you were going for?
Luigi and Simona are two young people that intend to love each other forever. They are two wonderful, pragmatic people who like simple, genuine things. Simona loves red and gypsophila while Luigi loves simplicity, and I love elegance. I arranged the floral set up according to their requests and budget. First of all, a red shade was chosen to create a clear contrast and impact with the pure white of gypsophila.
The theme was "love" and the main flower was "Porta Nova Red Naomi" the symbol of love and passion. The celebration was held in a stone structure, called "il coretto" because of its circular shape. Its location was surrounded by olive trees and vines hills of Abruzzo. Certainly the environment helped create a very romantic, special and unique atmosphere. The floral setting was concentrated on the area of the bride and groom to create an intimate and colored scenery.
What do you like most about Porta Nova Red Naomi roses?
I like the rose's strong red color, its texture, the nice delicate scent, long stems, it's almost thornless nature and on top of it all, I like the vaselife.
Apart from weddings, which other events would you prefer using Porta Nova Red Naomi?
After pointing out the difference between Porta Nova Red Naomi roses and other flowers to my customers, now I sell and use only Red Naomi for all my events.
What type of feedback do you get from your clients who use Porta Nova Red Naomi?
Now also my customers like Red Naomi roses. The most common feedback is about the vase life and the texture of the petals.
How would you describe 2016 wedding flower trends and how would you say Porta Nova fits in?Though the 2016 trends are directed toward different colors and flowers, Porta Nova roses remain a cult. Roses are the most popular flowers and the most used for wedding arrangements. A bouquet of red roses symbolizes love and passion. A bouquet of white roses is the pure and spiritual love. The rose is timeless, a classic that never goes out of style.
What do you love most about being a florist?
Being a florist is both exciting and tiring. It is necessary to take care of the customer. Listen to their needs and effectively meet those needs. I like my job a lot, from all it's perspectives. I cannot pinpoint one single aspect that I enjoy most. I love everything I do and I always strive to do my best.