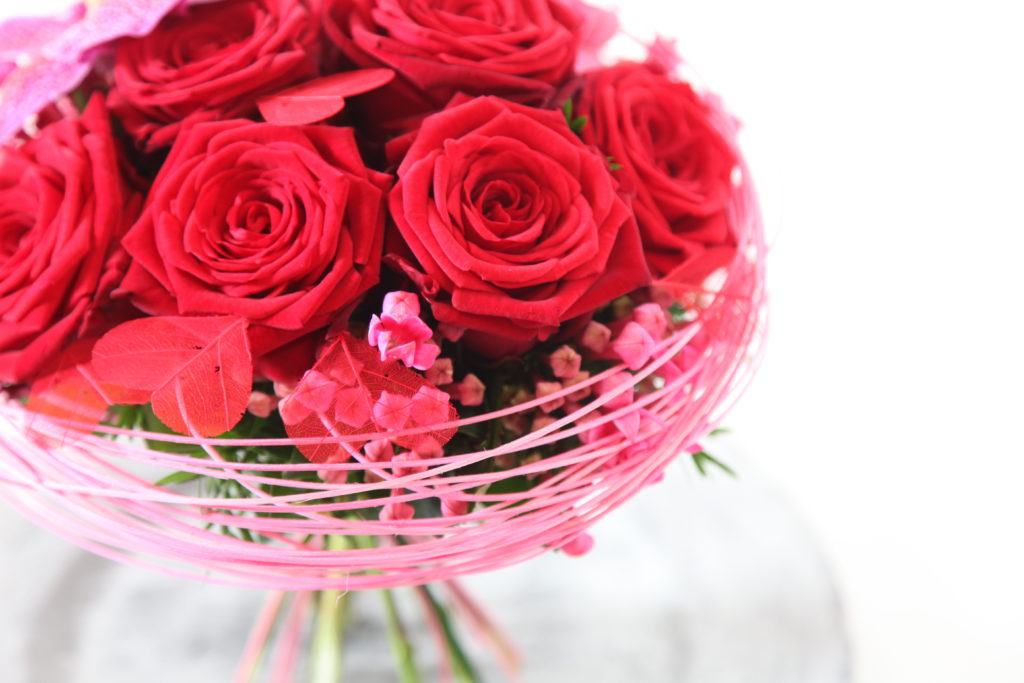 For their third edition, Digital Magazine Floral Fundamentals tasked several top tier florists to create designs using gorgeous Red Naomi Roses from Porta Nova. The result was an amazing selection of designs featuring a rich Valentine's Day theme. The designs were not only beautiful but also ingeniously crafted.
With Valentine's Day just around the corner, these bouquets fashioned in different styles are an ideal inspiration for florists in the way they capture the essence of love. They are a good illustration of what you get when excellent floral artistry meets the Velvety-Red Porta Nova Red Naomi.
Photos courtesy – Floral Fundamentals
Photography by – Denis Bradley
This design by Oscar Von Flora allows the Porta Nova Red Naomi roses to stand out in their radiant velvety Red, which immaculately matches the pink hues of the Bouvardia Royal rose & Pink Luguma hydrangea plus the Burgundy Vanda Sumathi from Anco pure vanda. The arrangement is bound together cleverly with a loosely fitting pink wire.
For this beautiful Valentines piece, floral designer Dan Xavier created a composite rose using top quality Porta Nova Red Naomi rose petals on a heart-shaped handmade wire frame. To give his design a more artistic touch, he re-used the two stems of Red Naomi from which the petals had been removed and glued on them Gloriosa petals from Crown Jewels Gloriosa. The result is a gorgeous and unique Valentine's Day creation.
A classic hand tied Porta Nova Red Naomi Nosegay in rich Valentines colors. This gorgeous and expertly arranged nosegay bouquet created by designer Dan Xavier is complimented by a heart shaped ribbon frame to bring out the Valentines feel. The Raspberry Cerice vanda nitaya flower from Anco pure vanda works well to complete the look.
Sometimes all you need is a single Porta Nova Red Naomi rose to say I Love You in a special way. Designer Oscar Von Flora made this inspiring piece using a single Porta Nova Red Naomi rose blended in Malus red sentinel summer flowers, Tillandsia Usneoides and Tillandsia xerographica from corsa plant. The pink wire in its abstract form makes the design all the more beautiful.