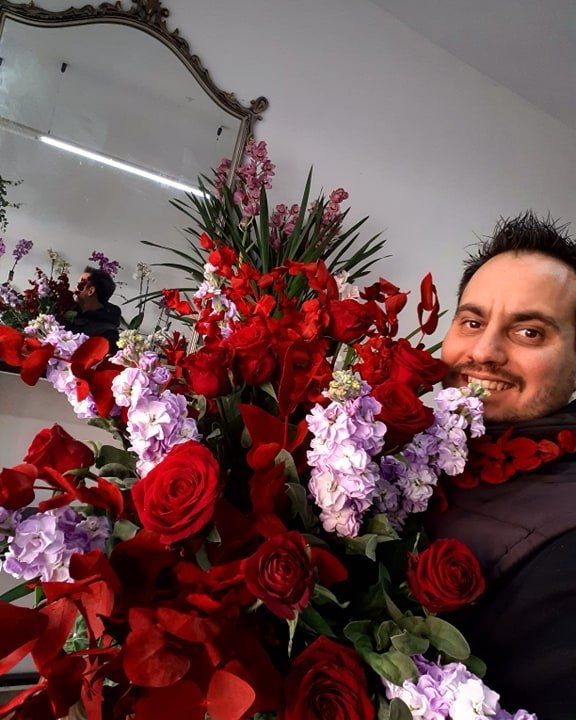 This Valentine's Day, Fabio Sicurella shares floral inspiration through these beautiful arrangements with Porta Nova Red Naomi roses.
Fabio Sicurella is a second-generation florist taking after his mother who established their company back in 1976. The florist is inspired by nature and the exuberant sights and sounds of his hometown of Ribera; where his shop 'L'angolo Dei Fiori Di Fabio Sicurella is located. Fabio is a notable floral designer, whose arrangements are well-thought-out and quite captivating.
Red Naomi Flowerbox
In this design, Fabio uses Porta Nova Red Naomi roses and incorporates Ficus Benjamina purple berries and eucalyptus greenery to give a nice subtle contrast.
Red Naomi Heart & Love in the Mix
The Porta Red Naomi heart box is made in traditional valentine's day style. To add volume and texture, Fabio introduces pink salix berries of the Willow tree.

The mixed bouquet is radiant and colorful. In this design, Fabio has the Porta Nova Red Naomi in a nice mash with grape orchid, phalaenopsis decorum plants, and lisianthus gems

Porta Nova Red Naomi heart box

Love in the Mix
Brilliant Valentine's Day / Love is colorful
The mixed bouquet below is a celebration of Porta Nova Red Naomi's brilliance. The rose is complemented by Gypsophilia eucalyptus and the rich green of dianthus kiwi from Holland.

The bouquet on the right is yet another gorgeous display of color with Porta Nova Red Naomi, Red and Pink Dianthus, Sweet Avalanche and branches of eucalyptus and wild ivy for the greenery.

Brilliant Valentine's Day

Love is colorful