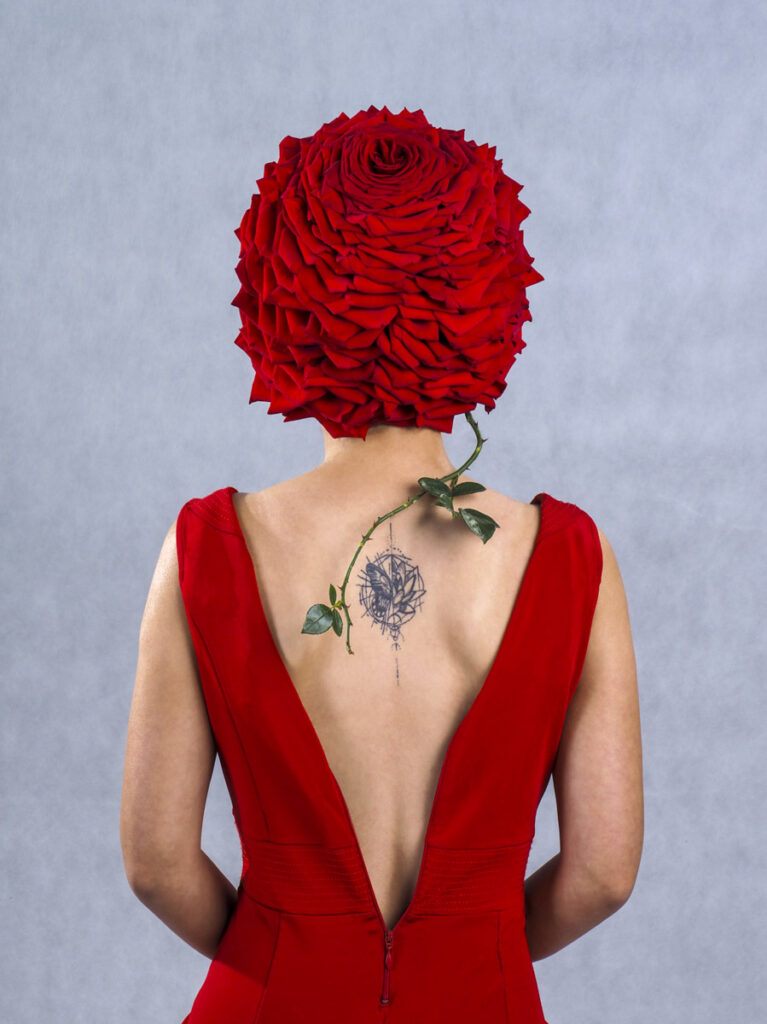 The world of floristry stood up to applaud Gábor Nagy when in 2017 he clinched the Hungarian floral Championship and also won the Eurofleurs competition in Belgium in the same year. As we came to pleasantly find out, this impressive feat in 2017 was a realization of Gábor's dream birthed when he was 12 years old.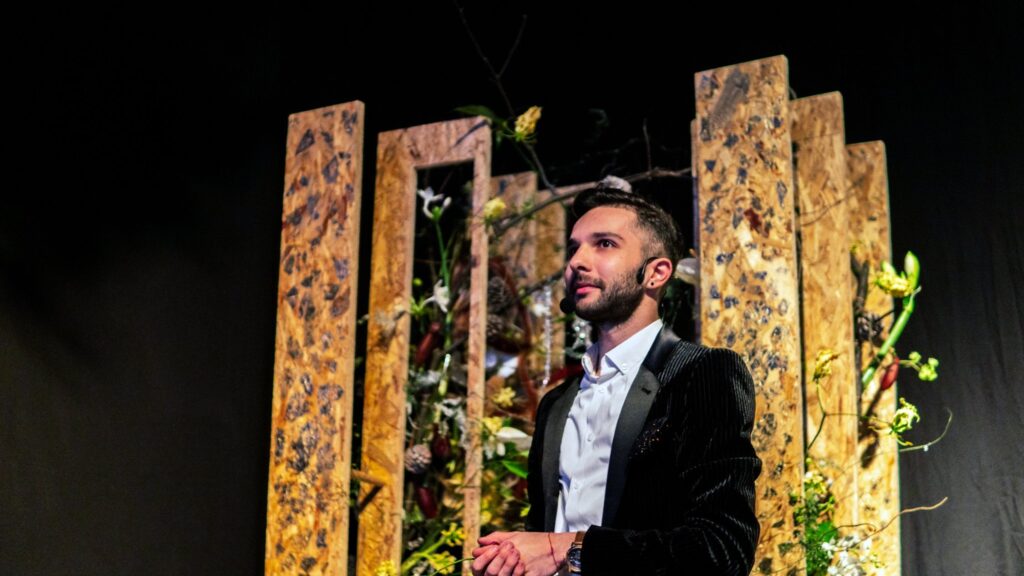 In this brief chat with Porta Nova, he shares more about his journey in floral design, what inspires his art, and more about some impressive designs he created with our Red Naomi and White Naomi roses during the October Floral fundamentals magazine home stay photo shoot.
Design 1 – Connection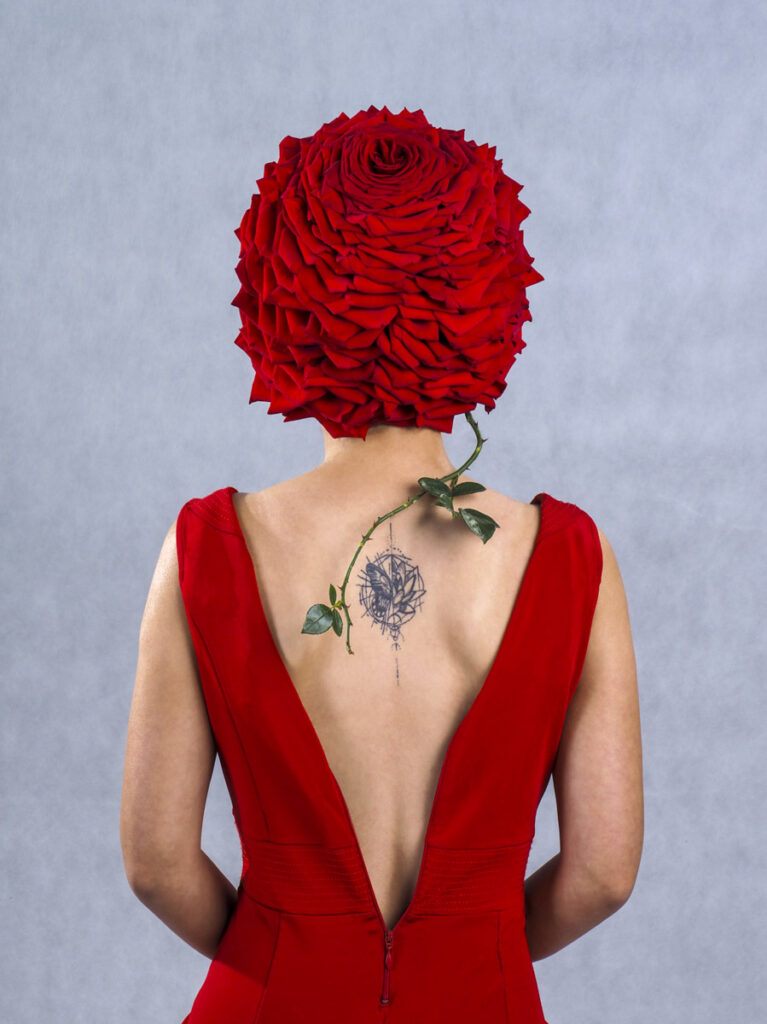 I made the rose headpiece out of a wire base which was custom-fitted to the model's head form using the decoration wire. Then I covered it with a thin fabric. I glued one head of Porta Nova Red Naomi to the top of the headpiece and then I glued the petals of the other Red Naomi roses to make a "big rose" and cover the entire surface of the headpiece. I think the rose headpiece can be best suited for a bridal photo shoot with a bride who is brave enough to wear something different from a classic headpiece.
Design 2 – Deep emotions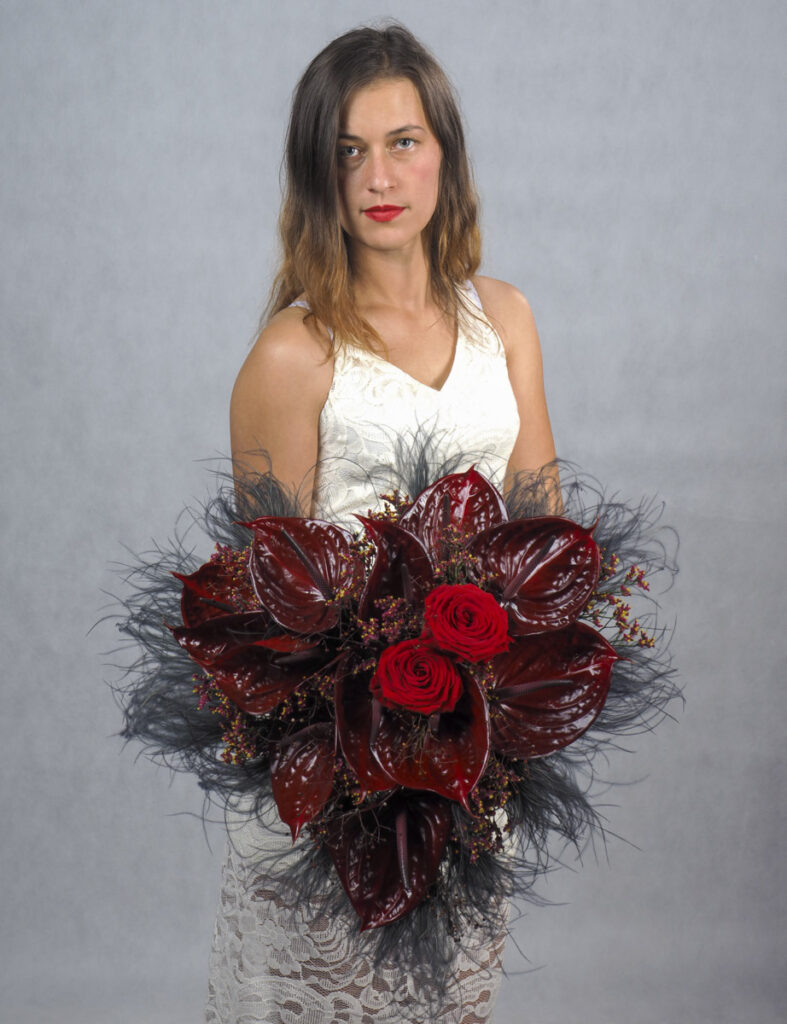 For the red bouquet, I created a heart-shaped base with wire, then I made small bunches from the dried Stypa and fixed them to the base to create a heart form. Then I added two heads of Porta Nova Red Naomi roses then I started to add Anthuriums, Talinum, and Limonium. I created this using simple spiral bouquet making technique. The red bouquet is a perfect choice for Valentine's Day.
Design 3 – Frosty moments
For the winter bouquet, I made a ball shape using wire, but I left its top empty. I covered it with Asparagus and sprayed them with artificial snow. Then I started to add the flowers including Porta Nova White Naomi roses, Lisianthus, Alstroemeria, and Astilbe. I used the spiral bouquet making technique in making this design. The winter bouquet can be a good choice for everybody who wants a bouquet that beautifully reflects winter and the festive season through its snowy look.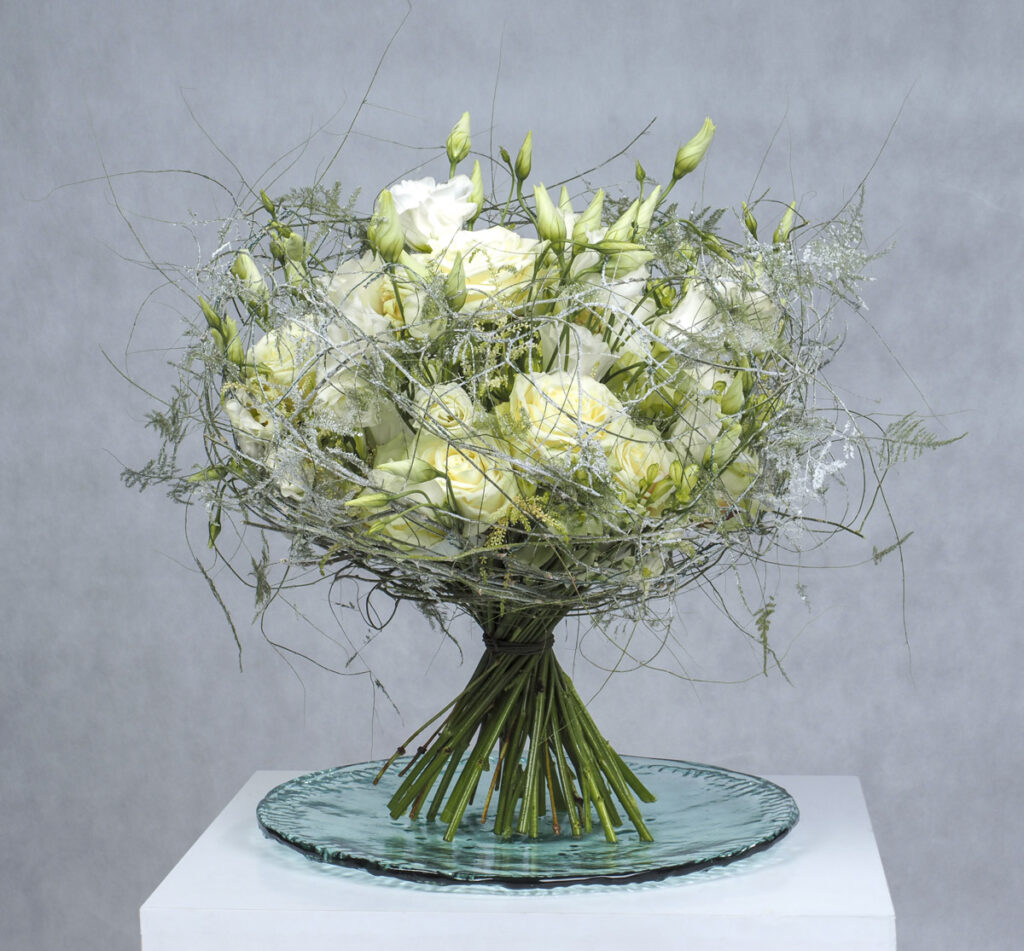 How did you get into floral art?
My love for floristry started in my childhood when I was 12 years old. During that time my parents were operating our flower shop, and I started to work there before and after school. I had wanted to become a doctor after secondary school but I changed my mind because I was more wowed by floristry than medicine.
Tell us about your expereince in floral design championships.
My competition career began after my mother took and passed her Hungarian Master Florist exam five years ago. She started to take part in competitions and I soon followed in her footsteps. From early on I always competed among adults and managed to win or take the runners up position in all Hungarian competitions I participated in. I had never gone to floristry school, I was a self-taught floral artist. I participated in competitions without any formal training in floral design but managed to win the adult category of the Hungarian Floristry Championships before getting my degree in 2017. I also represented Hungary at the Eurofleurs in Belgium in the same year. This was a fantastic experience for me and the wonderful memories still remain fresh to date. In 2019 I achieved second place at the 2018 Fusion Flowers International Designer of the Year competition. My next competition will be the in the Europa Cup where I will represent Hungary. Besides competitions, I also conduct workshops and demonstrations in Hungary and abroad.
How has your participation in championships helped you in developing your career?
Floral championships have given me a lot of experiences. Competitions are always a good challenge for any florist and we can learn and evolve from the preparations all the way to the events. Through competitions, we start to think differently, something which is very different from typical "flower shop" floristry. Through this we get to experience something new and get an opportunity to showcase a 'new' side of our art. Taking part in competitions can help a lot to develop a florist's career because they get to show their style, knowledge and ideas in the profession. My results in floral art competitions have enabled me to become well known in Hungary, across Europe and further. Through this I have gotten more and more invitations.
What inspires your art?
It is a very difficult question because lots of things can inspire my art. Alongside floristry, I'm involved in fine arts; so this is one of the things which gets to inspire my floristry work. But there are so many other sources of inspiration. For example, music, fashion, architecture, dance or nature. All of these can inspire numerous ideas.
What are some of the heart-warming stories coming from Hungary during this challenging pandemic period?
One story that stands out for me was when Hungarian growers and florists sent flowers to hospitals across the country to say thank you to the doctors and nurses for their hard work during this challenging period.
Anything else you would like to add?
I would like to say a big thank you to my Mom. She is the one who assisted me during the preparations for the home shoot. Also a big thank you to Floral Fundamentals for choosing me to participate in the home shoot this October. A special thank you to all of the growers for their beautiful flowers offered for the photoshoot. Big thanks to my photographer Bálint Rádi and my model Rebeka Orsolya Király too.
Model: Rebeka Orsolya Király
Photography: Bálint Rádi