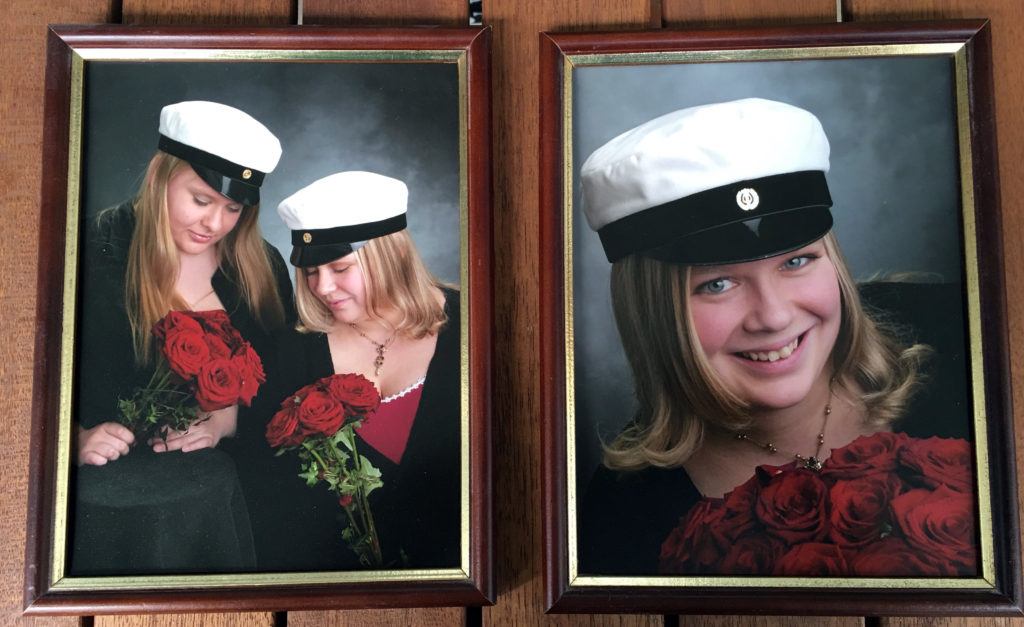 Photo: (Flashback) Masterflorist Pirjo Koppi and her sister during their Graduation Day
The start of June marks the end of the academic year in Finland. Hundreds of thousands of young graduands from high schools, vocational colleges and universities will proudly don the Scandinavian white cap that is symbolic of their passing of the matriculation exams.
Graduation Day is a huge deal in Finland, with students being showered with gifts by their loved ones as graduation parties take center-stage across the country. This day is also one of the biggest and busiest in flower business. According to Finnish Masterflorist Pirjo Koppi, graduation is one of the busiest single days for florists after Mother's Day.
"We have a strong tradition of giving flowers on Graduation Day. Long stemmed roses are extremely popular on this day," she says.
"On graduation day you will find roses everywhere. You will see roses in graduation photos, at graduation parties as everyone exchanges roses to congratulate the students, especially those who have passed the matriculation exams." adds Pirjo.
She says that flower arrangements for graduation day commonly consist of large, long stemmed roses. This are made available as both single stems and in bouquets. Shorter roses are also used but mostly as bouquets; while some florists offer bouquets with other flowers combined with roses.
"Many special rose varieties are available on Graduation Day but Porta Nova Red Naomi is the most popular or amongst the most popular of the rose varieties used. A single Porta Nova Red Naomi rose is a true classic!" says Pirjo.
Pirjo runs her company 'Floristimestari Pirjo Koppi' in Finland and is a respected figure in floristry across Europe and beyond. She was the representative for Finland during the recently held 2016 Europa Cup floral design championships held in Genua Italy where she emerged second runners up. Her personal favorite is the top quality Porta Nova Red Naomi SUPRA 80 cm.
Pirjo's Porta Nova roses were supplied by Huiskula 
Graduation day  in Huiskula
Graduation day in Finland is all about roses. Huiskulas  10  cash and carries and 15 sales trucks  all over Finland are busy selling  long stemmed, best quality roses to our customers. 
Porta Nova's Red Naomi has the top quality and top looks  which our customers highly appreciate!
"Porta Nova Red Naomi – best rose for Finnish graduates!"