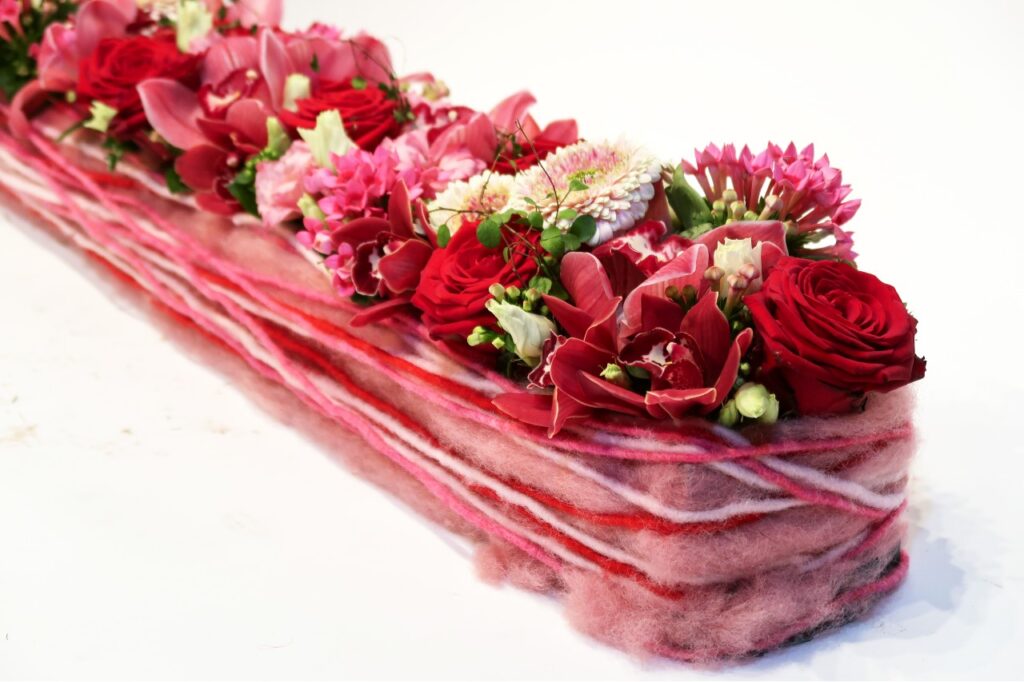 Jimmy Englund's experience in Floristry spans almost 28 years; most of this time he's spent working creatively as an artist in the field. Over the past few years, Jimmy has been the manager and artistic director for Stilfloristerna, a Swedish flower shop renowned for its unmatched uniqueness and cool look. We had a chat with Jimmy on his aspirations and some designs he did for a recent Floral Fundamentals photoshoot.
What does floral design mean to you? And what inspires your work?
Floral design means a lot to me and the team at Stilfloristerna. A good design must express the right feelings through its shape and colours, in order to bring out the emotion you'd like to capture in every situation.
My Inspiration comes from lots of different sources and situations. It could be anything from a new flower variety from a grower, to a different type of material found in a toy store or at the supermarket. I love to pick up different types of materials that I haven´t used before for a floral design job. For example, I was at a supermarket many years ago standing amidst plenty of pasta varieties, and a thought came to my mind that I could do some cool designs with pasta. And I did. Another time I went to a toy store and found small wooden wheels for toys, and thought I could create a different wedding bouquet with those wheels and it came out nicely.
Share with us one memorable moment in your career as a floral designer
One of my all-time fondest memories was a wedding, many years ago. The bride had asked for a traditional pink rose bouquet. As wedding preparations and consultations went on, and we'd planned for the flowers, the bridal couple requested for a tropical theme for their wedding; and that I use coconuts on the tables. So I asked if we could also have a tropical theme for the bridal bouquet as well. And suddenly, I had created a very personal bridal bouquet with a coconut filled with tropical flowers flowing out as a long tail with lots of colours. Very different from the traditional bouquet and very far from the pink roses bouquet that formed our initial discussions. What made the couple even happier was when they realized that a personalized floral design could give them so much more than just a traditional bouquet.
Exploring Jimmy's designs
Dinner Table centerpiece
For this table wreath, I have used a ring-shaped OASIS floral foam and filled it with different flowers to enhance that summer feeling. The floral foam is covered with wool and wool yarn from Lehner Wolle. Without the plate, this design could also be used as a funeral wreath.
Say YES!
This bouquet is filled with love, perfect for an engagement or for Valentine's day. Made in an easy steel wire framework for a flat and round shape, with Cymbidium orchids put into water pipes and Astilbe between the Porta Nova Red Naomi roses.
Wall Wreath with White Naomi
Jimmy winded different kinds of wool yarn onto the straw wreath base, and then put some small floral foam blocks on top of it, on the one side. He then filled the foam with different kind of flowers for a compact and interesting experience, and completed it with flower vines.
Hand Tied Bouquet
This one is called a wilder shaped bouquet, with some kind of a garden feeling. The Bouquet has both long-stemmed and short-stemmed flowers. Jimmy also included sharp peaked as well as spherical flowers with different texture.
Sunkissed, Cool and Stylish
The idea Jimmy had was to create a bouquet inspired by the sunset. This is a designed framework bouquet, for a cool stylish feeling.
Happy Birthday with Rich Texture
Apart from Porta Nova White Naomi, Jimmy also used Lisianthus, Bouvardia, Astrantia, Begonia, dried grass and Cobra leaves. He likes to combine flowers for an interesting texture, such as big and small flowers, or common as well as rare flowers. I also like to combine the flowers with other materials for a greater experience, such as feathers, wool, wooden knops, wires and so on. In this bouquet, the dry grass, Cobra leaves and wooden knops increase the feeling I want.
Exquisite Table Centerpiece
The base for this design is made of several floral foam blocks from Oasis, put together with glue and wires, and covered with wool and wool yearn from Lehner Wolle. Then, the floral foam is filled with lots of flowers, including Porta Nova Red Naomi, Bouvardia, Cymbidium orchids, Germini and Lisianthus, for a complete centerpiece at the head table.
Lovely texture
For an interesting texture, Jimmy combines White Naomi with Chrysanthemum, Syringa, and Phalaenopsis orchids. For the base, he has used an easy steel wire framework for a flat and round shape.
If you want a big bouquet with lots of flowers and fragrance in a flat and round shape for a wedding, or birthday, this one could be the best for that. The technique using an easy steel wire frame for a bigger and flatter shape is something we do for plenty of our bouquets at Stilfloristerna, for many occasions.
Attractive Glamelia
This is a decoration inspired by a glamelia, made in floral foam from Oasis. The lilies' petals have been taking apart from the stems, and then put together one by one, nailed and clued into a cool design. Between the lily petals, Jimmy has put Porta Nova Red Naomi, Cymbidium orchids, Bouvardia and Lisianthus.