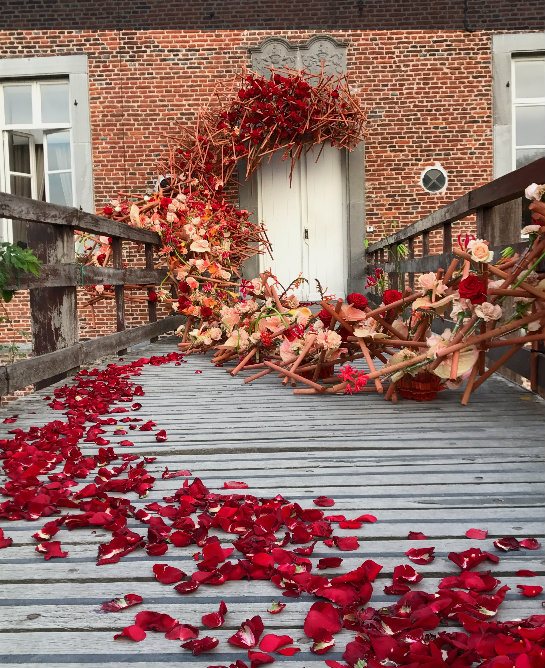 It is possible to seize a captivating array of emotions through a well executed floral arrangement. This rang true in many ways during the weekend of floral art excellence at the fleuramour event in Alden Biesen Belgium. Dutch Master florist Lana Bates was one of the participating artists during the event and her presentation which included Porta Nova Red Naomi roses was as beautiful and as poetic as can be.
"To me every project has a deep philosophical meaning, and this year I have tried to connect it to the event theme 'Urban Roots' " . says Lana as she speaks on her approach this year at Fleuramour.
The multi award winning floral artist has been described in other quarters as someone with a jovial demeanour who is very passionate and serious about her work. She is also a teacher of floristry and holds demonstrations at many locations worldwide. Lana, like any other floral designer worth their salt is very keen on using top quality products in her creations. That is why in her composition at the Fleuramour event she used Porta Nova Red Naomi roses as the focal point.
In search of balance
Aptly titled, Lana's composition was a portrayal of the importance of loving our very existence and embracing life to the fullest.


"Each one of us is in a constant search to find balance between an outer world of daily mundane and a forceful inner desire to reach the harmony of happiness. Being often locked in walls of worries, fears and problems we are rooting back to freedom and quiet enjoyment which found simply in nature. Not an easy path, often whirlpool of efforts and doubts, but only the way to break the walls to find that desired balance – breath the fresh air, admire beautiful blossoms, love the life as it is," her brief read.
Lana and her team created an illusion of a whirlpool emerging through the Alden Biesen castle walls. For the composition they used 400 Porta Nova red naomi stems. Over 1000 wooden sticks were painted cinnamon to create a self supporting structure. The shades of the flowers had a nice elaborate flow from the deep red of Porta Nova red naomi to caramel, nude colors and a touch of orange. Flowers were placed in glass tubes and remained perfectly fine even on the day of dismantling the mega arrangement.
Lana worked with Agnieszka Sophie Dembinska (Poland), Yulia Tzygankova (Russia), Nikita Gridasov (Russia), Natalia Rubchenko (Ukraine), Victoria Pereverten (Ukraine) and Lydmila Bunina (Netherlands).