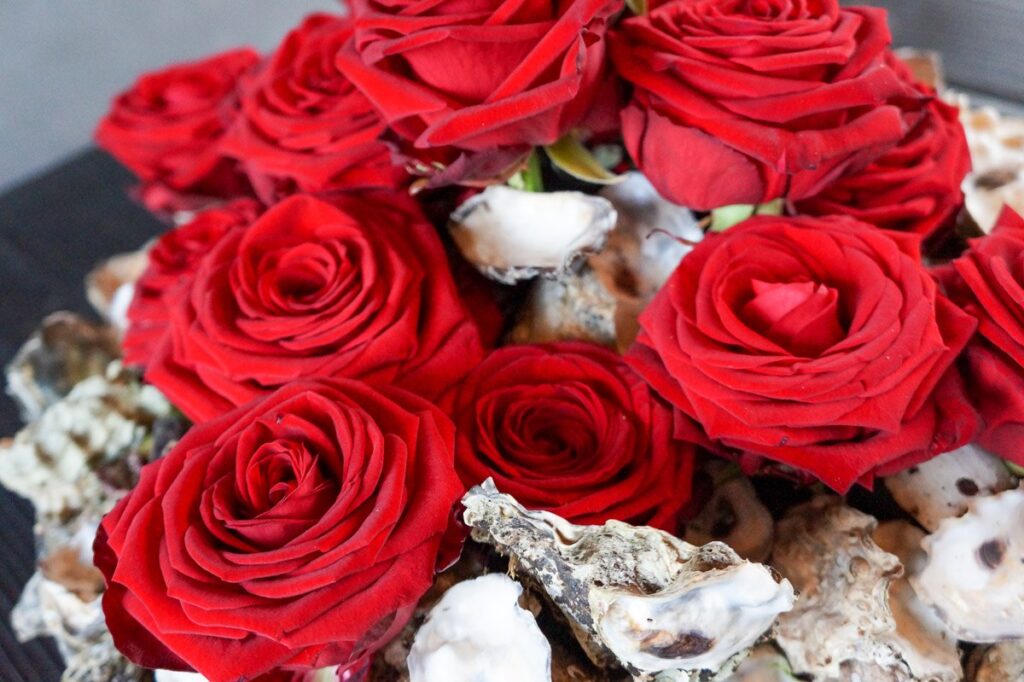 Linda Nielsen, a talented floral artist from Denmark recently created some thought-provoking designs using Porta Nova Red Naomi roses. These designs were featured in a recent Floral Fundamentals at-home photo shoot. We had a chat with Linda about her career journey and the making of the spectacular designs.
How did you get into floral art and what inspires your work?
I have always been interested in flowers and nature. However, my career as a florist did not start until 2008. I am a curious and inquisitive type of person, so I quickly gained a great deal of knowledge in the field of floristry. I often find inspiration for my designs by going for a walk in the beautiful area where I live, just by the fjord and the forest. Here I find different materials, wood, stones etc, and these become the start of a design. Or I start by having some specific flowers that I will use. An idea can also be inspired by a specific impact I want the design to have
What do you advice your students and fellow florists about using god quality flowers?
I say, good quality in flowers, material and tool is the half work done. It is also very important to use good quality in flowers for your customers to keep coming back to you .
How has business been during the pandemic period?
I have an online floristry school, so I have been busy – very busy…!
Enjoy life to the Max!
The oysters are from the fjord where I live. Their texture is amazing, and they are luxurious like the Porta Nova Red Naomi roses. This was the perfect match. The quality of the roses comes out in the sentence, "long after the oysters are eaten and the champagne is drunk, you still have the roses"
I made it by placing a block of black wet oasis floral foam on a big plate. Gluing the oyster shells round the rim of the plate, covering what is visible from the plate with sand and then arranging the Porta Nova Red Naomi roses in the foam. I like the great impact of this design with only one type of flower. It brings out a very elegant look.
Finding a balance
The message behind this instalment is that we sometimes over-do our designs. Some jobs are loaded with spectacular designs, using a ton of flowers. It sure is beautiful, but do you really see the single flower, and how beautiful it is. I think not. Making a design like this that portrays flowers being poured out of the transport bucket, I think pretty much brings my point home. We must find a balance.
The design kicked off with an old tray from a gardener. Followed by making a mountain of wet oasis floral foam, then inserting the flowers in the foam as if they are being poured out of the transport bucket. In the end, I placed the transport bucket on top of a mountain and used a few bamboo sticks to hold it in place.