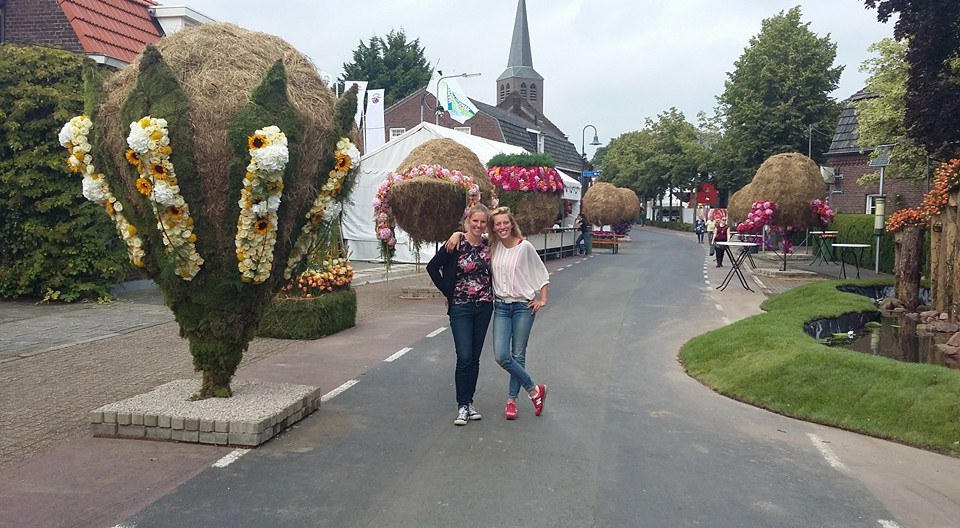 Lucinda Maria van der Ploeg with colleague Karin Pasman at the Lottum Rozenfestival
The streets of Lottum village are beautifully 'lit-up' with roses every other year during the Rozenfestival. The festival which started off as a small expo featuring garden roses cut off to stimulate plant growth, now attracts upto 60,000 visitors. The 2016 edition especially stood out because unlike in the past where there was only one designer, eight talented flower arrangers participated in this year's fete where a two kilometre stretch was decorated with roses. One of the floral designers present during at the 2016 Rozenfestival was Lucinda Maria Van Der Ploeg, a creative and passionate florist known for her unique and elaborate designs.
Lucinda has been in love with flowers since she was a young child. This is one of the reasons that drove her to being a florist. She also draws inspiration from nature, the beach, dunes, art & creativity among other aspects.
"I have been a flowergirl all my life," she says. "My father grew many different kinds of flowers, so I literally grew up playing outside in the flower fields.
Rythm of Art
At the Rozenfestival, Lucinda was tasked to decorate a 175 meters stretch of the street. Her section also included a driveway and a fries-shop.
"I decided to create open structures so as to enable access for people to walk around as they viewed. The creation involved a repeating line of big balls of hay, each decorated with flowers, but every ball decorated in it's own unique way. The theme of this year's festival was 'Roses from Art' so we created 'Rythm of Art'. To achieve this the decorated balls of hay were placed as a rhythm on the street."
Porta Nova Red Naomi
Lucinda's signature style includes working with natural materials, and bringing out the beauty in them even when the material being used is dried or damaged. She has a special liking for Porta Nova Red Naomi roses too. She says the quality of Porta Nova Red Naomi roses doesn't let florists down.   
"According to me, Porta Nova grows the highest quality of Red Naomi roses. Porta Nova is a company that understands the beauty and glamour of a red Rose!" She adds that Red Naomi rose can be used for decoration in many occasions.
"The most important and exciting part for a floral designer is to ensure that flowers used stay okay and in good shape. The quality of Porta Nova never lets us down," says Lucinda.
Why I Love my Job
When we ask her what she enjoys most about being a florist, Lucinda begins with a simple yet profound answer… "Having flowers in my hands," she says.
"Letting flowers shine through beautiful work and then, which to me is the main thing, to hit people! to hit them emotionally through my work. I enjoy when my work elicits laughter and tears since both of these are important aspects of life. Lucinda also enjoys meeting people and networking.
"I guess I love people!" says the floral designer.