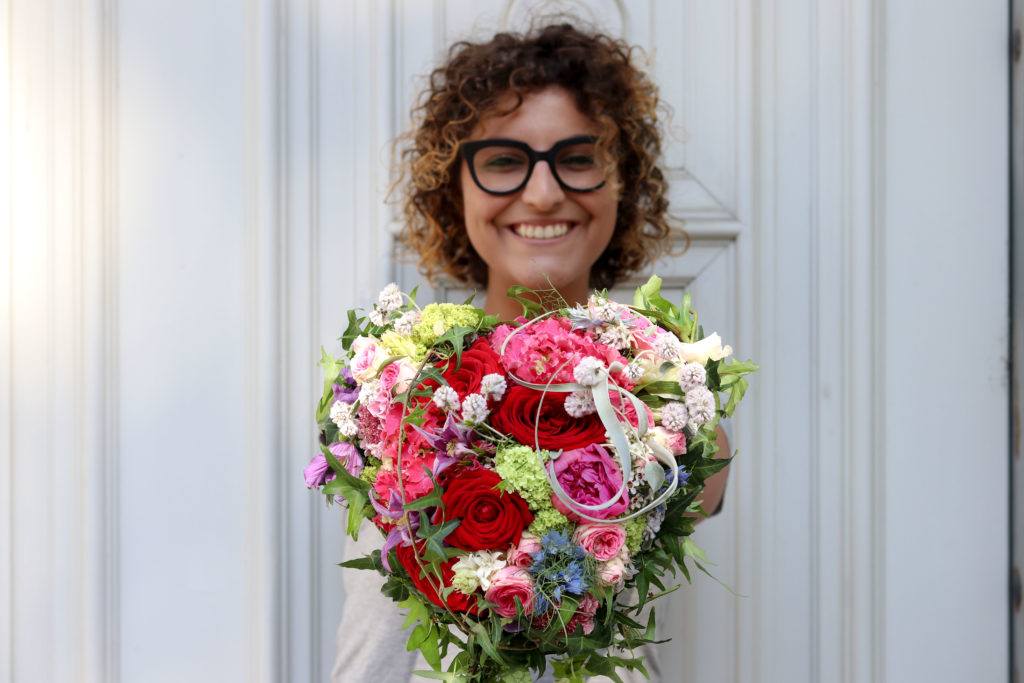 Having been born and brought up in the 'midst of flowers', Nunzia Guerino was pretty much destined to be a florist. She recalls, as a fresh-faced lassie, how she would rather help out Grandpa clean roses and work at the family flower shop instead of delving into other childhood whims and activities. It is at such a young age that she developed a passion for floristry.
Presently, Nunzia is a force at Dolls Blumen, an Austrian florist company whose online motto is equally as fascinating as the many floristry projects and solutions they have offered over the years.
"Flowers lend freshness and elegance to any function. They make a wonderful surprise; they can say thank you, ask for forgiveness, or simply make everyday life that little bit more beautiful," reads their web intro in part.
VIDEO: SAYING I LOVE YOU MUM in a beautiful and heartfelt way. Sharing some love with mum with Porta Nova Red Naomi bouquets and single roses courtesy of Doll's Blumen.
In the build up to this year's Mother's Day, we had a chat with Nunzia Guerino of Dolls Blumen who shared with us her passion for floral design, an amazing Porta Nova Red Naomi Mother's Day arrangement and opened up about her style and inspiration. Nunzia also shares with us why Porta Nova is their preferred flower for exclusive events.
VIDEO: Making of Porta Nova Red Naomi heart bouquet by Nunzia Guerino from Doll's Blumen
Tell us about Doll's Blumen
I can best describe us as a great team. Dolls Blumen is an extraordinary family-run company where we are always looking for floral concepts that are inline with new contemporary trends while at the same time working to keep alive some timeless classics. We design every event individually and uniquely so that it remains unforgettable.
How can you describe your personal style?
I do not have a specific style. My style changes depending on the material or flower that I have in my hands. Having said that, I always try to highlight the naturalness of the flower.
What inspires you?
I'm a silent observer. Virtually everything can give me inspiration.
Take us through the making of this particular Porta Nova Red Naomi Mother's day design?
The initial preparation of this design was a simple heart-shaped structure and afterwards created a compact bouquet of flowers that had the perfect shape of love to describe the concept of Mom.
What do you like most about Porta Nova Red Naomi roses?
The thing I like most about "Porta Nova Red Naomi roses" is the immensity of the inside of her bud. It has a spectacular vortex of petals.
At what type of events do you mostly prefer using Porta Nova Red Naomi?
Every time we need top-notch long lasting quality. And especially at more exclusive events such as at the Vienna Hofburg Palace during Imperial events. We also used Porta Nova Red Naomi at the inauguration of the new President of Austria – Alexander Van der Bellen.
What is the general feedback from clients when you use Porta Nova roses?
The feedback is always more than positive. Our customers love the perfect color, the immense bud and "everlasting quality". It is just a gorgeous red rose that everybody loves.
Who is your supplier for Porta Nova roses?
Our supplier is Wim Kinkel from Rijnsflowers BV.
What do you love most about your job as a florist?
What I love most is the relationship between me and the flowers when I start working with them. I call it harmony of positive sensations. I also love the individuality of every event, location and client. At Doll's we have the possibility to visit extraordinary and historic places all around Vienna – that's another facet that I really like.