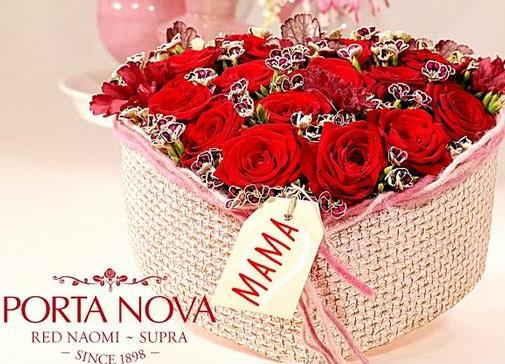 Mother's Day is one of the most popular flower holidays marked all over the world. It is the day specially set aside to celebrate, honor and express heartfelt affection to the most important people in our lives, our Mothers. It is estimated that a quarter of the total annual global flowers sales are centered around this day. Although Mother's Day is observed on different dates depending on country, majority of the countries celebrate the day in mid-May.
Mother's Day inspiration poster
As inspiration for floral designers during Mother's Day, Porta Nova continues to partner with the Myflorist platform to create uniquely themed promotional posters that florists can use free of charge at their shops and on their various online platforms. You can download hi-res Mother's Day Holiday themed posters by CLICKING HERE or on the banner below.
Making of a "Mothers Day Breakfast Table" with Porta Nova Red Naomi
This Porta Nova red naomi arrangement which Erko humorously describes as an 'ideally sweet cake with zero calories' was inspired by the warm and relaxed springtime outdoors.
"Mother's Day in Germany always falls in mid-May. During this time of the year, the weather and the outdoors are quite inviting. So I decided to create the Porta Nova Red Naomi mother's day cake which is complimented by a side arrangement that looks like a garden table outside with little vases and various other flowers," says Erko.
To make the heart shaped mother's day cake, the designers decided to use Porta Nova Red Naomi, the brand new dianthus "Hermes" and some green foliage from Heuchera.
To bring out the alfresco ambiance for the Mother's Day breakfast table with Porta Nova red naomi roses Erko features other flowers including Dicentra, Convillaria, Clematis, Spray roses alstromeria and a Single big Rose from "Janes Pride".
According to Erko Feigl of the MyFlorist platform, the German flower market has seen a growing trend during Mother's Day with the past two years realizing better business compared to past years.
"Most customers are looking for longer lasting, top quality flowers and floral arrangements during Mother's Day. Porta Nova roses are known for having this quality not only during such hallmark holidays but also throughout the year," says Erko.
"This is why customers will prefer Porta Nova Red Naomi roses because the flowers will be worth the price."