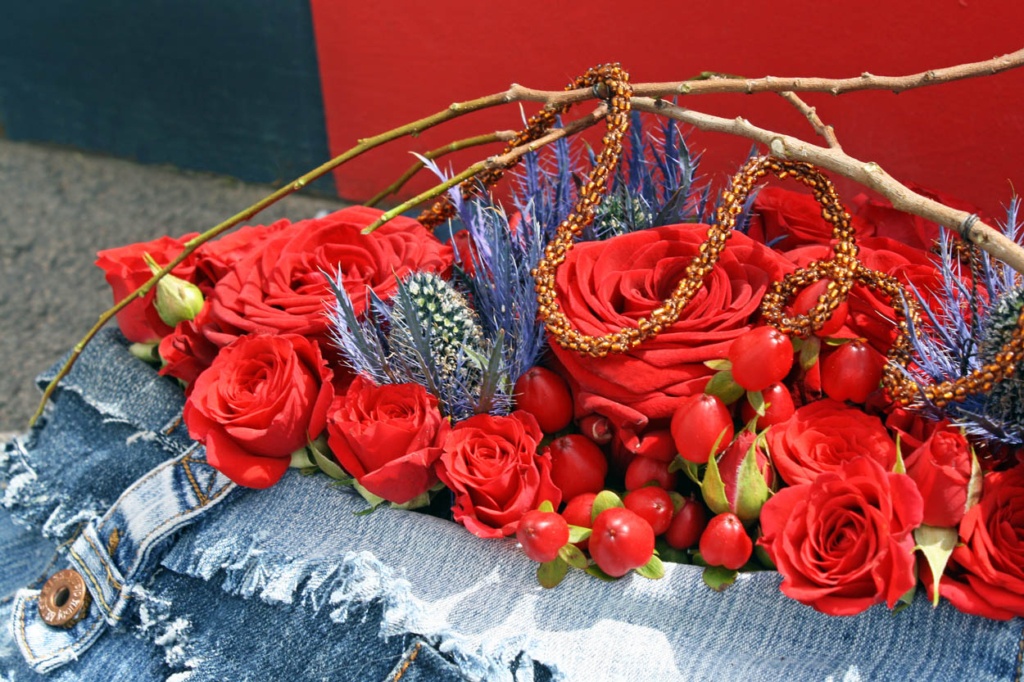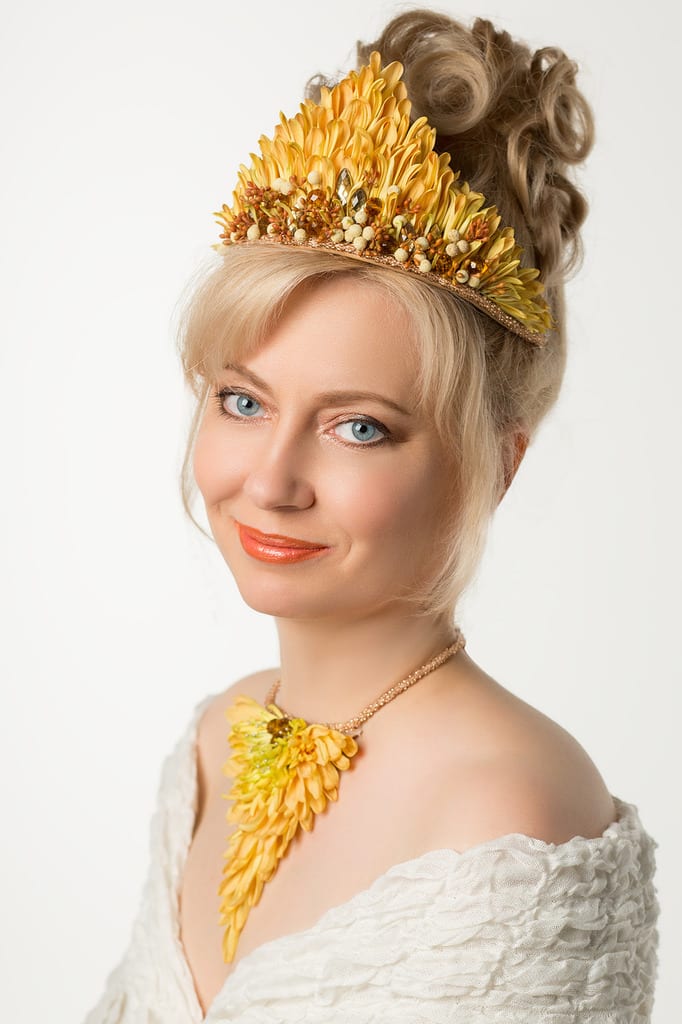 Alena Chudopal hails from Krasnoyarsk, an area with scenic landscapes along the Yenisey River in Siberia, Russia. Alena is an established floral artist with an enviable 20 years' experience in the craft. She is a certified national FLORINT judge, Vice-President of the Russian National Guild of Florists and the face of the major Russian magazine 'Flowers'. Alena has also been a Floral Fundamentals ambassador since 2017. We had a chat with Alena after she created beautiful designs using Porta Nova Red Naomi roses. These designs were featured in the latest venture by Floral Fundamentals where they had their Russian ambassadors do photoshoots from home, supporting various growers.
Your journey in floristry in a nutshell, what sparked your love for floristry?
It all began during my childhood, at a place where there stood a stalled malfunctioned train in Baikal region. I was walking across the steppe near the railway carriage and experienced a very pleasant feeling being surrounded by flowers somewhere far from home. This is how my passion for flowers and travel began.
How was your experience working with Porta Nova Red Naomi roses?
I loved working with Porta Nova Red Naomi roses! They have strong and resilient stems, large and durable inflorescences, a luxurious velvety surface, noble texture, and a relatively small number of thorns. A pleasant addition when working with these roses is their subtle, delicate scent. As a florist and businesswoman, I especially like their excellent transportability and lasting freshness. It is definitely the most suitable type of roses to work with at commercial shops and decorating events.
DESIGN 1: Eco-Style Rustic Table Centerpiece
When I come over to a bank of the great mighty Yenisey and see an old driftwood that has been being washed in the river for ages, an inspiration excites me to create in a vegetative style. The luxurious velvety surface of the rose contrasts with the texture of wood almost turned to stone. This contrast between dry and alive enhances the meaning of the Red Naomi roses.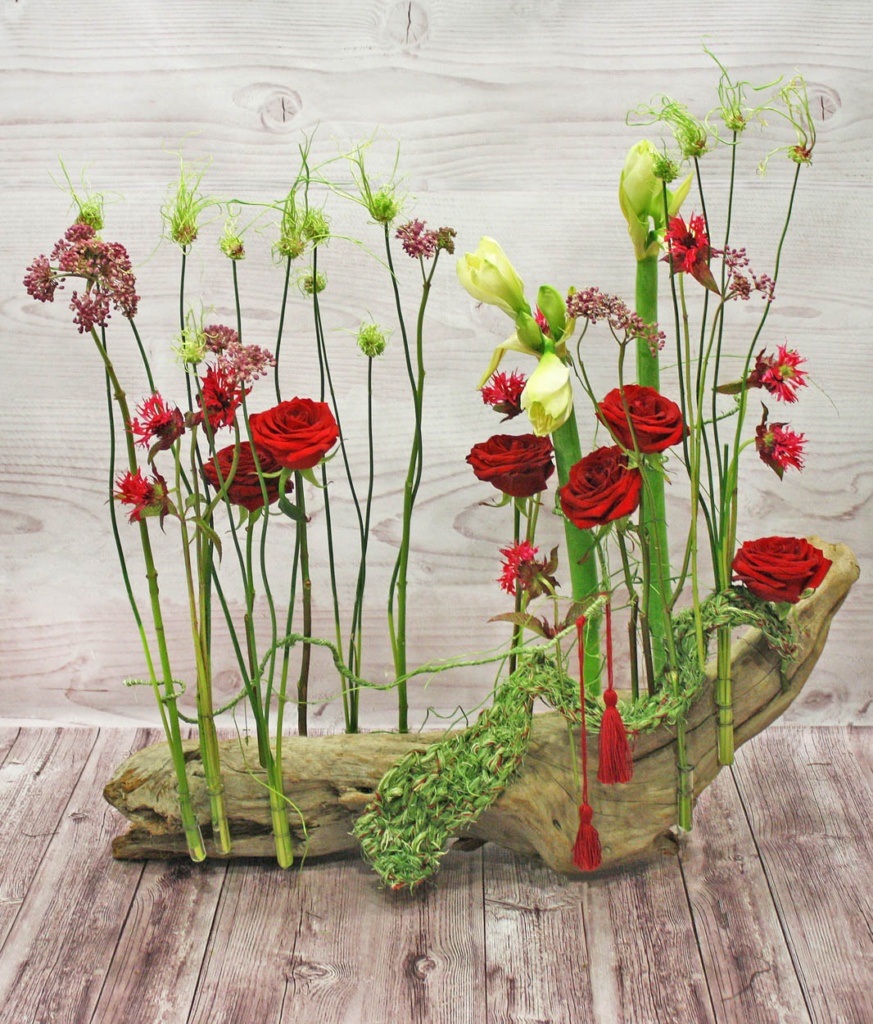 I also used hippeastrum, allium, asklepias, monarda, and a needle-knitted canvas of typha (cattail) fibers with a red thread to compliment the color of the Red Naomi roses. The tassels on the ends of the canvas are used to tie natural materials and these royal roses.
This design may easily be a decoration for an eco-styled wedding table. It is quite popular in Siberia to use natural materials – stones, branches, driftwoods and so on.
DESIGN 2: Car Decoration – Red Naomi Volcano
This flower arrangement symbolizes a volcanic fissure with an erupting splash of passion. The flowers (Hypericum, eryngium, and Porta Nova Red Naomi roses) were selected with a special purpose to create a contrast for this design. Then I used a floral foam setting and jeans sewing techniques for the frame.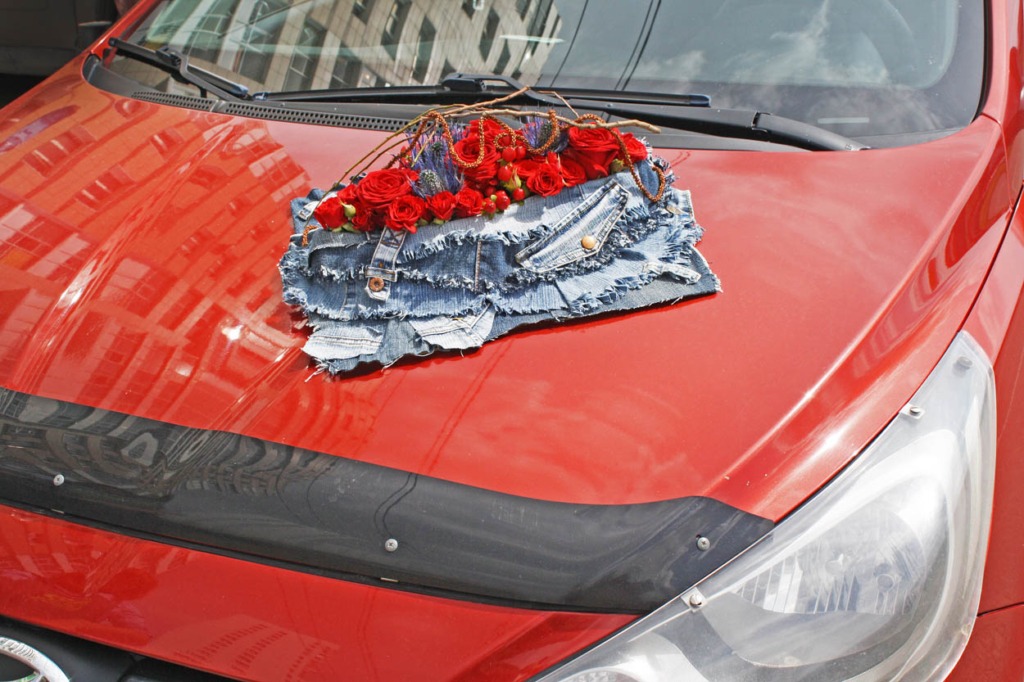 A static and mundane denim base is contrasting with Red Naomi roses at both color and texture that emphasizes the ejection of passion.
I sought to emphasize that composition being for a bold and daring couple. The combination of red and blue is a provoking simultaneous contrast that entirely suits for an aggressive sport car. The Red Naomi roses are just perfect for this type of designs! Their glorious texture and bright saturated color go well with the gloss of the car.
What inspires your art?
I am inspired by the nature of Yenisey Siberia – the mighty taiga, small and swift mountain creeks, high cliffs and large crystal-clear lakes with flower meadows. Siberia is always present in my works. It is deep in my heart. I love to use natural materials in my works – cones, pines, local wildflowers, knitted elements.
How is the floristry industry in Russia?
I believe that floristry in my country is at a very high level. We are all proud of the Russian florists who have won several prizes at international floristic competitions. Of course, the pandemic heavily affected the floristic industry causing some economic ramifications. However, I hope that soon everything will return back to normal.