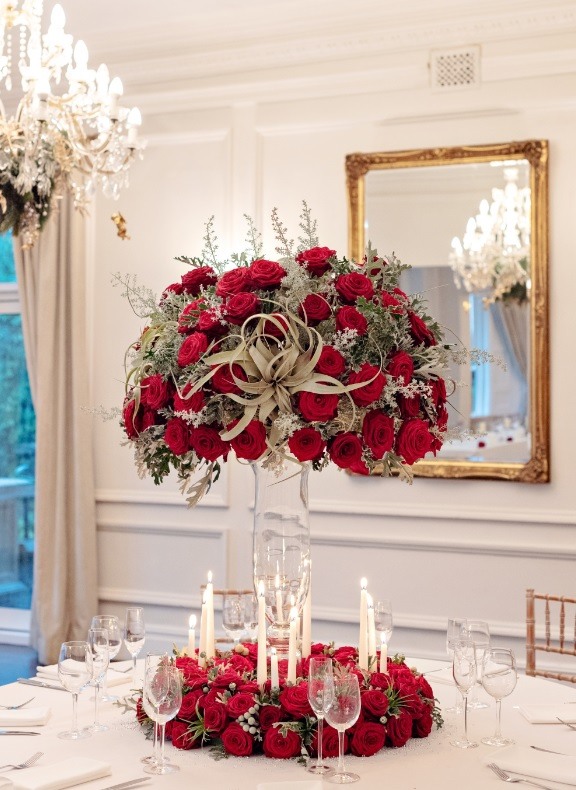 images: Teresa C Photography
We are still in awe of how elegant and beautiful Sarah Crookston's Christmas fine dining table setting with Porta Nova Red Naomi roses turned out. The floral arrangement was just as gorgeous as it was versatile; also fitting for any other intimate occasion that called for an artful spread of quality red roses. We spoke to Sarah, who at the time was also gunning for top honours among other regional finalists of The Wedding Industry Awards after being named Best North West Wedding Florist.
VIDEO – CHRISTMAS TABLE BY SARAH CROOKSTON
Sarah who runs her own company, The Rose Boutique in Wigan UK, is a self taught floral designer. She shares her story with us and also takes us through the making of her classy floral work.
Tell us about your company 'The Rose Boutique'.
I started The Rose Boutique in 2013 after having worked in the floristry industry for a number of years. Being a self and shop taught florist, I always wanted to set up a shop for myself. I started with small concessions in farm shops, along with pop up shops during holidays. When I was approached about having some retail space within a retail store I jumped at the chance; I then felt The Rose Boutique was a real business with no going back. The business started to quickly grow and I soon realized that our small shop didn't have enough space for a business that was growing so rapidly. This particular period was awash with weddings and this growth helped me to decide that it was the wedding industry that I wanted to focus on.

The Rose Boutique then moved to be workshop based and we are still in the same building four years later. I no longer do any retail sales which means all my time is focused on weddings.

How much emphasis do you place on good quality flowers?
Since inception of The Rose Boutique, I have always aimed to use best quality flowers that I possibly could. I strongly feel that because I offer my customers and couples the best quality, it shows in my designs and this in turn has helped the business grow.
How can you describe your style? Do you have a signature style?
I would say our style is classic and elegant. I love to focus on the details in our designs. It's about the textures and the colours all working beautifully together. And as I had pointed out earlier, it's about providing something beautiful and unique made with top quality blooms.

What are your thoughts about Porta Nova roses?
When I set out to work with Porta Nova Red Naomi roses in creating some Christmas designs, I knew it would be an easy job. Porta Nova Supra roses are just amazing! These are the roses I would choose once again, especially during peak seasons such as Christmas and Valentines. These roses are for the customers that can understand and appreciate quality blooms.
Red Naomi rose not only complement so many other flowers but they look amazing by themselves and this is why when I was thinking about my Christmas designs I knew they would look stunning surrounded by fabulous textures created by using lots of different foliage.
Give us an overview of this gorgeous arrangement.
It hasn't taken a lot of different varieties to make these striking designs. Obviously the stars of the show are the Porta Nova Red Naomi supra 80cm. As soon as I collected these stunning roses from my flower supplier Flower Vision in Lancashire, I knew they would be a joy to work with. I chose a mix of silvery seasonal foliages to complement the roses. The designs featured Senecio Maritima, Brunia silver, Kochia and Eucalyptus pods.
Making of Sarah's elegant Christmas fine dining table floral design
– I used 50x stems of the roses, 20x stems of the senecio, 10x stems of Brunia, 10x kochia and 5x stems of the Eucalyptus pods. 5x stems of the Ilex berries where used within the design and then a further 6x stems laid on the table.
– I used some stunning silvery air plants to add a very different texture to the designs and on the fine/private dining table we also used Ilex berries, once again for that difference in texture.
– The fine/private dining table is really quite a simple design to recreate.
– I used a 12" floral foam pad with a plastic base. I find using the ones with the plastic bases hold more moisture in the floral foam especially over the holiday period and can easily be watered.
– I started off by putting the candelabra in suit on the foam and then using the Senecio I created the shape of the design.
– The Ilex berry stems were cut down to get maximum use from each stem and these placed in the foam so that they sat just above the senecio. I then added the roses, all the leaves had been removed off the stems and each was placed so that the design kept its round shape with curved edges.
– Once all the rose where in place I filled all the gaps in the design with additional Senecio, the Brunia and the Kochia stems and finished off with the eucalyptus pods.
– Stems of Ilex berries where then laid down the center of the table with loose rose heads dotted throughout. Additional tea lights where dotted throughout the design to give that additional warmth to the design.
– This design can easily be made to suite all price brackets and can easily be made smaller or larger.
I can't recommend these beautiful roses enough. The quality when used in designs and their vase life is second to none. If you haven't used them before I would definitely urge you to try them and see for yourself.