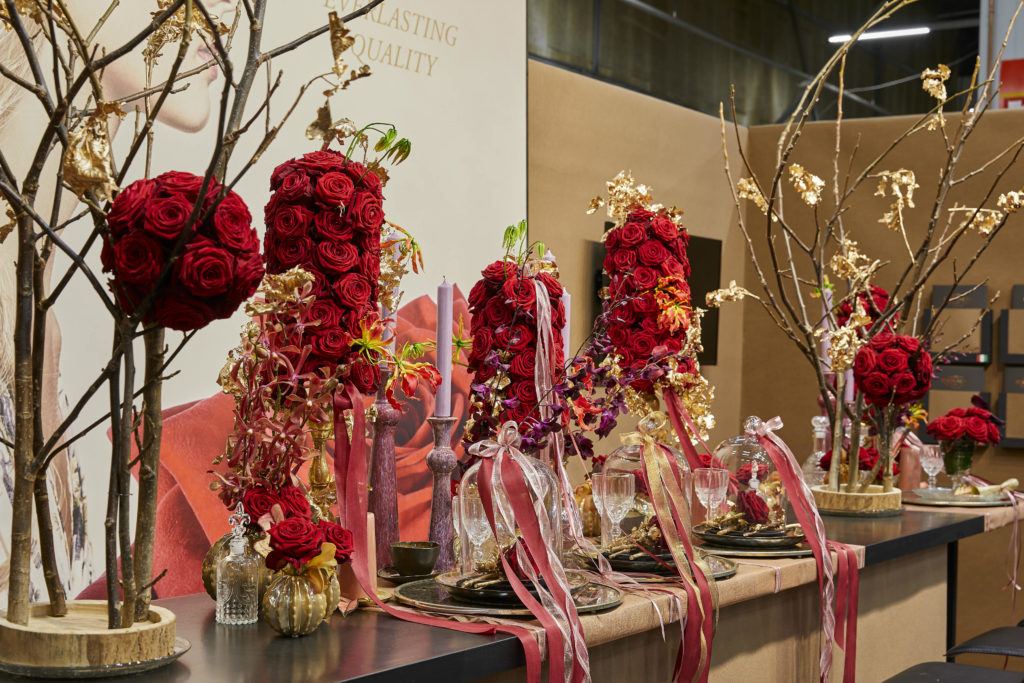 Porta Nova gladly invites you to the table. Maybe for a light conversation or for a moment of interaction between you and our Porta Nova Red Naomi roses. As you all know, Porta Nova always strives to deliver floral happiness throughout the chain and at the same time explain our passion for Top Quality. To see this through, we have a quality and service manager dedicated to assist wholesalers and florists all over Europe. He would like meet you at the table and discuss matters to do with quality and product development. If we learn from each other and focus on quality, we will all at the end of it all perform much better.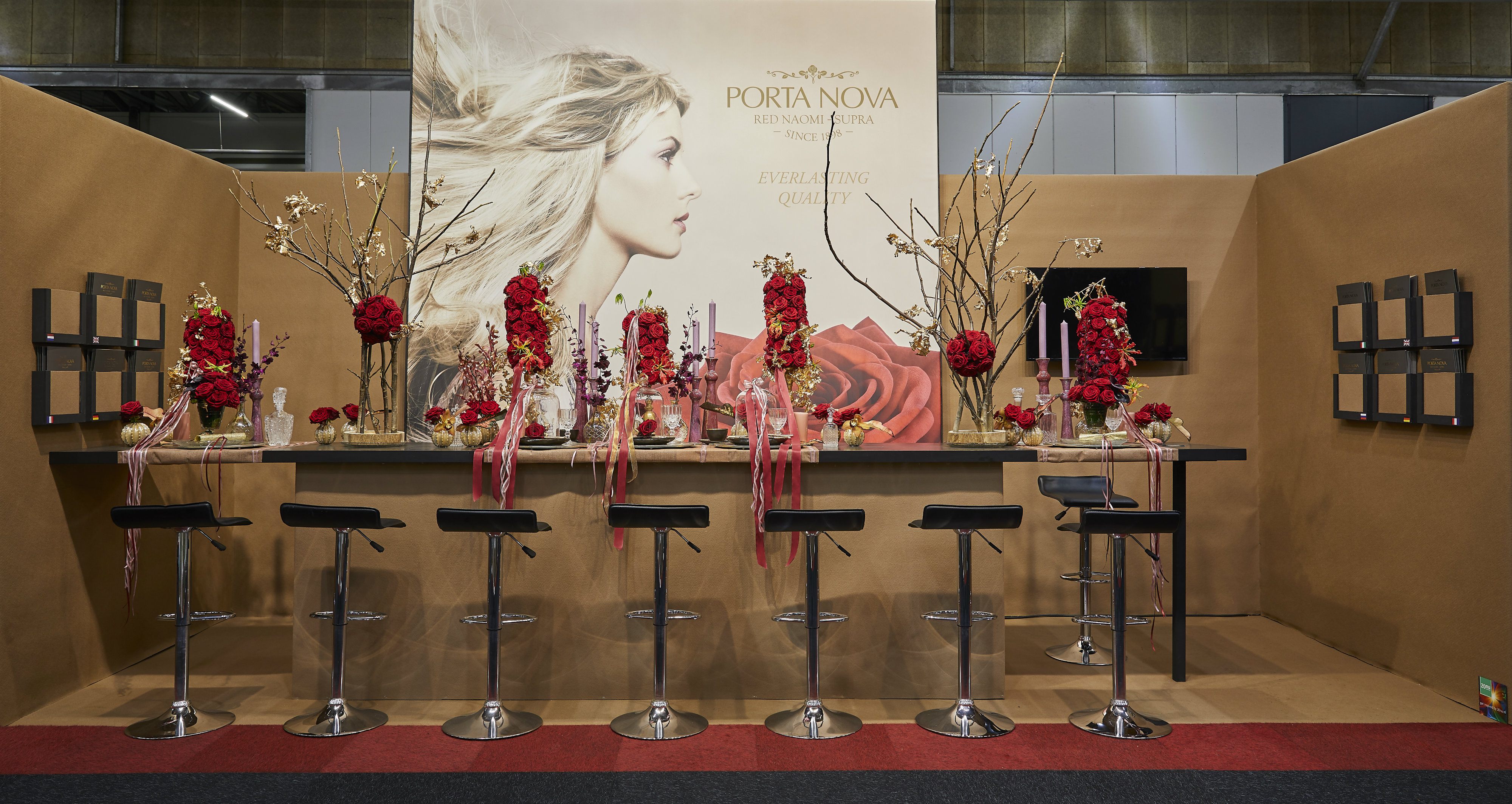 Our Porta Nova roses also deserve a place at your table. They are a perfect focal point for any luxury table setting. Whether it is for a wedding, fancy dinner party or family Christmas party, our roses will be icing on the cake for any table arrangement. To start off our "At the table with Porta Nova" campaign, we designed our booth at the Floral Trade fair with a similar concept. We asked Belgian floral designer, Luciënne van Os to create this concept for our stand where the luxurious table design also served as the meeting place for Porta Nova and it's clients.
For the coming year, we will organize "At the table with Porta Nova & Wholesaler" events where a wholesaler can invite some of his clients to do a luxurious table setting using our roses and also organize a get together at the same table with his key customers.
We had a chat with Luciënne and she shared about the inspiration behind her work on the Porta Nova luxurious table arrangement as well as her company 20nu.nl. She also tells us why she loves Porta Nova roses and dishes out a quick Christmas table arrangement tip for florists working with Porta Nova red naomi roses this festive season.

Take us back to when you started out as a floral designer
Growing up as the daughter of a gardener, flowers and plants are an important thing in my life. When I reached the age of 14 years old my father told me that it was time to work for another boss. So in the time of my study I started working in a flowershop until the age of 20. After that period I graduated from fashion school and started my own company in leather design in combination with working in an atelier for making leather clothes.
Eventually I realized that the whole Fashion industry didn't fit me; and at the age of 27 I called my old flower boss and asked her: 'is it possible to come back'…and that was ok! In 2005 my boss quit the shop and I started to freelance on my own for some companies. A little while after this I met Judith and we started 20nu.nl
Tell us about '20nu.nl' and the kind of services you offer?
As I mentioned earlier, when I met Judith we started working together for some clients. We were thinking about a construction where we could share the same company name, have the same website and advertisements, but each of us work by themselves and hire the other person when necessary. Up to this day we are still working this way. Furthermore we constantly work with a lot of freelancers to fulfil our projects!
Because we work this way, we are free and flexible. We only work with people whom we think are suitable for the project we have at a particular moment. An extra advantage is that we do not have to pay any overhead costs to staff so our prices stay relatively fair and we do not feel the pressure to take on a lot of work.
The services we offer all relate to atmosphere. Expo & Event – Interior & Styling . We make the difference in the look and feel. By looking at the product and the way of presentation of this product we know: "This really makes the difference!" You Immediately see this image in real life.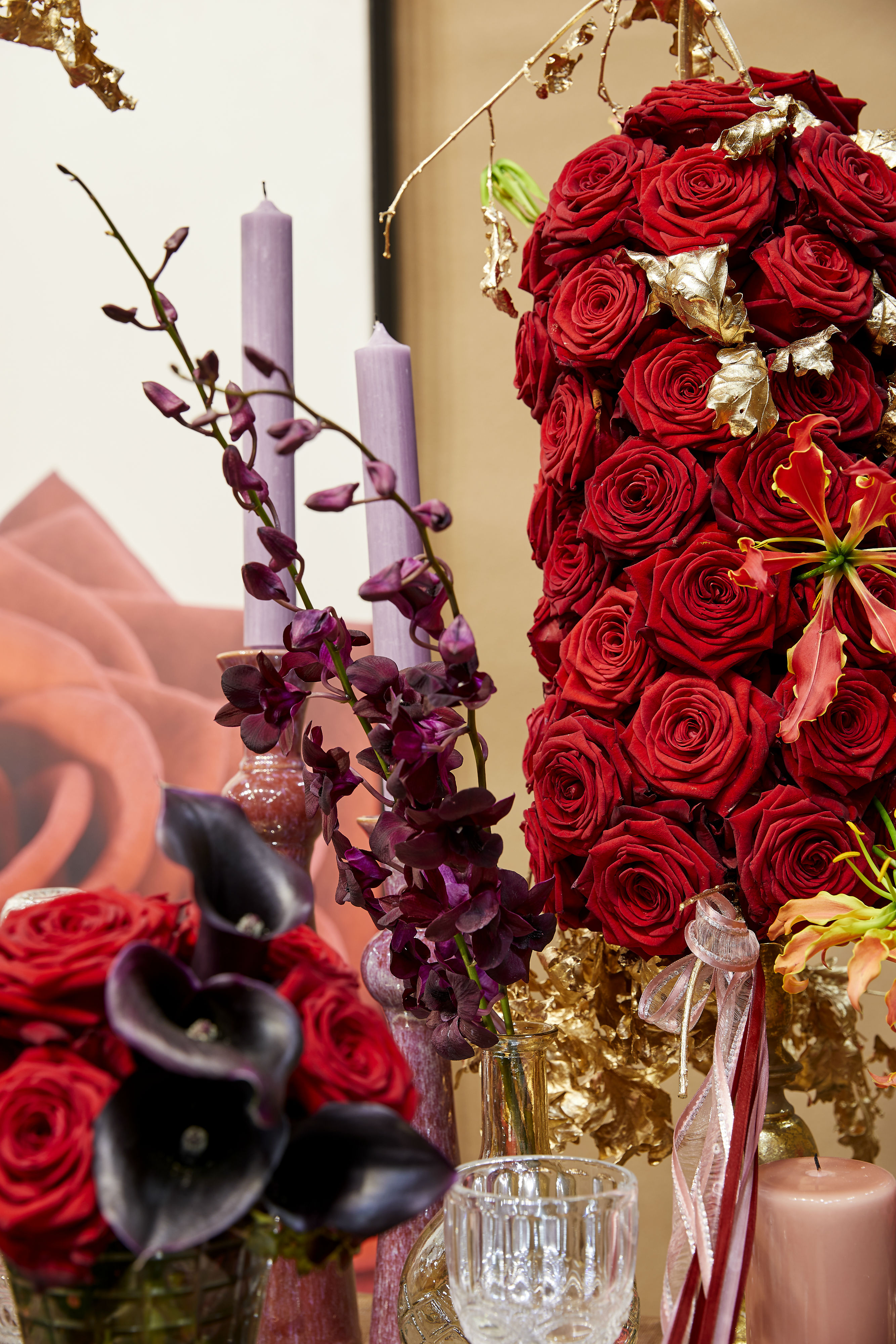 How can you describe your style?
Colourful and inspired by nature.
What is your personal opinion about Porta Nova roses?
Porta Nova's Red Naomi…..they are certainly the best!! 🙂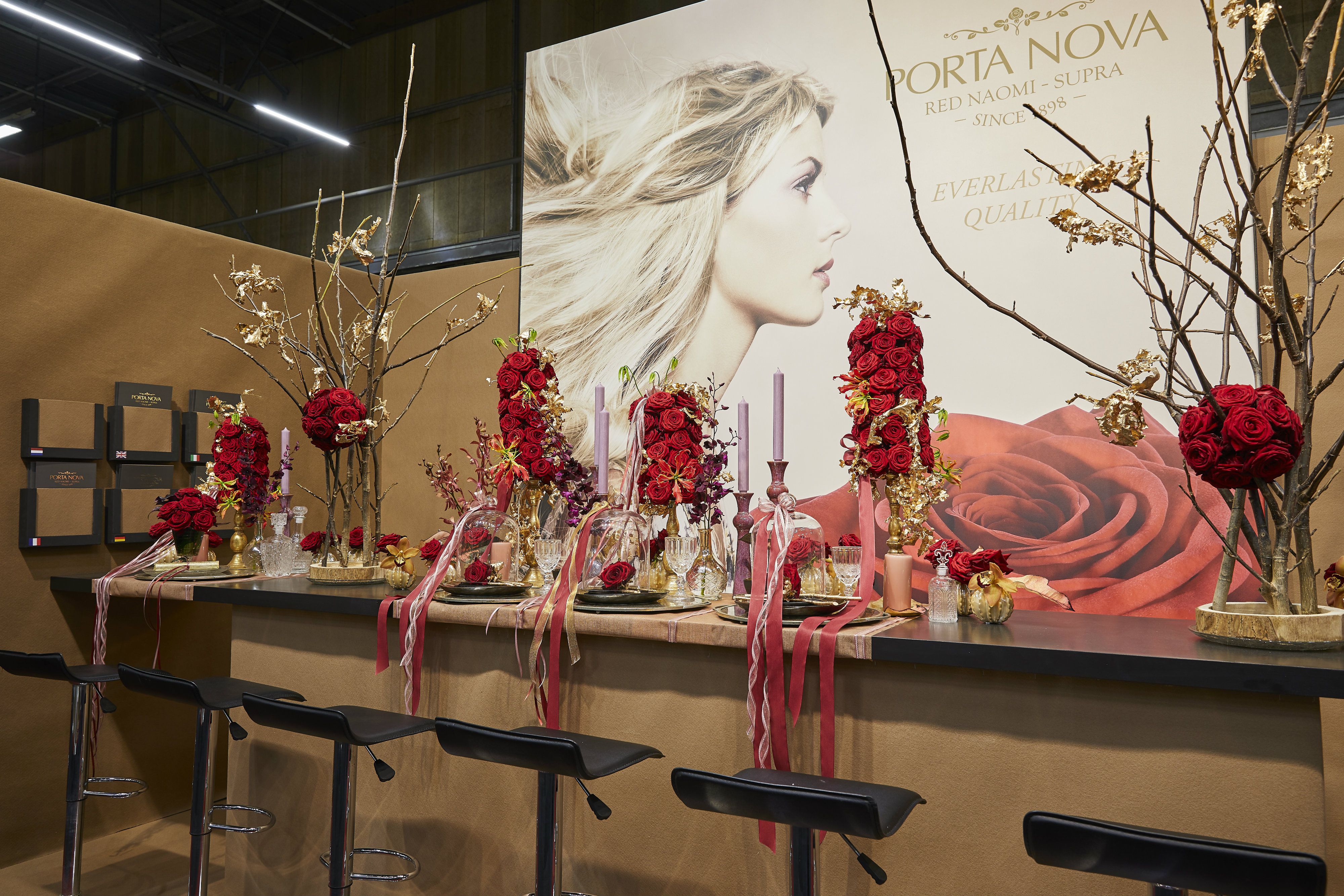 Give us an overview on the design for the Porta Nova's stand at the Tradefair? What was the general theme behind the table arrangement?
Luxury: We strived to show how the festive table can look with the most beautiful products that are available.We wanted to create an atmosphere where the client and florist can sit and talk with Porta Nova staff whilst surrounded with beauty and inspiration. By showing how to use the Red Naomi in combination with other flowers we hope that the floral designer will recommend to their customers and also use more Red Naomi in their designs.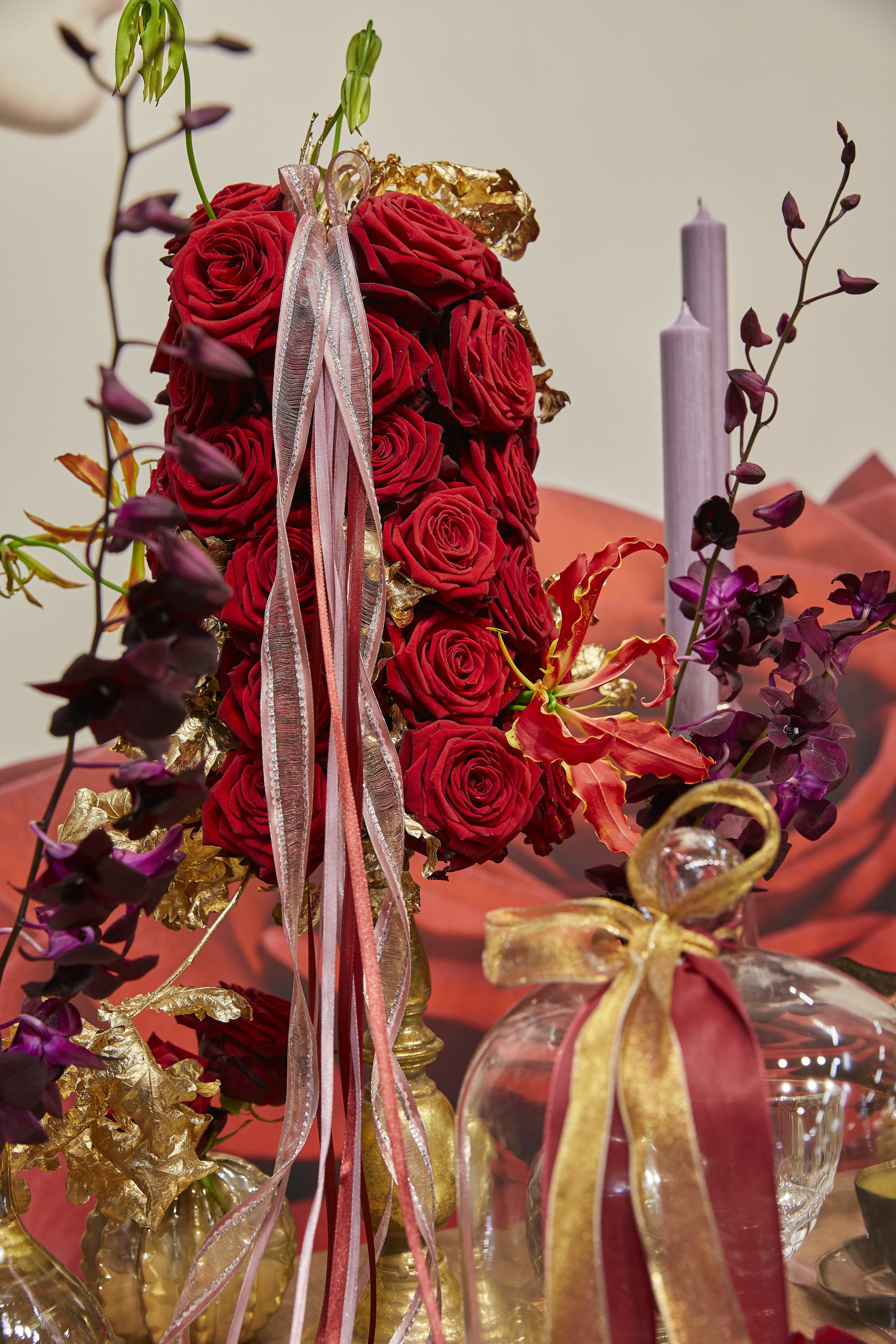 How would you describe an ideal Christmas table arrangement with Porta Nova roses? What other flowers and materials would compliment to form the best composition?
Of course the use of Pine green in combination with snow, christmas balls, candles, velvet ribbons, Ilex and a lot of gold shiny tableware.
table arrangement by 20nu.nl
Photography by Jan de Koning