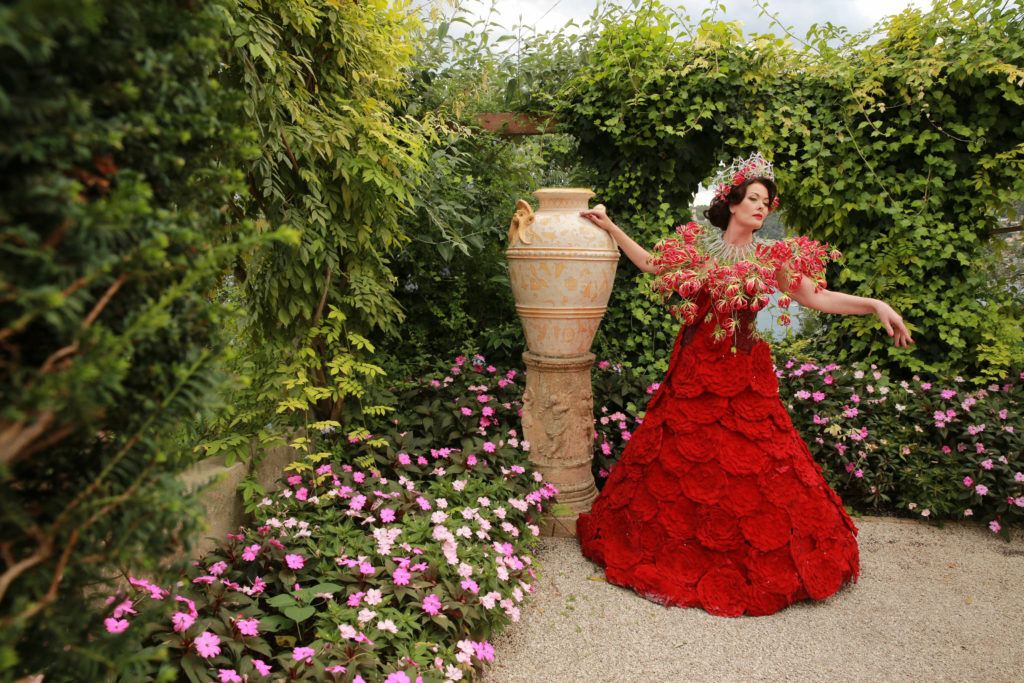 A great deal of creativity goes into the making of a "floral dress". And as we learn from talented floral designers Natalia & Tatiana, keen attention to detail is important in undertaking the process. Recently, Natalia and her team of five created a beautiful floral dress using top quality Red Naomi roses from Porta Nova. It took five straight hours and 500 stems of 70cm Porta Nova Red Naomi roses.
"Production of a floral dress is a creative process that requires different professional techniques of working with natural flowers. It is important to take into account the individual characteristics of different flowers, and their resistance, climatic features of the place where the event takes place (air temperature, humidity, season)," says Natalia.
"All these factors  may affect the duration for which the flowers remain fresh,"
Natalia and Tatiana of TRIDVORNOVA art-bureau created the beautiful Red Naomi dress at Villa et Jardins Ephrussi de Rothschild
Making of the flower dress with Porta Nova Red Naomi roses
Flowers and other material used
Dress with specially created textile that is specially reinforced to hold the form under  the weight of the flowers.
Soft wrapping paper.
Wide double-sided tape.
Glue. (Glue Gun).
500 stems of 70cm Porta Nova Red Naomi roses.
Spray Oasis Finish Touch
First you have to prepare the material for the  "Glamelia" of roses. You prepare the petals of a rose by cutting off the base of each petal. Prepare paper circles of different diameters (15,20,25 cm) You need to make 40 pieces of each diameter.
Cover the circles by two-sided adhesive tape. Peel off the protective layer from the double-sided tape and make "Glamelia"  from large petals on the outside.
"When the "Glamelia"  is ready we treat it by spray "Oasis Finish Touch" and  place into a cold chamber."
To prepare the corset, Natalia covers it by two-sided adhesive tape. The tape is added in overlapping strips. Then she peels off the protective layer from the double-sided tape and covers the corset by the petals. Finished corset is treated by "Oasis Finish Touch" spray and put into a cold chamber.
"We decorate the skirt with bigger Glamelias at the bottom and smaller Glamelias at the top. Each Glamelia is stuck on to the textile to a paper side using a special glue gun. If you wish, you can include additional accessories to compliment the design."
About TRIDVORNOVA art-bureau
The company "TRIDVORNOVA art-bureau" was founded over 10 years ago, when two talented designers Tatyana Tridvornova and Natalia Zhizhko struck a partnership. Partnerships and friendships of this creative union allow to develop the company in the different directions. Tatiana's trademark is a collection of the flower dresses. Natalia is known for her achievements in professional floristiс (1st place in the "Europa CUP 2011", Golden medal of the World Flower Garden Show 2015 in Japan among other achievements.
Important links
Photoshoot venue – Villa et Jardins Ephrussi de Rothschild
Company – TRIDVORNOVA art-бюро
Floral Designer – Natalia Zizko
Photography – Alexander Nozdrin
Flower supplier – G-Fresh Flowers