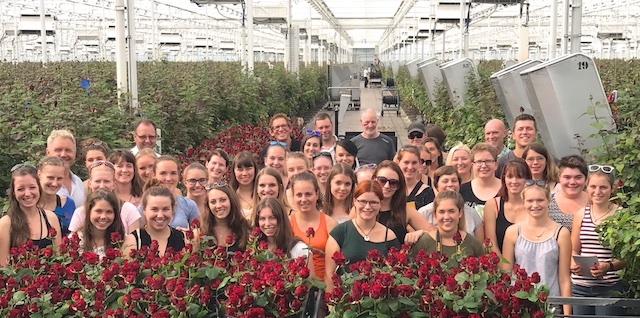 Sixteen Swiss floral design students recently visited the Porta Nova farm and had the opportunity to check out operations at our greenhouses. Led by their teacher, veteran florist Peter Fleischli, the students had a great experience learning what goes into the production of the world's best red naomi roses.
Besides enjoying a tour of Porta Nova, the student florists who are currently in their second year of training at the IDM Vocational Training Center in Thun, were challenged to create Mother's Day floral designs using Porta Nova roses. Peter Fleischli tasked them to explore their own ideas in coming up with designs using a single rose, three roses and five roses. The sole requirement from the teacher was that they put into work ideas they felt were most appealing to them and that they create floral designs that they would also feel pleased to buy.
According to Peter, Porta Nova roses stand out for their top quality and that this quality is assured all year round. Apart from being quite the enthusiastic teacher, Peter runs Blumen Fleischli, a flower-shop that holds a strong conviction on their unconventional floral combinations.
¨With our floral creations we want to open new perspectives. We offer you the best flower arrangements, no matter if it is an exclusive bridal bouquet, a festive floral deco or just a personal floral greeting," reads an opening statement on the Blumen Fleischli website.
In both his floristry job and teaching, Peter Fleischli advices others in the field to be open minded and able to draw inspiration from a wide range of places such as nature, fashion, architecture and much more.

¨Dare to achieve something unusual, use materials and other components to create compositions in an exciting harmony,¨ he says.
Schnitt-Flor Celebrating 20 years Anniversary
Blumen Fleischli receives their Porta Nova Red Naomi from Schnitt-Flor, a renowned flower wholesaler based in the town of Hägendorf, Olten in Switzerland. This year, Schnitt-Flor are marking 20 years since inception, and as part of their celebration they are offering Porta Nova Supra quality to their customers at an attractive discount.
It was at the premises of Schnitt-Flor that the students worked on their several Porta Nova Mother's Day floral creations. An inspiring space where Peter Fleichli would demand heart, enthusiasm, joy and craftsmanship from his students as they strive for their ideas to be implemented.