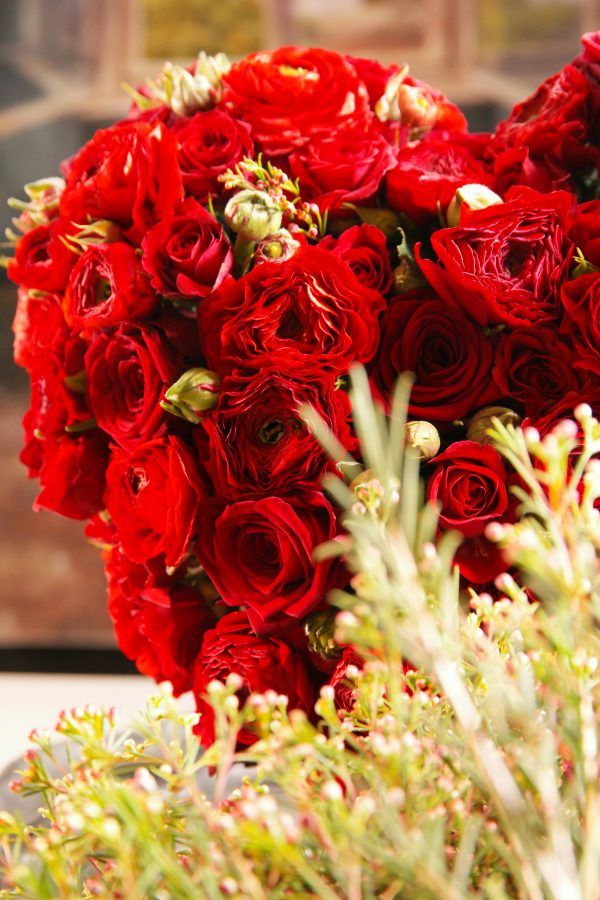 Valentine's still stands out as one of the most important days for florists all over the world. For German florists however, the season of lovers sometimes presents itself as bitter-sweet. According to Erko Fergi of MyFlorist, a good number of the flowers availed to them during this season are not of top quality and are often expensive. It is however a different narrative when dealing with Porta Nova Red Naomi roses, because Porta Nova roses are available at the same top quality all year round.
"German customers who are willing to pay more for flowers are quite discerning in their choice and will always demand top quality roses. They want roses that are not only beautiful but also last longer in the vase," says Erko.
Making of the Valentine's Day Porta Nova heart
As inspiration for floral designers during this season, Porta Nova continues to partner with the Myflorist platform to create unique Valentine's themed promotional posters that florists can use free of charge at their shops and on their various online platforms. You can download hi-res Valentines Day themed poster by clicking on the banner below.
This design would work perfectly as a window display for a flower shop.
Erko says, "When a customer visits a "kitchen store" for example, the first thing they will see is a stunning kitchen display at the shop's window! Why not the same for a flowershop? It is good to show our profession! our handcraft… our spirit!"
For this Porta Nova Red Naomi heart, Erko also uses some red Ranuncula & red Spray Roses, view Waxflower, leaves from Typha and heart shaped Oasis Floral Foam. For the eye catching factor in the Window display he opted for Craspedia to bring out a lovely contrast of the Red and shiny yellow!
Tip for flowershops during Valentines
Focus more on "flowers to go". Nice little presents with spring flowers and of-course single flowers are a great idea.
"It is always good to advise the customer that more elaborate floral designs take a bit of time to create and that it is better to pre-order so that the florist has a chance and time to create with love," says Erko.
"I'm convinced that good sales strategies always work and are a handy tool for florist. For example buy ten or more and get 3 free roses on top! Because the highest number of Valentines Day customers are men who would normally buy 5 to 7 roses, this will be a great offer to them and will make for a pleasant surprise!"
Valentine's Day Tip for Men
Please to all the man out there, before arrival of the "flower days", ask your sweetheart up-front what her favorite flowers are.
"I have heard from many women before complaining about being bought the wrong flowers or the wrong colors. Get the right flowers for the right woman! And you will always be in her heart!" says Erko.