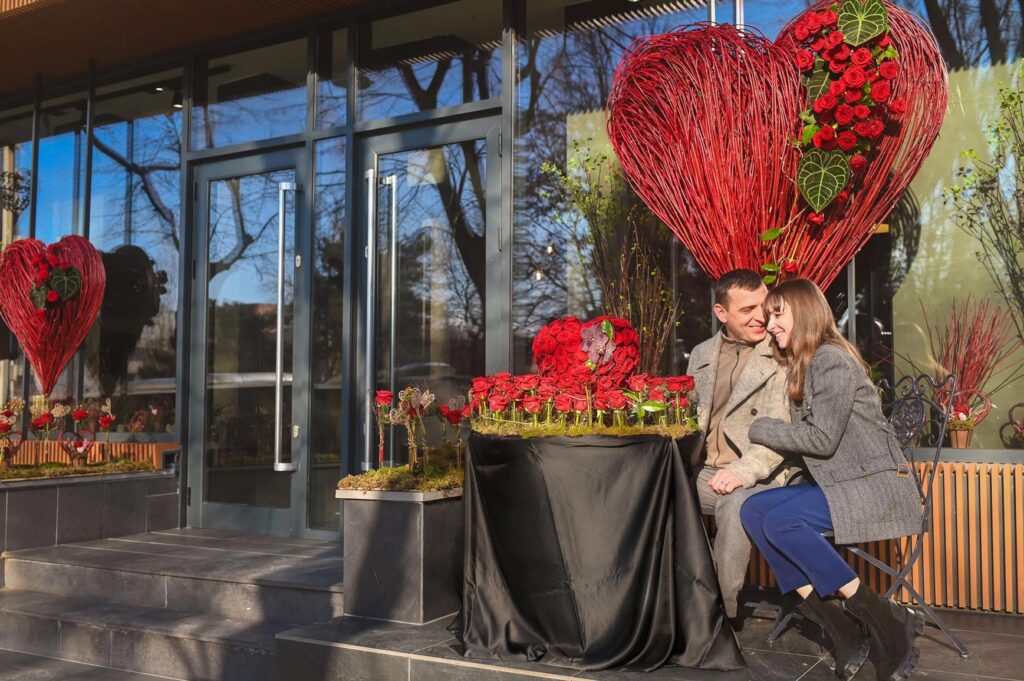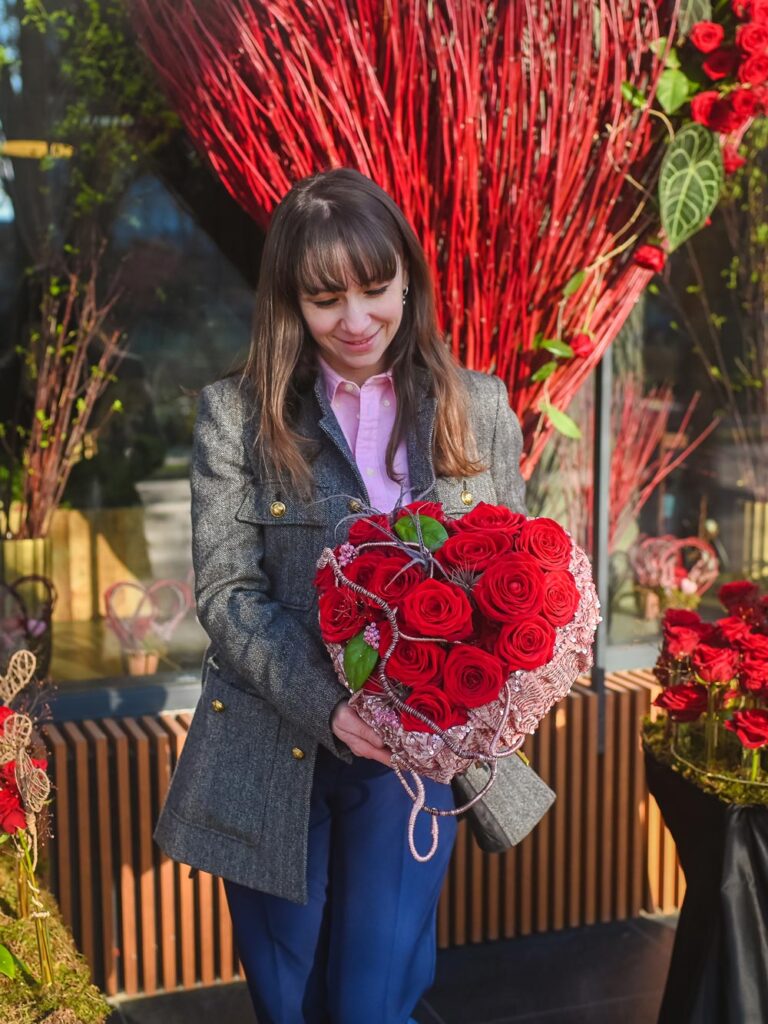 We recently partnered with one of our favourite floral artists, Claudia Tararache of Floraria Anthurium, to sprinkle some Porta Nova Red Naomi magic on the Valentine's Season. The main idea of the challenge we threw to her was to create a window display that would attract passers-by and also have saleable pieces. This creative direction rests on the back of the prevailing high flower prices during this period.
As she takes us through the design process, Claudia also gives us some interesting insight about Dragobete, a day of love that is exclusive to Romania.
Tell us more about these beautiful window display designs with Porta Nova Red Naomi.
Our primary goal was to have the people passing by take a moment to enjoy a photo opportunity with a loved one in front of the flower shop display. Inspired by the love month, I created love hearts out of Cornus 'Alba Sibirica', decorated with beautiful Porta Nova Red Naomi roses.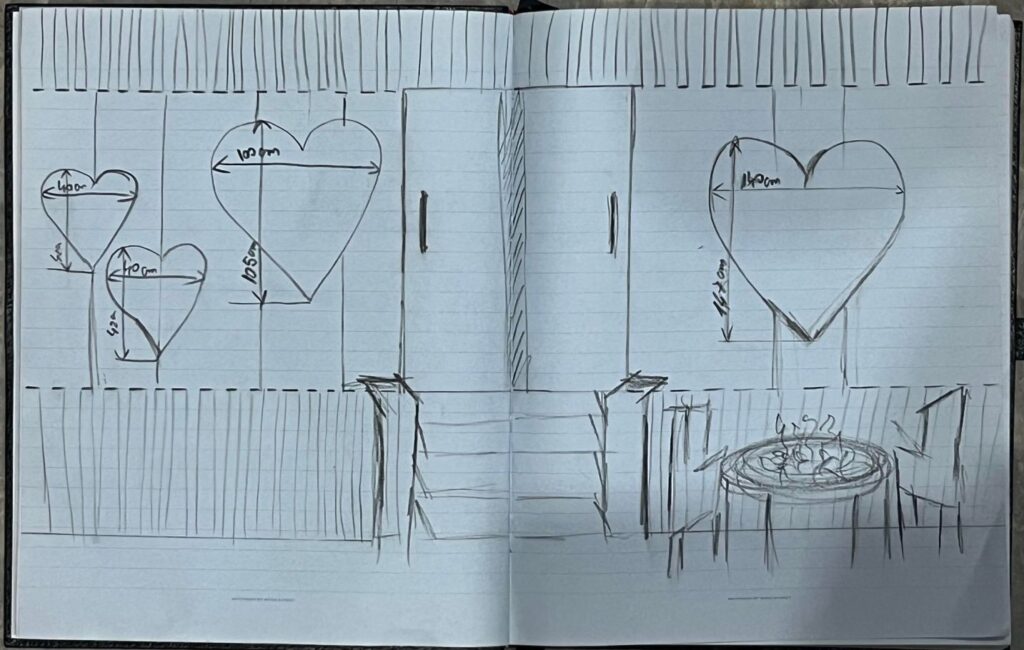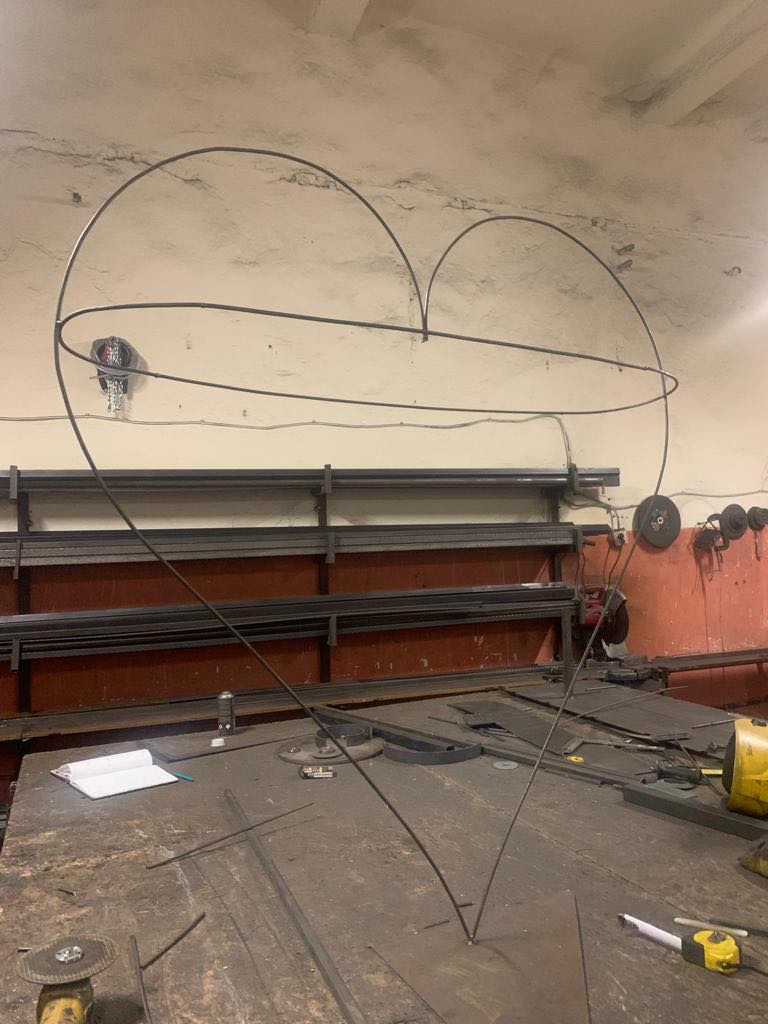 We considered having a large range of decorations celebrating love in different dimensions for all kinds of budgets. Should our clients fall in love at the first sight with some display decorations, they should also be able to buy them.
How was your experience with this Valentine's Day challenge?
I accepted the challenge made by Porta nova with open arms because these gorgeous roses with velvety petals are the manifest of pure love, and I had to come up with something to complement them. My first thought was to create four 3D hearts – the largest one measuring 150 cm, the middle one 100 cm, and 2 small ones measuring 45 cm.
The hearts are structured on a metal frame made of 6 mm concrete iron Bari. I kicked off by fastening chicken wire on the structure, after which I tied the Cornus branches with necklaces. I used 1450 cornus and 300 Porta Nova Red Naomi Supra and Unica roses for this display.
I imagined a set up in front of the large 150 cm heart with a table and 2 chairs where people can sit and take photos. Nice romantic scenery where everyone is invited to take pictures that they can then tag Floraria Anthurium and Porta Nova when posting on social media. Around the table will be an arrangement in the shape of a circle representing eternity. In the centre of the table is a 3D heart made of roses. Both designs are inspired by eternal love.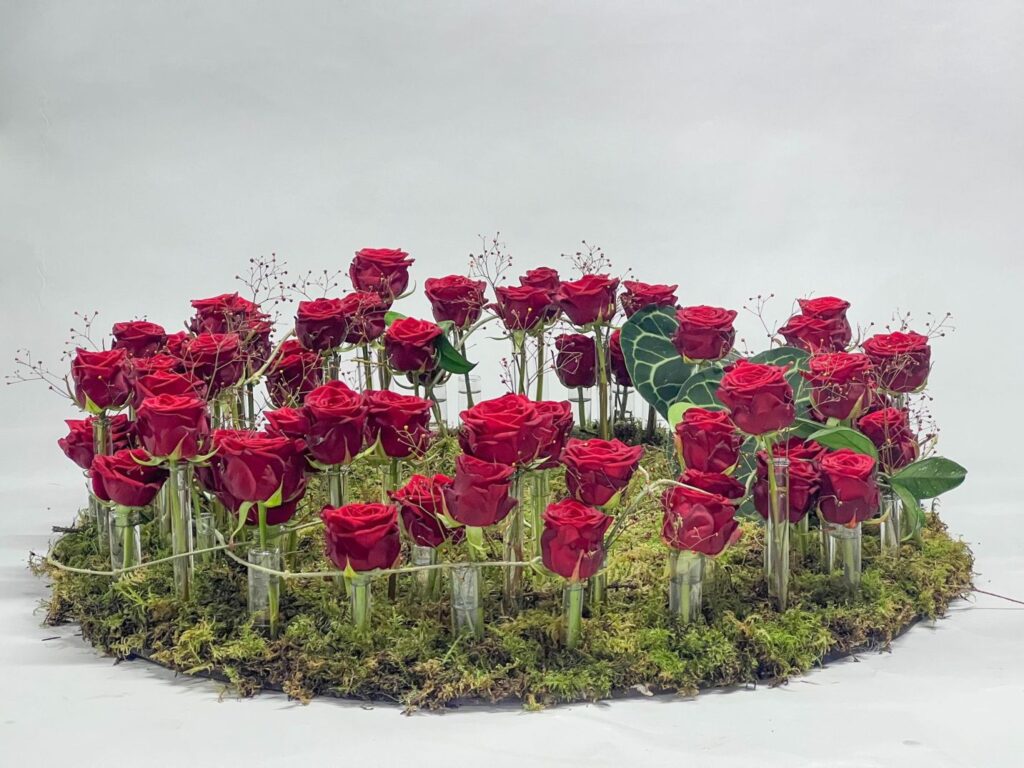 To highlight the entrance to the flower shop, I thought of a "little garden" of red roses, decorated with hearts of binding wire, wool, and hypericum that can be sold individually. For these, I used 16 cm high test tubes, and for the roses to hydrate sufficiently, I cut them shorter to about 20 cm. The tubes must be checked daily and filled with water as needed. Among the roses, I used moss and other decorations. With the main goal being to attract customers and up our sales, we made various arrangements of Red Naomi roses and placed them inside the window display. One great thing about this display is that it can still be used next year because of how nicely the Cornus branches dry.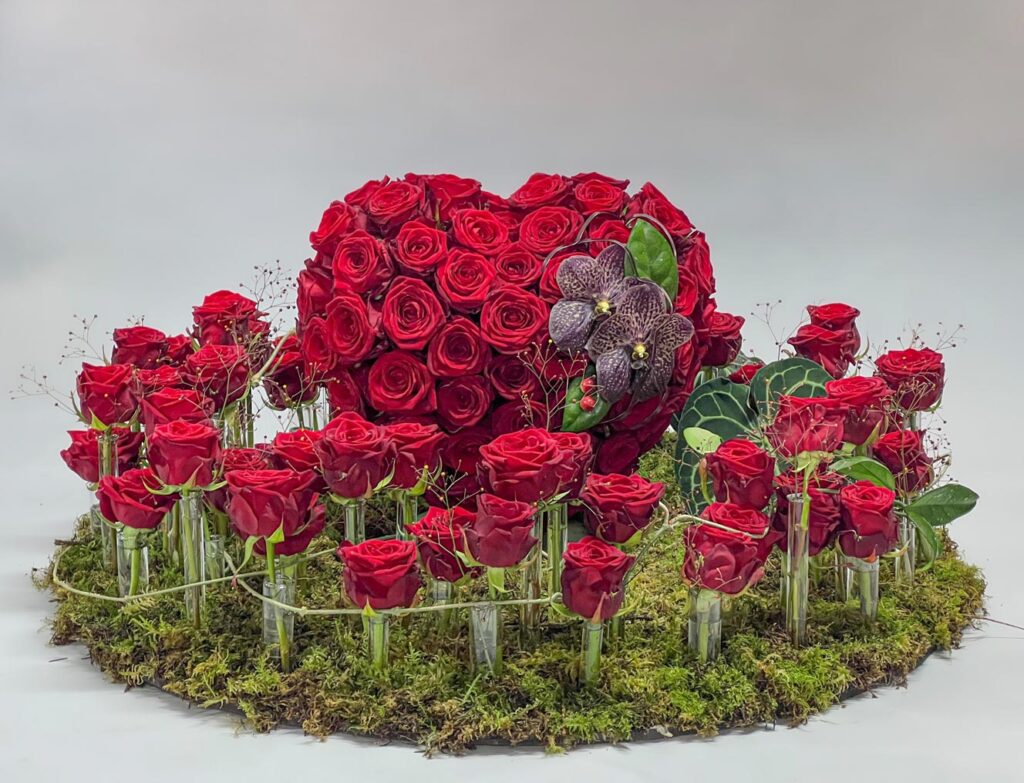 How can you describe Valentine's Day in Romania? and how does Dragobete relate?
Romanians are lucky enough to celebrate love twice in the same month. These days are Valentine's Day celebrated on February 14th and Dragobete which is the traditional Romanian lovers' day marked on February 24th. In Romania Dragobete and Valentine's day had to learn to co-exist. Some people celebrate Dragobete others Valentine's Day. The main difference is the fact that Dragobete is also celebrated by people who are single. February is indeed the month of love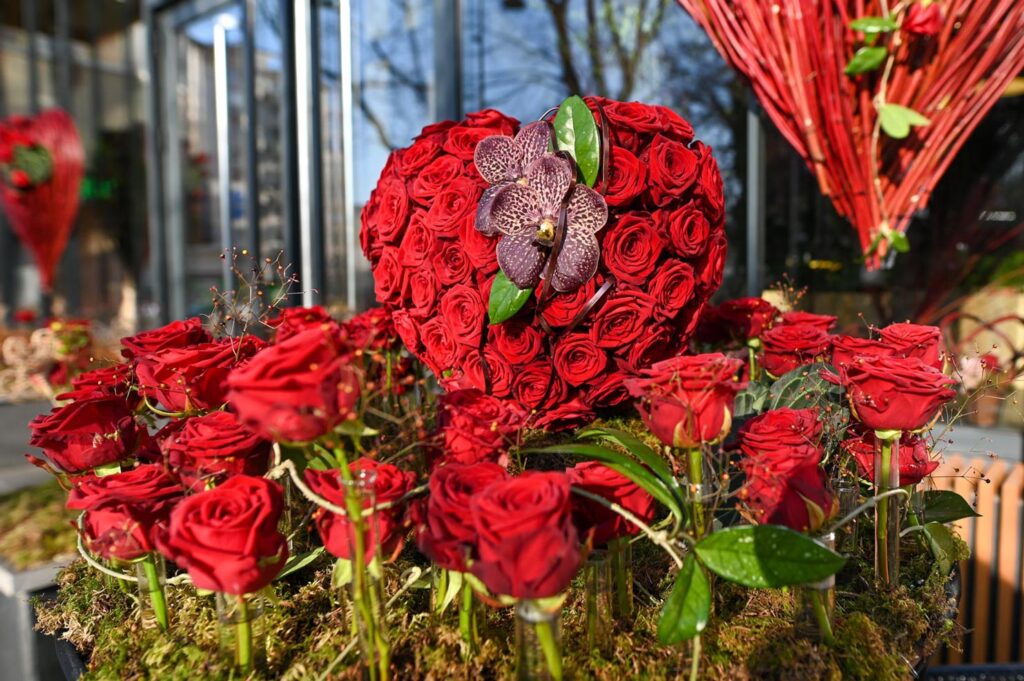 Tell us more about Dragobete
In Romanian mythology, Dragobete was a young god, the patron saint of love, often associated with Roman mythology's Cupid and Greek mythology's Eros. He was known not to interfere in the affairs of humans but was instead famous for reminding people to never stop celebrating love. Dragobete was half human (son of Dochia) half angel, beautiful and immortal. His image is associated with the arrival of spring. He is the saint patron of birds, and the holiday is linked to the rebirth of nature. Local boys can be seen wearing special clothing while offering little flower bouquets to girls, plus a kiss. At night, they used to make bonfires and sit around them and chat until morning.