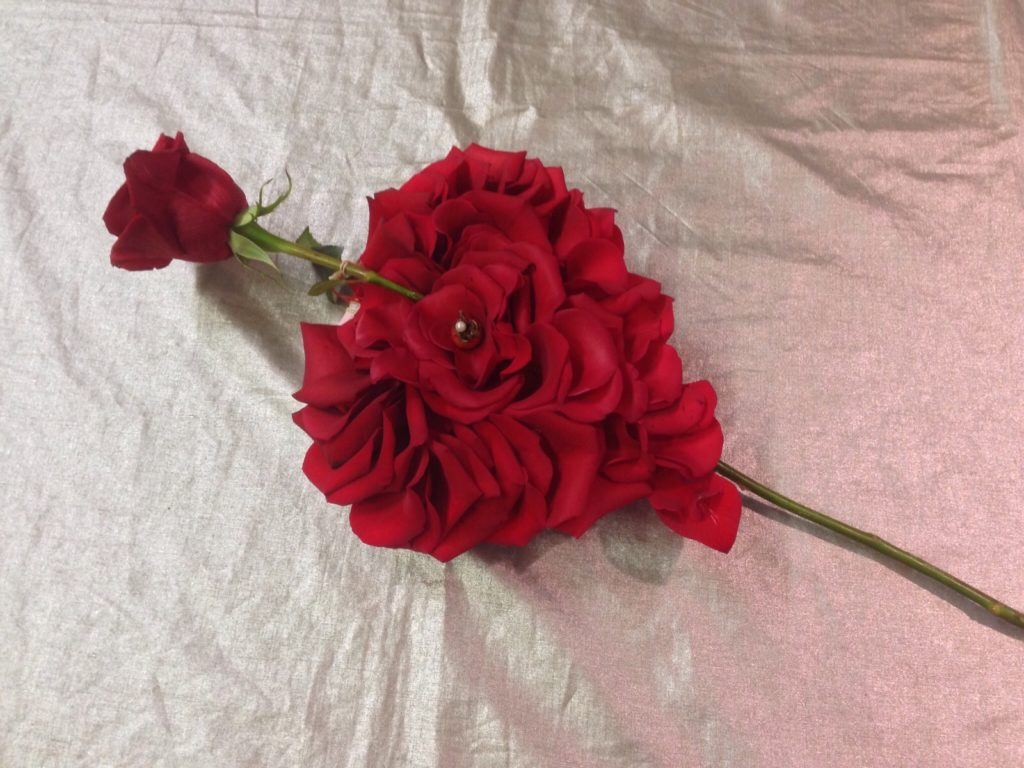 Cesare Bianchi is a fourth generation florist whose uniqueness and delivery takes the artform to a whole new remarkable level. He runs a flower shop called "Fiorista Bianchi", located near Lake Como in Northern Italy. His shop which sits in the heart of Como was established in 1905 by his Great-grandfather. As he says, the mastery, sensitivity and in-born desire to create using flowers is a profession that has since then been passed down genetically from fathers to sons. Cesare gives 100% of his knowledge, technique and passion in all his work. We recently had a chat with him and he shared with us his love for floristry, nature & art and why he loves Porta Nova Red Naomi roses.
What attracted you to the flower business? and How many years of experience do you have in floral design?
I was born in a family of florists, and have a lifetime of experience in this field.
What type of floral design do you specialize in?
I specialize in expressing feelings through my floral creations and decorations. It can be either for mourning, exchanging vows, or for any other event. The important thing is that I am free to use my creativity and most importantly I do not accept any compromises. Cut off my wings and I'll be not working.
How can you personally describe your signature style?
My style is born from the Fine Arts. The search for new materials, painting, architecture, buildings; but mainly from nature, which I find simply amazing and from which I draw my inspiration. With flowers, dreams illuminate my darkest paths, where I am no longer alone. I am free to create, free to decide, free to love flowers, free to feel every emotion that defines me every moment, every day.
What is it about Porta Nova Red Naomi that makes you like to work with the rose?
The Porta Nova Red Naomi is a baroque flower, which is more importantly quite rich in character. Even when l use a single rose or many, I know how to take care of them, showcase her value and not make it trivial. Porta Nova Red Naomi is a beautiful rose with a nice color and unique texture.
Are there any special Christmas season arrangements you have planned using Porta Nova Red Naomi roses?
Of course. I like to think that her color intensity and uniqueness in particular, bring to mind memories of open fires, red leaves of which are laid out on white snowy woods. The rose is like a seductive woman, a red winter queen, a dominatrix of ice.
Apart from Christmas what other special occasions would you recommend using Red Naomi
To amaze, Every day … I use and recommend the Porta Nova Red Naomi.
What type of feedback or reaction do you get from clients when you use Porta Nova Red Naomi roses?
The astonishment of the customers to see so much beauty contained in one single rose, their curiosity to see how expert hands can make her even more wonderful. That makes me very happy and reminds me of Vincent Van Gogh: "I dream of painting and then I paint my dream ", it is so easy for a Floral Designer 'painting' with Porta Nova !!
You often include poetry in your presentations. Is there an inspiration behind this?
I like to work listening to music, mostly Pink Floyd. It helps me bring out a particularly creative atmosphere. With poetry I try to express what I feel and what I intend to convey with the flowers. The flowers do not have the gift of speech, so I try to talk for them.
What is your personal favorite flower?
I love roses, but also calla lilies and some orchids…..
Where do you get most inspiration from?
I am inspired by art and nature, and Italy is full of them! In all its forms, poetry, architecture, painting ,fashion and much more. My city, Como, has a strong tradition in textile crafts, as to be called the city of the Silk Road, this for me is a source of inspiration.
Have you won any awards in floral design?
Not me personally, but from 1909-1994 our florist company has been honored by dozens of prestigious awards.
What are some of your most memorable projects?
I can list the preparations at Orticolarioand Villa Cernobbio. But being a passionate florist I try to always treat all my jobs with a keen attention to detail. Whenever I am tasked to do any floral work, I give it my all, drawing from my knowledge, technique and passion.