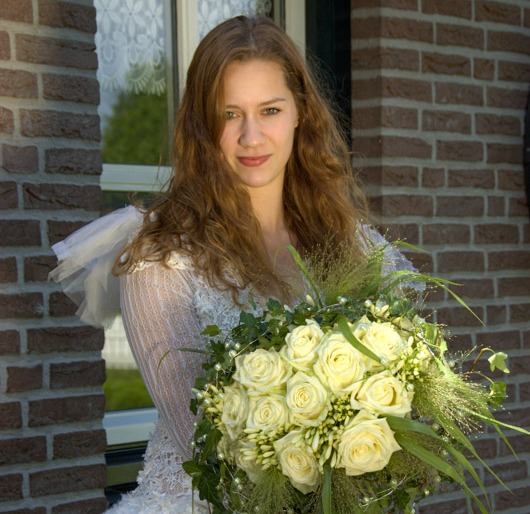 While creating her designs, Lily Beelen often chooses to contrast between modern forms and natural lines. Sometimes she opts to become abstract in her delivery, starting from a mathematical form and merging this together with flowers. The Masterflorist derives inspiration from her surroundings. Nature, art, architecture, fashion, music, and sparring with colleagues are just some of the things that inspire her art. She created gorgeous bridal bouquets using Porta Nova White Naomi roses.
Lily's style
I love to create unique arrangements using flowers. A fusion of all kinds of styles. To challenge myself and further develop and search for new materials and forms. My love for nature, taking inspiration from my environment is very important in triggering my art. My life will continue to search for that perfect balance between everything that is art and everything that is life. Learning from everything and everyone but above all remaining myself: Just Lily.
What is your inspiration when working on a bridal wedding bouquet?
In Bridal floristry, you can put a lot of dedication and love by giving that little extra that makes a big difference on this important day. Every bridal bouquet tells a story. Whatever the final result, it's always made with a lot of love. The inspiration starts immediately the couple enter the room.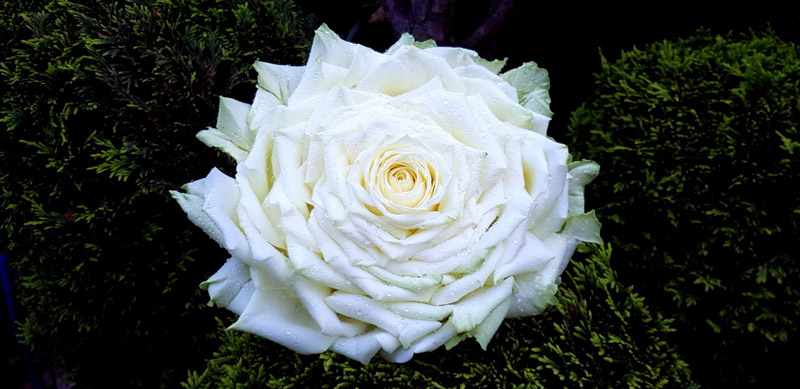 How do you involve the bride in the creative process? And how do you professionally handle the more demanding ones?
Meeting various personalities stimulates and inspires me. It is a true pleasure to use my creativity to the fullest in order to make a very special and exciting creation. The demanding ones come to me with pictures, colors & shapes of the arrangement they desire. With dedication and patience, I take them on a journey to uncover their own feelings. Asking questions, showing alternatives. To look at the design with the heart, and less with the eyes. This way the bridal bouquet becomes a personal and unique creation. It also gives them the feeling that they are special.
Cascading bridal bouquet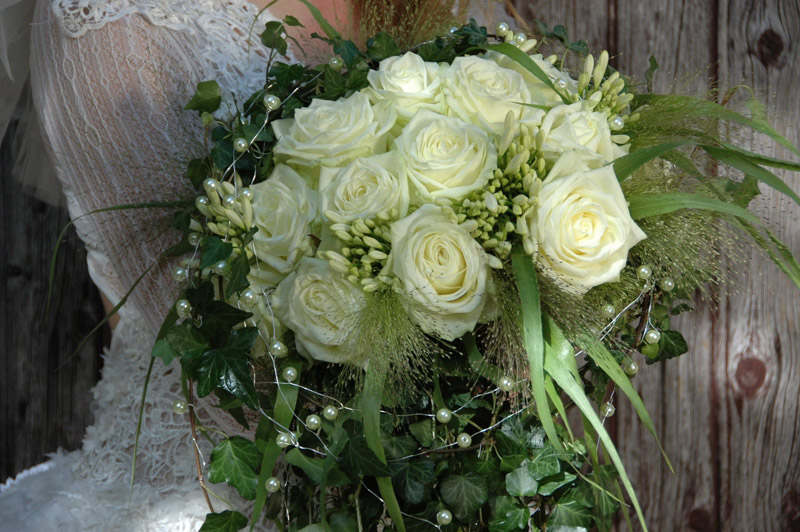 The base of this bridal bouquet is an iron ring around which I wrapped the hedera. The ring itself is covered in a criss-cross manner with oasis bindwire. I did this so that I can easily place the roses. Other material used in the bouquet are Agapanthus Glacier and Panicum fountain. For a nice finishing touch are 50 pearls on a wire to accentuate the bridal work.
Hand tied bridal bouquet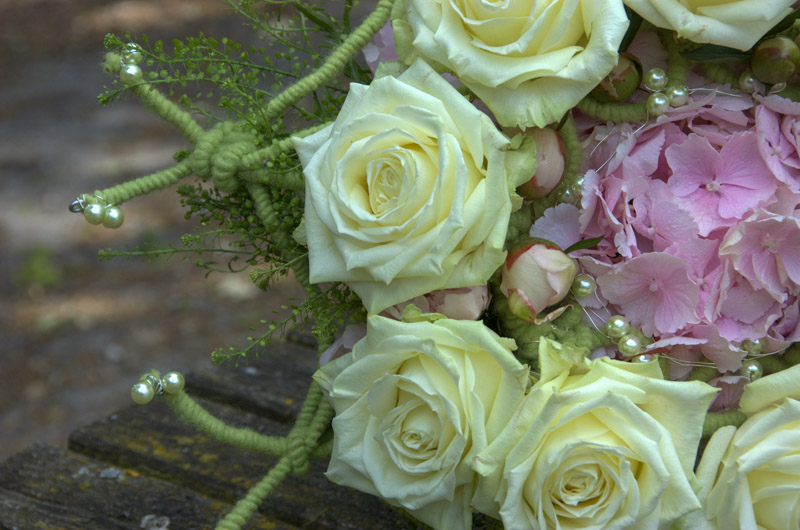 The surface is made of fish-shaped iron wire wrapped with wool and the shapes connected together with cable ties. The Porta Nova White Naomi is then expanded around. Then I filled the bridal bouquet with other material and flowers such as: Peony's Rose, Hydrangea Verena Rose, Lepidium green Bell and light green pearls.
Glamelia bridal bouquet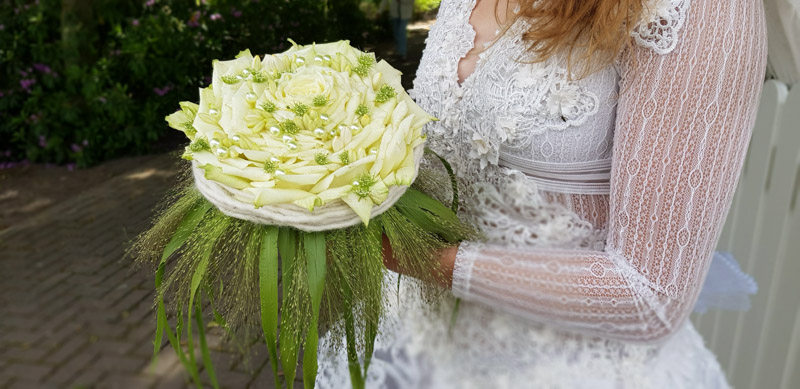 I cut a circle out of cardboard with a hole in the middle. Then I placed Porta Nova White Naomi in the hole. I picked the rose petals from 12 White Naomi roses then glued these rose petals on-to one rose using cold glue. The edge is finished with white Panicum Fountain. Pearls are then incorporated between the rose petals while flowers from the Ammi Visnaga & Agapanthus Glacier are also glued between the petals.
Narrow Single stem bridal bouquet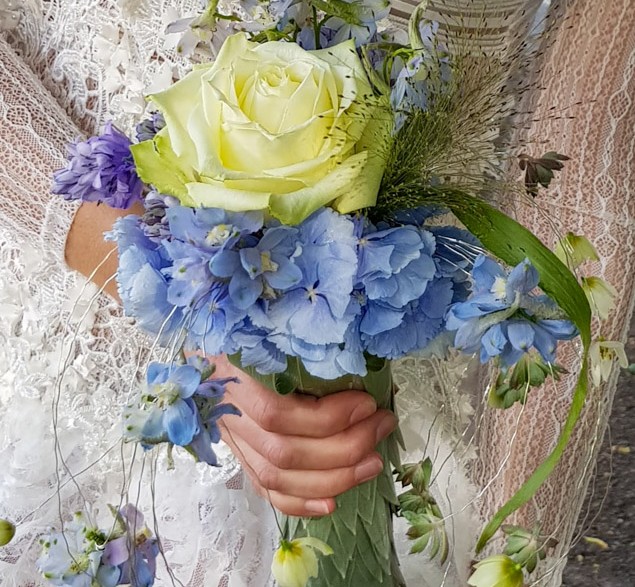 For this simple single stem bridal bouquet, i used one Porta Nova White Naomi stem, a sisal binding containing a plastic tube filled with a minute piece of oasis. The tube is covered with leaves (double- sided tape) from Leucadendron argentum Silverleaf. The White Naomi, Hydrangea Verena Blue, Scilla Blue and a few Delphinium Ballkleid flowers are cut diagonally and put into the oasis. The following flowers are glued on an iron wire with cold glue. Succulents, Delphinium and a few flowers of the Ornithogalum. This gives lightness and panache to the bridal bouquet.
Bridesmaid's single stemmed bouquet
This Bridal bouquet is for the bridesmaid. Refined and with all the attention on the white Rose! Porta Nova White Naomi. A small round base is made of aluminium (in small circles) wire to which you can attach some wire as base for a handle. Through the openings of the aluminium holes you can insert all materials, which yields the final handle. Refined flowers that provide an airy appearance: Ornithogalum white star, Panicum Fountain, Ammi Visnaga & Alchimella Mollis have been incorporated.
White Naomi table arrangement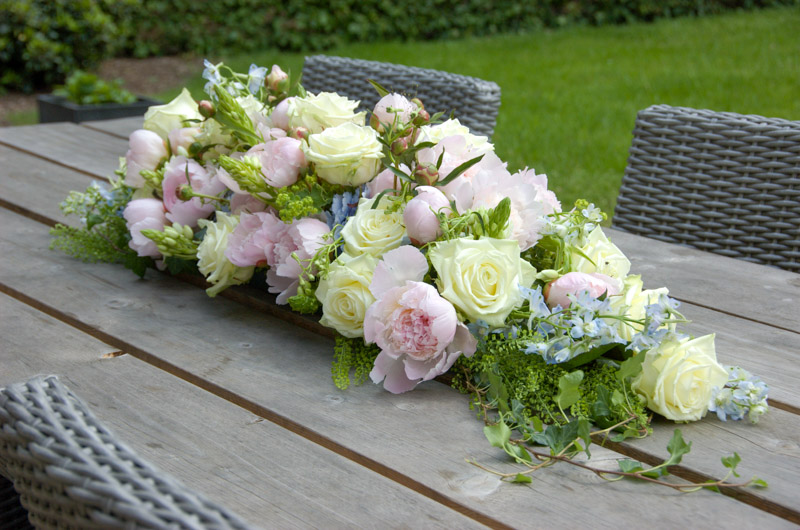 In a narrow plastic tray is a cylindrical oasis. By first expanding the elongated materials, you determine the size. Here, I used Hedera leaves and tendrils & Lepidium Green Bells. Then added the main flower which is Porta Nova White Naomi. After this you have a frame in which you incorporate all other flowers. Such as Delphinium Ballkleid, Rosa Peony's, Alchemilla Mollis. The height is perfect for a table piece. This way you can easily enjoy conversations. This piece is perfect for weddings and other such parties like engagements and anniversaries.
Floral Centerpiece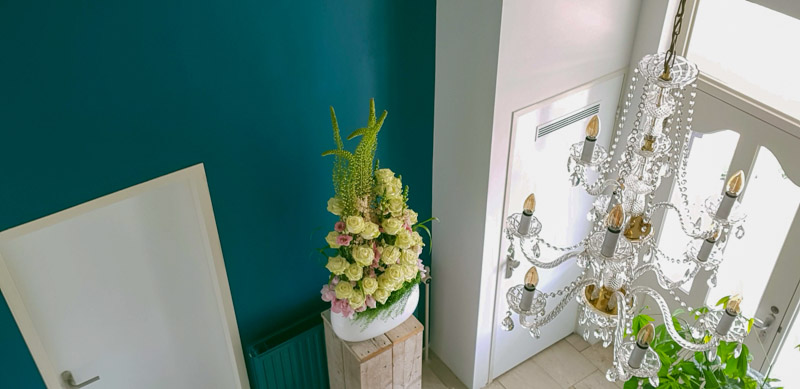 The floral centerpiece can work exceptionally at a wedding reception, at a large business reception, or during a celebration in honour of an anniversary. It can be used at the main entrance, the hall, reception, counter, at the buffet e.t.c. The white high- gloss surface is made of plastic and filled with 4 blocks of oasis. The height is set with Eremurus Romance, and the bottom is finished with Lepidium Green Bells. About 35 stems of Porta Nova White Naomi roses have been used. Other materials are: Antirrhinum Maryland Pink, Lisianthus Alissa Light Apricot, Pink Peony's and some Panicum Fountain.
How fitting is the White Naomi rose for wedding arrangements?
The White Naomi is perfectly fitting in the floristry world. A strong rose with a good vaselife of at least 1,5 weeks not only in the vase but also on Oasis. White Naomi is applicable anywhere. Whether it is funeral arrangements, in bridal work, or for bouquets & table pieces.
What are the wedding floral trends this summer?
Hand-tied bouquets with a lot of field flowers in combination with roses. Romantic style. These are the bouquets that we are selling the most at this moment.
Model: Karlijn Wijnen