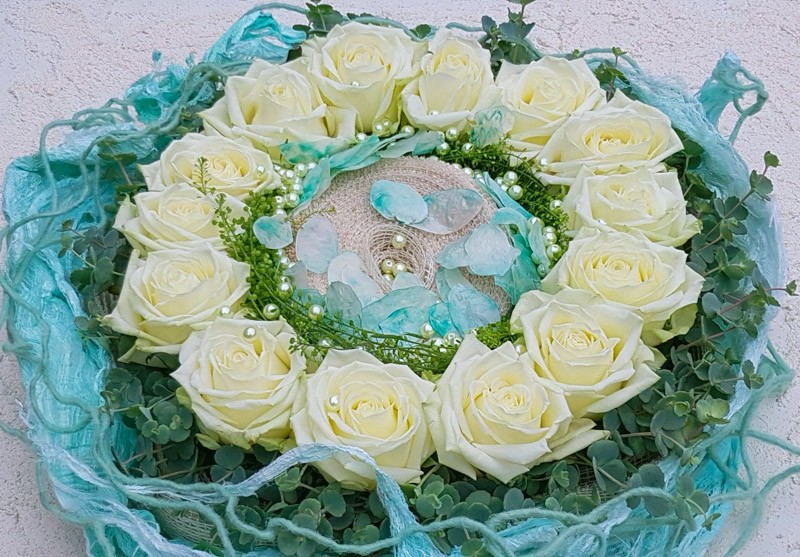 Lily Beelen has built her floral art career on the basis of inspiring, motivating, and showing emotions through beautifully crafted designs. Recently, Lily used Porta Nova White Naomi roses to create designs that churned out amazing Summer vibes. She gets inspiration from her surroundings: nature, art, architecture, fashion, music, and sparring with colleagues. Lily is currently busy prepping bases for demonstrations coming up in the Autumn & Christmas season. She shares with us more about Summer vibes with Porta Nova White Naomi.
Trends this Summer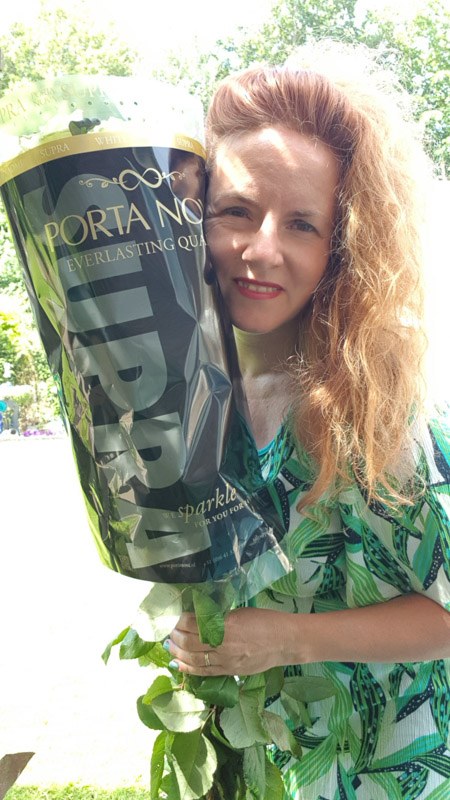 Floral trends this Summer are hand-tied bouquets. Bouquets that encompass one type of flower or field flowers and parallel bouquets. Small coffee bouquets are a superb go-to idea when you have a quick visit to see a friend. During this pandemic time, people are giving bouquets to family/ friends to brighten their homes. Flowers give happy thoughts & they give Energy!
Since people are spending most of their time at home, why should they brighten their homes with flower arrangements?
During the COVID 19 period, people are giving bouquets to their family members and friends to brighten their homes. This is important because flowers give happy thoughts & let out that needed positive Energy!
What is your thought process and inspiration when working on these White Naomi bouquets?
In creating these designs with White Naomi, I aim to inspire my fellow florists to buy and use Porta Nova Naomi roses. That was my most important thought. What is the best way to showcase the beauty of White Naomi!
How do you handle orders and deliveries during the pandemic period?
We are receiving orders mostly through Video calls, telephones & Facebook. It is a different way of approaching the business. Normally we would be going physically to the houses, restaurants, stores, offices to deliver arrangements. Nowadays, you give the client a call informing them that you are arriving. With some months having passed since the initial COVID situation, you can see that the situation is now relaxing a little bit. I can deliver it myself on the work floor.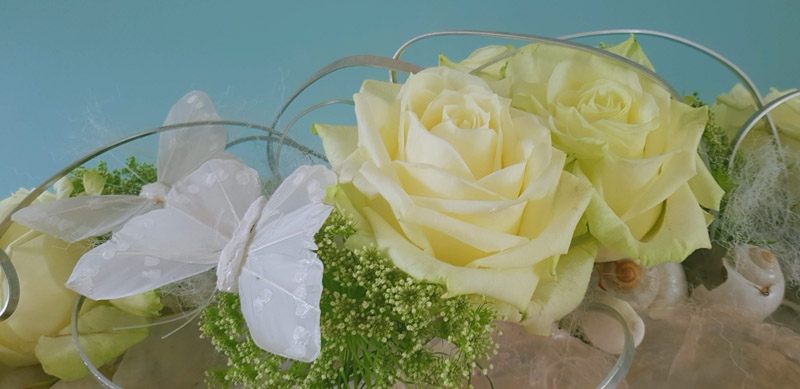 You received the new Porta Nova White Naomi Supra Roses. How was it to work with them and what is your opinion about the roses?
I loved working with Porta Nova White Naomi Supra Roses: they have a nice full big rosebud and a sturdy stem. Not too many thorns and beautiful green leaves. Has a luxurious and exclusive look & versatile use. The White Naomi is a real eye-catcher!
White Naomi Bouquet with lace and floral wool
This arrangement is built on an iron base. I glued on white rope (bleached mulberry bark). I included shells of different sizes in the formation. In-between I used plastic tubes for the White Naomi and the Ammi Visnaga. For the finishing touch was a little white wool between the flowers and some glass icicles. This arrangement is very practical and ideal for hotels or restaurants' decor. It is also great in private houses when placed on a pedestal. This way you can refresh your flowers in no time.
White Naomi table centerpiece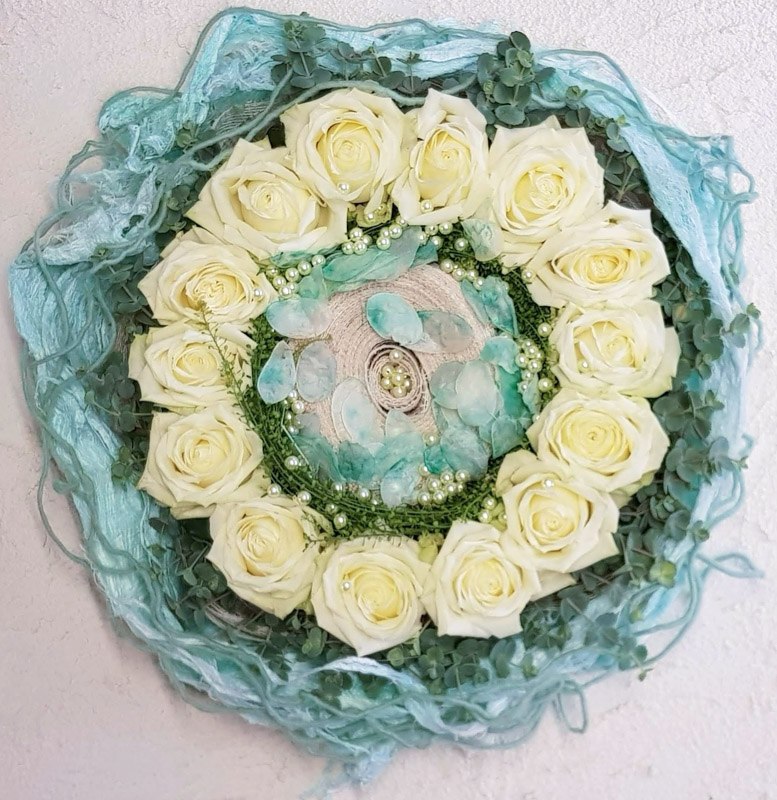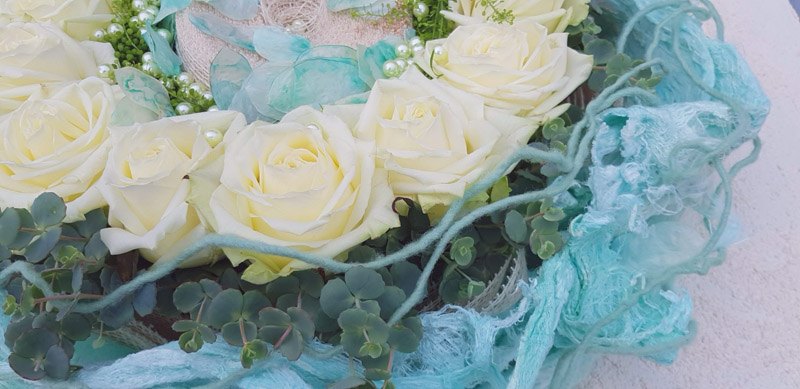 This is a round table design made in an open wreath 40 centimetres in diameter. I used Sedum Sieboldii (succulents), pearls, Judas Penny, jute & strings of wool from Lehner Wool. For the finishing touch are of course the White Naomi roses and the Lepidium green bell. The wreath lies on a wooden plate that has been treated with tex (in which sand has been incorporated). This arrangement gives summer vibes in the conference room, or in stores (fashion or jewellery) where they can sit down to have a cup of coffee.
Summer Bloomon style bouquet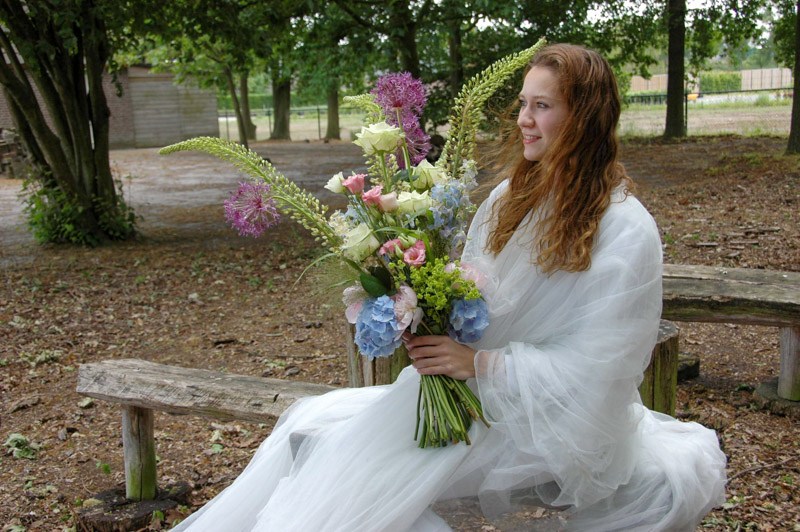 This style has nowadays become quite popular in floristry. It is called the Bloomon style. This bouquet is ideal to brighten up houses, to offer in theatres, at a company's reception area or as an anniversary bouquet. Flowers and materials used in it's creation include: White Naomi from Porta Nova, Lisianthus Alissa Light Apricot, Hydrangea Verena Blue, Allium, Delphinium Ballkleid, Peony, Alchimella Mollis, Eremuris Romance and Panicum fountain.
Model: Karlijn Wijnen