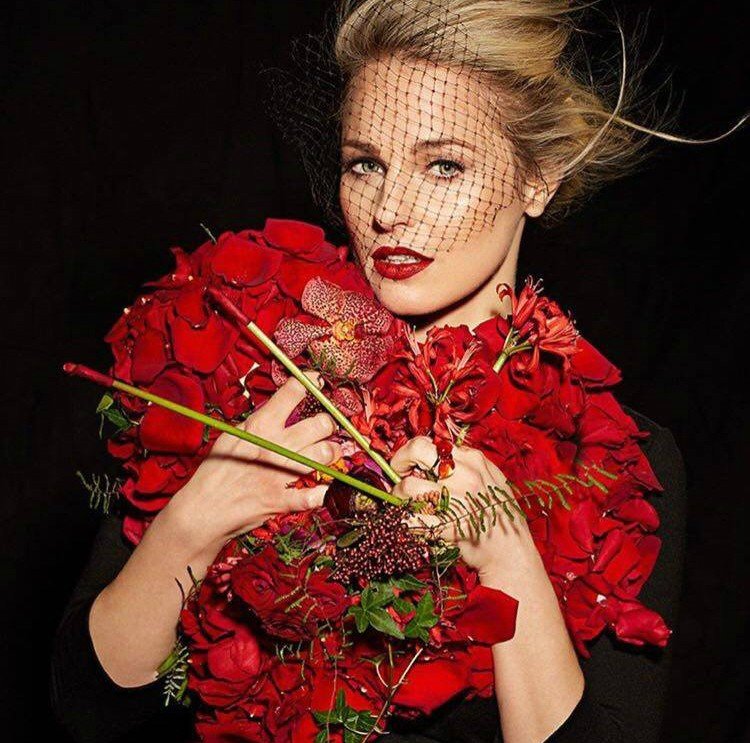 above image: During a past shoot, Timo Bolte's shared this Porta Nova heart that was modelled by Austrian media personality Silvia Schneider
As we gear up for this year's International Women's Day, slated for March 8th, we would like to encourage everyone to give the women in their lives a sincere appreciatory pat on their backs. It is the best time to honour and celebrate the contributions made by women in our lives and societies. These achievements and milestones that have been made by women across the world are part of what makes humanity thrive. Women hold a very special place in our hearts, the value they instil in all of us is simply immeasurable.
We are honoured to offer our Red and White Naomi roses which are nearly as beautiful as the women of this world. We all agree that flowers are a great gift to show appreciation and love to the women in our lives on this special day. After all, flowers are mother nature's way of revealing her soul. We would like to inspire you with some beautiful creations that stand out as a warm way of wishing someone special a Happy International Women's Day.
In order to be able to provide all our loyal customers with sufficient red and White Naomi, and to avoid disappointments, it is very important that we receive your orders as soon as possible. That way you are assured that your customers are guaranteed to enjoy our quality roses. In any case, our production will remain at the normal level.
This heart design by Laura Leong is a lovely gesture of love not only fit for Valentine's Day but also for a special occasion such as Women's day. It is a heartwarming expression of affection for that special woman. Check out more HERE
Check out this graceful bouquet that cascades ever so subtly. Designer Fabio Sicurella had a strong message when sharing this and more. "As florists we stay true to one of our slogans; Spread the Love, because Love Cannot be Stopped."
Read more HERE
When Gábor Nagy created this unique floral headpiece, his thoughts were that it would be an ideal fit for a bridal photo shoot with a bride who is brave enough to wear something different from a classic headpiece. We agree, and also think this is a good statement for all brave women out there making a difference in the world. Check out more HERE
We called this design by Ioachim Erema the 'Heart for Heart' bouquet. This is what he had to say.
"Bouquets with Porta Nova White Naomi radiate innocence and purity. The delicate white Porta Nova roses stand for sincerity, purity and perfection."
Check out more HERE
This lovely bouquet by Claudia Tararache has an equally lovely backstory. She made this during the challenging COVID period, a time when the dedication of florists and other service providers served to offer a smile during that otherwise dark time. She said… "Flowers have never abandoned us and have always pampered us with their beauty and fragrance… we must not abandon them either!" This is awesome for Women's Day, don't you think? Check out more HERE
Ioachim Erema wowed us with this floral piece that was part of a Valentine's Day / International Women's day collective with Porta Nova Red Naomi roses. The design can also pass as an elaborate wedding centrepiece. Check out more HERE