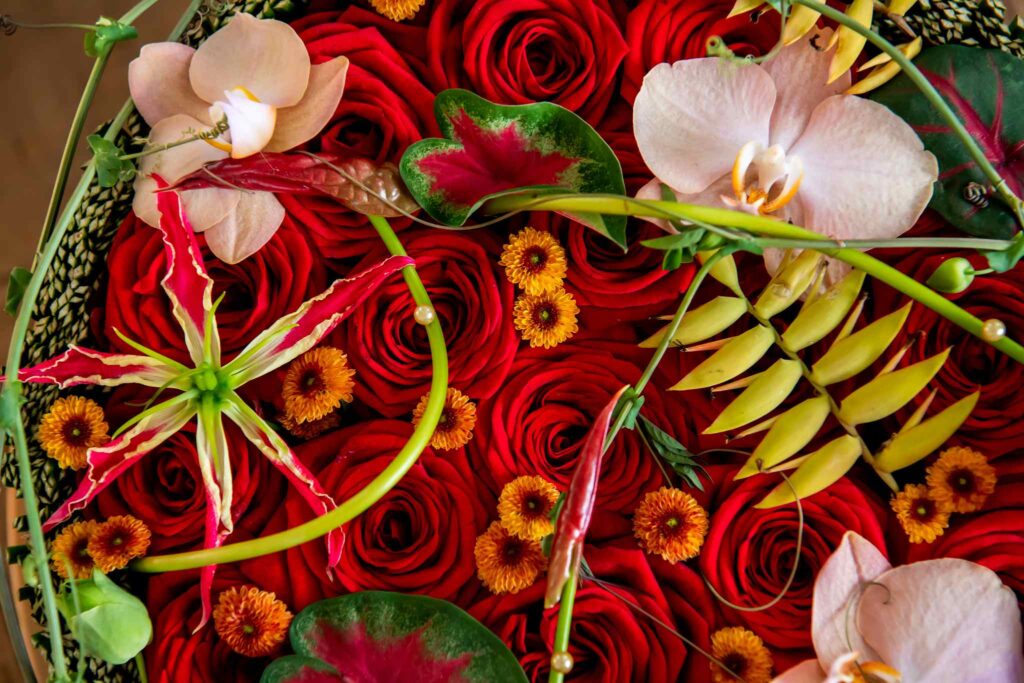 The busy and much anticipated festive season is just around the corner. Very soon, jingle bells and festive sounds will be heard and felt everywhere, as people across the world celebrate Christmas and New Year. During this build-up period, we would like to share some inspiration with you. We've shined a spotlight on some of our past articles that truly capture the spirit of the festive season. We also acknowledge that this will be one of the busiest seasons of the year, and hope that you will have some time to enjoy the holidays with friends and family.
We would also like to assure you of a consistent supply of top-quality Red and White Naomi roses this winter. This is made possible by our new "LED lighting" and our unique "Climator System" in which we store heat from the summer underground and use it for heating in the winter.
Elegance is clearly defined through these Festive designs by Master florist Pirjo Koppi
Pirjo Created a cosy and uniquely beautiful Christmas ambience. She tells us how a typical Finnish New Year's celebration is a colourful fete full of memorable moments with family and friends, mouthwatering delicacies, nice drinks and amazing fireworks. To bring more life into the party, Pirjo Koppi created these amazing arrangements with Porta Nova Naomi roses. CLICK HERE FOR MORE
Fairytale Xmas designs by Claudia Tararache
Porta Nova White Naomi Chrisfloral designer Claudia Tararache of Floraria Anthurium wows us with amazing designs using Porta Nova Red Naomi and White Naomi Roses. CLICK HERE FOR MORE
Let's all marvel again at this magical selection of Red Naomi arrangements
We challenged one of our favourite designers, Ioachim Erema to play around with our Porta Nova Red Naomi roses for Christmas. We are very pleased to share with you the stunning Christmas floral designs he came up with. Unmatched creativity in floral art. CLICK HERE FOR MORE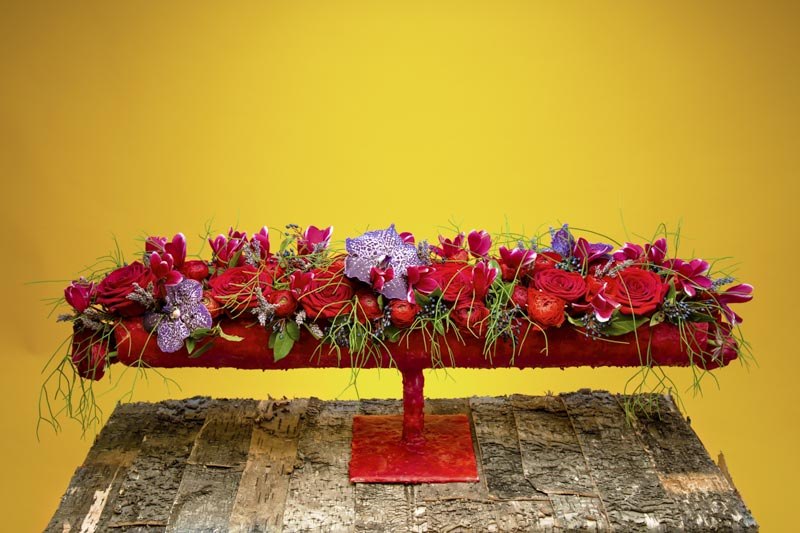 Elegant Porta Nova Red Naomi table by Sarah Crookstone
The floral arrangement was just as gorgeous as it was versatile; also fitting for any other intimate occasion that called for an artful spread of quality red roses. We spoke to Sarah, who at the time was also gunning for top honours among other regional finalists of The Wedding Industry Awards after being named Best North West Wedding Florist. CLICK HERE FOR MORE
Cesare Bianchi shared an array of creative and very thoughtful Christmas pieces.
Cesare Bianchi is one artist who wears his passion for floral design on his sleeve. He has a unique style that he says is born out of fine arts. The unique rustic look he wows us with is achieved by using the bark of a 200-year-old Chestnut tree. Amazing! CLICK HERE FOR MORE
Inspiration from the dynamic duo
From Finland, the 'Home' of Santa Claus, the dynamic duo of Pirjo Koppi and Tiina Koskinen gave us gorgeous designs. Two ladies whose talent and passion for the art of floral design transcend their home country and are celebrated worldwide. CLICK HERE FOR MORE